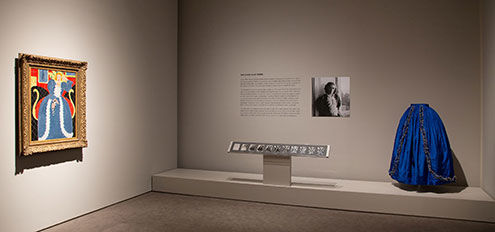 ---
The Large Blue Dress
In the 1930s Matisse hired the Armenian photographer Matossian to document his progress on certain paintings. Matisse's model and studio assistant Lydia Delectorskaya remembered that the photographer was called in "when, at the end of a session, it seemed to Matisse he had come to the end of his work or he decided he had arrived at a significant stage."
The photographs in this gallery do not reproduce studies for The Large Blue Dress (1937); rather, they record the development of the painting. Between February 26 and April 3, 1937, Matossian took at least ten pictures of the canvas. Viewed in chronological order, the images produce an effect akin to time-lapse photography, revealing Matisse's extensive reworking of the composition as he progressed from a more naturalistic sketch to a flatter, stylized image. Instead of setting the canvas aside and taking up a new one, Matisse (with Lydia's help) repeatedly rubbed out areas of paint. He used the photographs as he worked, comparing them to the evolving painting in order to see whether he had advanced or regressed.
The skirt Lydia wore while posing is displayed at right. She made it herself, using silk in the artist's favorite shade of blue and adding a cotton lace-trimmed ruffle to create the illusion of an overskirt. Matossian's photographs reveal the many ways that Matisse represented this ruffle before ultimately deciding to etch sinuous lines into a wide swath of white paint.
Curator Rebecca Rabinow discusses the series of photographs that document Matisse's painting of The Large Blue Dress and reveal the artist's extensive reworking of the composition. Transcript available in Met Media