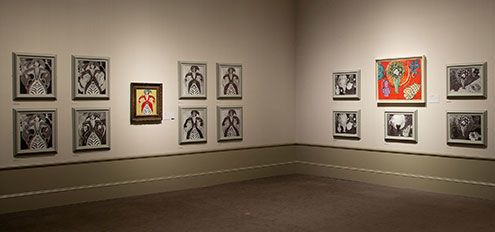 ---
The Matisse Exhibition at the Galerie Maeght, Paris, December 1945
The fall and early winter of 1945 were dubbed "the season of Matisse." In October he was honored with a thirty-seven-picture retrospective at the Paris Salon d'Automne. In December six of the paintings reappeared about a mile away at the inaugural exhibition of the Galerie Maeght. Each painting was juxtaposed with large framed photographs documenting its evolution. Three walls from that presentation are re-created here.
Lydia Delectorskaya remembered that Matisse pushed himself while painting these works because he was convinced that each had the potential to advance his pictorial research. The patriotic La France (1939) dates to the early days of World War II. Matisse considered Still Life with Magnolia (1941) to be one of his favorites. He said he had put all of his strength into its creation. The Dream (1940) engrossed him for almost a year. He told his son that at first it was "very realistic, with a beautiful woman sleeping on a marble table amid fruit, [and it] has become an angel sleeping on a violet surface."
Matisse embraced the opportunity to put his process on display at the Galerie Maeght. He repeatedly insisted to Aimé Maeght that the only point of the exhibition was to present "the progressive development of the artworks through their various respective states toward definitive conclusions and precise signs." The photographs proved that the paintings were the result of a complex process. By agreeing to make them public, Matisse tacitly acknowledged that their presence added to the viewer's understanding and appreciation of his work.