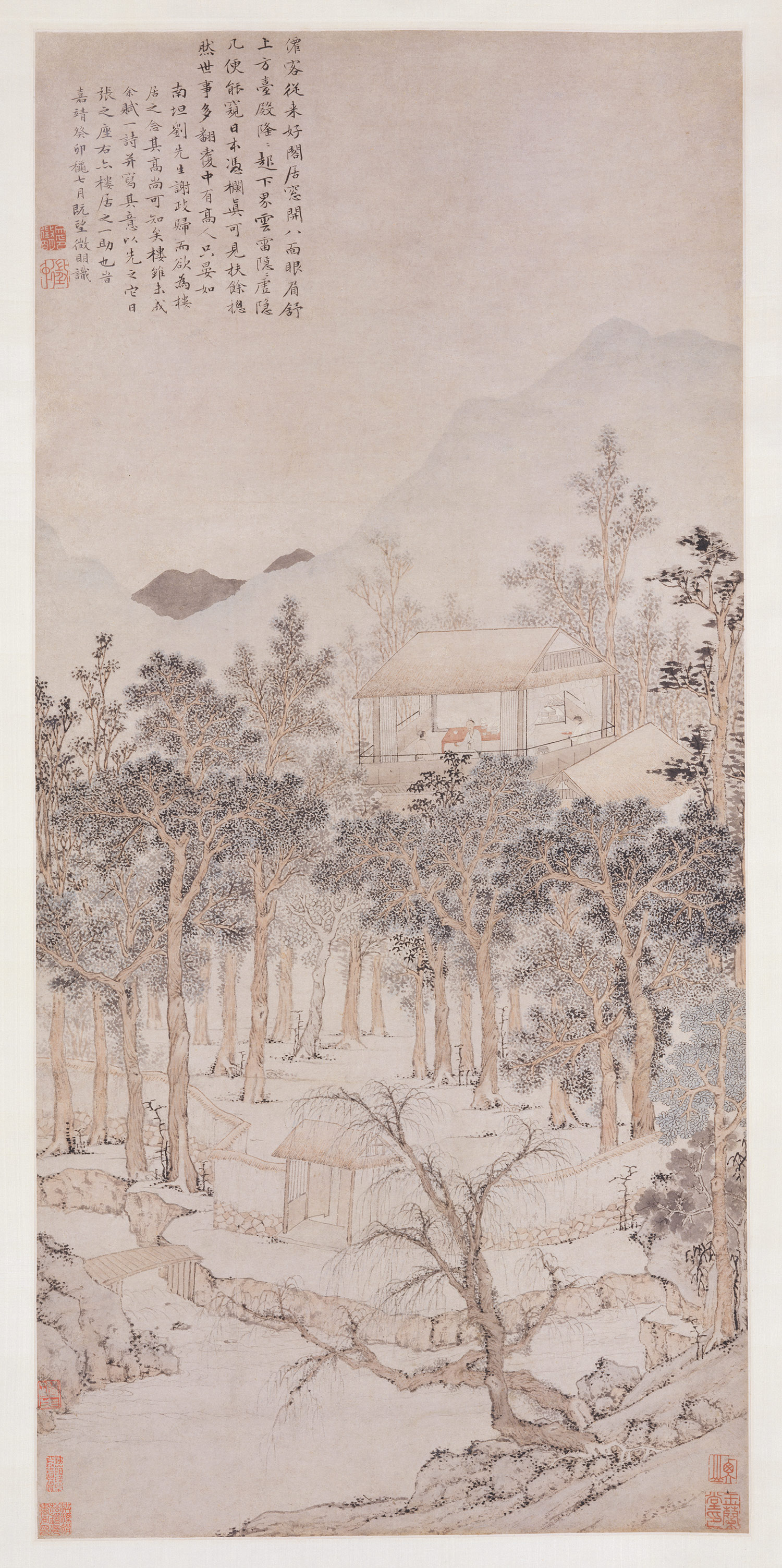 ---
Living Aloft: Master Liu's Retreat, dated 1543
Wen Zhengming (Chinese, 1470–1559)
Hanging scroll; ink and color on paper; 37 1/2 x 18 in. (95.2 x 45.7 cm)
Inscribed by the artist
Lent by the Marie–Hélène and Guy Weill Family (L.2001.85.2)

Wen Zhengming painted Living Aloft for his friend Liu Lin (1474–1561), who, at the age of seventy, had retired from government service but had not yet built a home suitable for his new life. In his painting, Wen presents an idealized vision of life in retirement: separated from the outside world by a stream and rustic wall, two friends enjoy each other's company in a two-story hall that is further isolated in a tall grove of trees. Wen elaborates on the pleasures of such a life in his accompanying poem:
Immortals have always delighted in pavilion-living:Windows open on eight sides—eyebrows smiling,Overhead towers and halls welling up,
Down below "cloud and thunder" halls dimly viewed.
Reclining on a dais, a glimpse of Japan;
Leaning on a balustrade, the sight of Manchuria.
While worldly affairs shift and change
The lofty man is centered and at peace.
(Translated by Ling-yün Shih Liu in Richard Edwards et al., The Art of Wen Cheng-ming (1470–1559) [Ann Arbor: Museum of Art, University of Michigan, 1976], p. 150)
Related