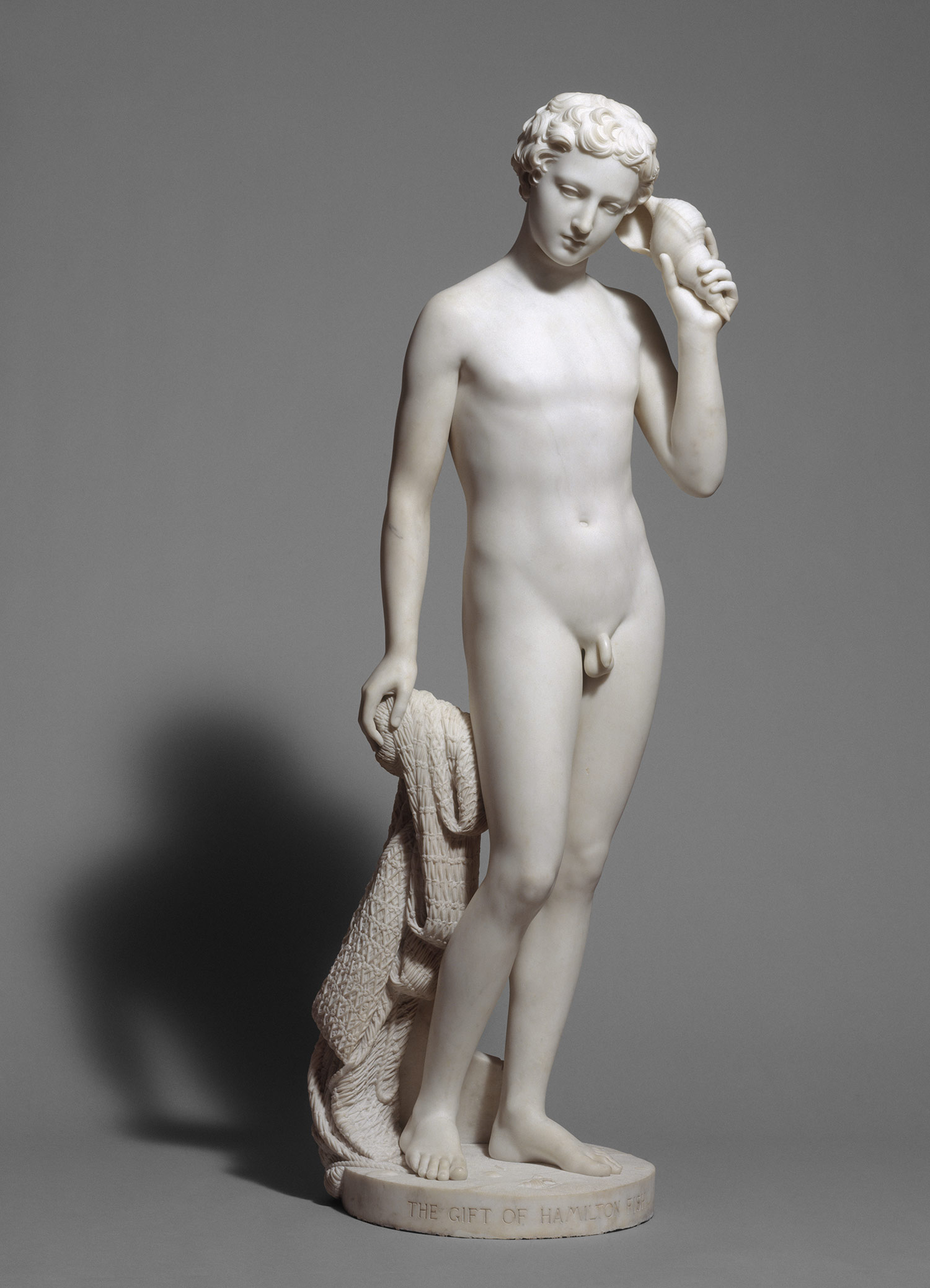 ---
Fisher Boy, 1841–44; this carving, 1857
Hiram Powers (American, 1805–1873)
Marble

57 1/2 x 19 x 16 in. (146.1 x 48.3 x 40.6 cm)
Bequest of Hamilton Fish, 1894 (94.9.1)
While working on the model of his first full-length sculpture, Eve Tempted, in Florence in 1841, Powers conceived of his next two ideal statues, the Greek Slave (1841–43; 1847, The Newark Museum) and the Fisher Boy. Powers described his idea for the Fisher Boy, his only male nude, to an American patron: a boy of eight or nine years "will be holding in his right hand to his ear a conch shell by which it is supposed by many who inhabit the borders of the sea a storm may be foretold …; in the left will be seen the net & tiller & at his feet shells half buried in the sand … to indicate the beach of the ocean." The finished model varied somewhat from Powers' original description: the boy lifts the shell in his left hand to his slightly turned and down-tilted head; his right hand rests on the net and tiller that provide the statue's support. Although this was the age of Victorian Neoclassicism, when classical subjects were in tremendous vogue, Powers insisted that the Fisher Boy was a contemporary genre subject, "a kind of Appollino, but the character is modern." Indeed the subject was a popular one in nineteenth-century sculpture.
There are six recorded carvings of the Fisher Boy; the Museum's is the fourth. It was purchased by the New York politician Hamilton Fish when he visited Powers' studio in Florence in 1857.
Related