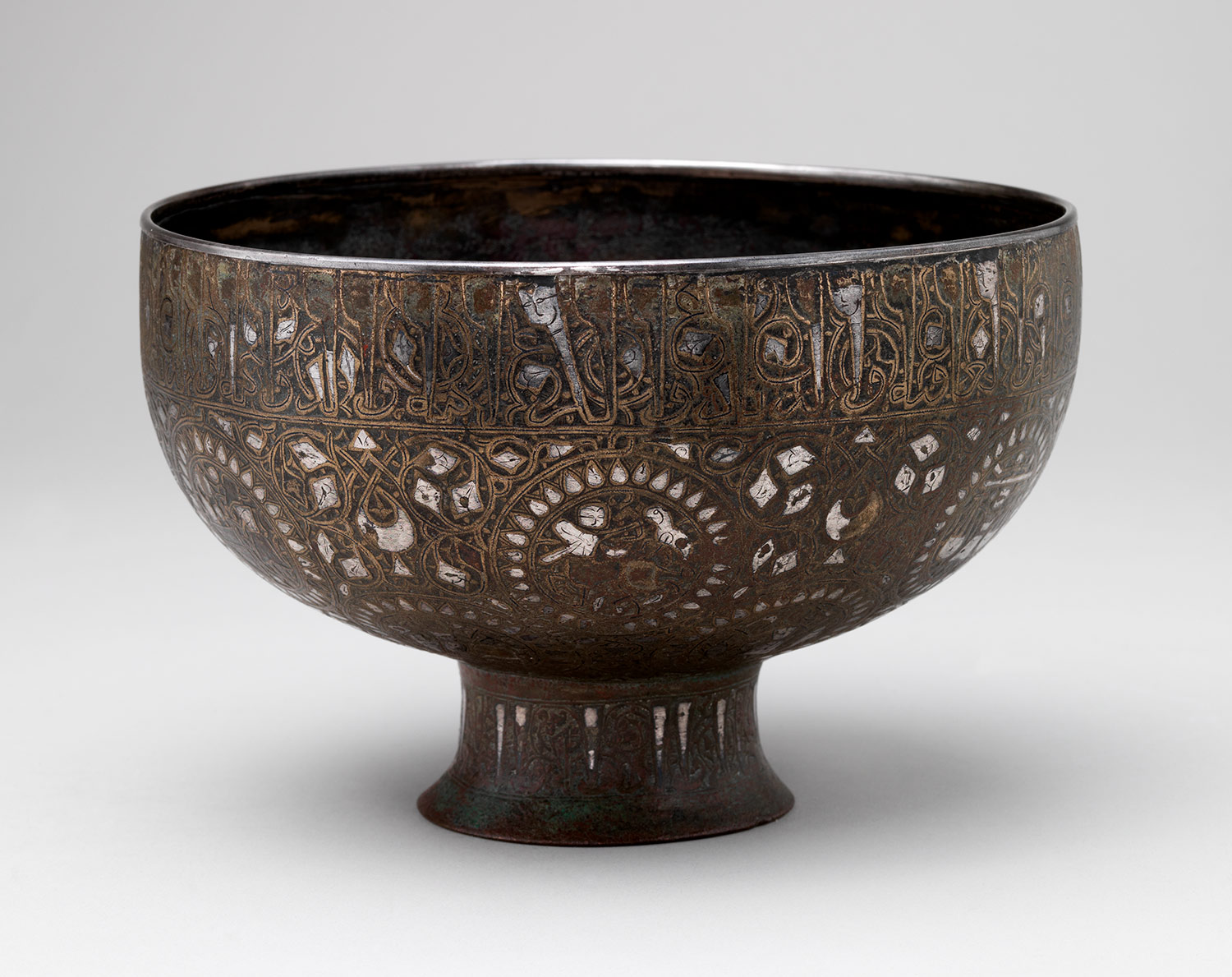 ---
Footed bowl, Seljuq period (1040–1196), early 13th century
Iran
Bronze; inlaid with silver and black compound; H. 4 3/8 in. (11.1 cm), Diam. 6 13/16 in. (17.3 cm)
Edward C. Moore Collection, Bequest of Edward C. Moore, 1891 (91.1.543)
This footed bowl has a rich program of inlaid silver decoration. There are epigraphic bands under the rim and around the foot, each with blessings for the bowl's owner in animated script, with a band of medallions containing the signs of the Zodiac in the middle. Each medallion is framed by a ring of pointed rays that underscore the solar symbolism of the decoration, and each sign is shown with its Planetary Lord.
In Arabic, Aquarius is called al-dalw ("the water bucket") when referring to the sign of the Zodiac, and sakib al-ma ("the water pourer") when referring to the constellation. Correspondingly, illustrations of the Zodiac show Saturn, the Planetary Lord of Aquarius, raising a bucket of water from a well, whereas illustrations of the constellation, following the original Greek name, show a male figure pouring water from a vessel.
Said the Wise Abu Macshar: "Those who are born in this decade have a bright complexion. They are of medium build and have a thin skin. They are easily affected by the sun since they are pallid. They walk fast. They get bored easily and often become angry and anxious. They cannot wail patiently or keep a secret for more than an hour. They have a scar on their head. Allah knows more..."
Related