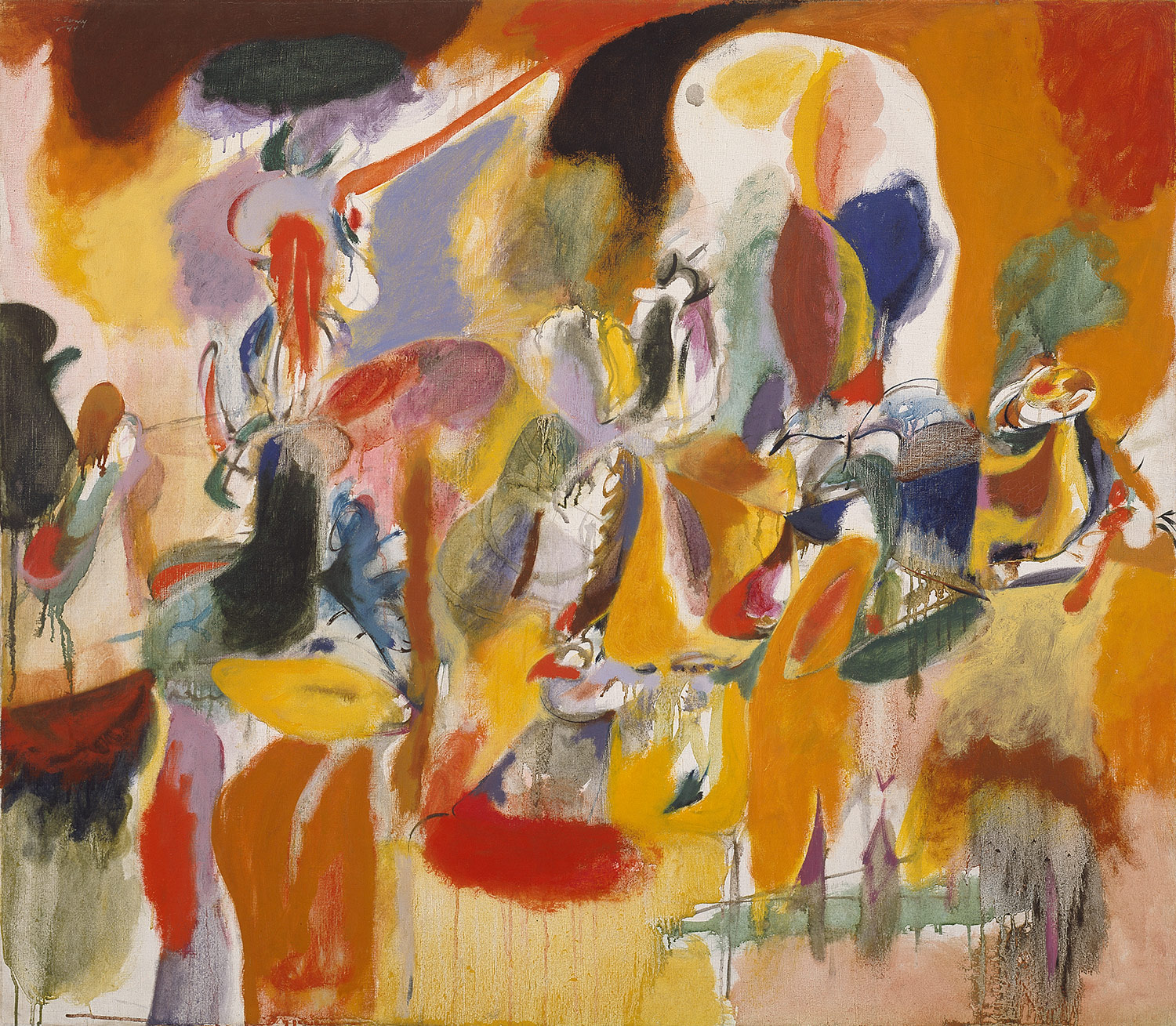 ---
Water of the Flowery Mill, 1944
Arshile Gorky (American, born Armenia, 1904–1948)
Oil on canvas

42 1/4 x 48 3/4 in. (107.3 x 123.8 cm)
George A. Hearn Fund, 1956 (56.205.1)
© 2011 Artists Rights Society (ARS), New York
In the wake of World War I, the Turkish government's persecution of Armenians, and the subsequent threat of civil war, Arshile Gorky (born Vosdanik Adoian) and his family fled Armenia for America. There, he attended the New School of Design in Boston (1922–24), adopting the pseudonym "Arshile Gorky" (with variant spellings until 1932). Moving to New York City in 1924, he enrolled at the National Academy of Design and the Grand Central School of Art in 1925, where he also taught until 1931. Gorky's early landscapes and still lifes from the 1920s reflected the influence of Paul Cézanne, but by the 1930s he had evolved a flat, Synthetic Cubist style derived from Pablo Picasso that brought him into close contact with artists such as Stuart Davis (1992.24.1) and John Graham who were experimenting likewise.
In 1942, Gorky's work moved in an entirely new direction, toward a watery, biomorphic abstraction that incorporated Surrealist automatism while anticipating the gestural brushwork of Abstract Expressionism. These landscape-inspired visions, produced during the last six years of his life, were based on his intense study of nature during stays in Connecticut and Virginia, mixed with nostalgic reminiscences of his homeland. As he wrote to his sister in February 1942: "loving memories of our garden in Armenia's Khorkom haunt me frequently. … in my art I often draw our garden and recreate its precious greenery and life." Gorky's new visual vocabulary reached mature refinement in the mid-1940s and is exemplified by this masterpiece, Water of the Flowery Mill, a landscape of exquisite color, poetic brushwork, and compositional complexity. Although not easily deciphered, the picture depicts a specific setting, the remains of an old mill and bridge on the Housatonic River in Connecticut, near Gorky's home in the town of Sherman.
Related