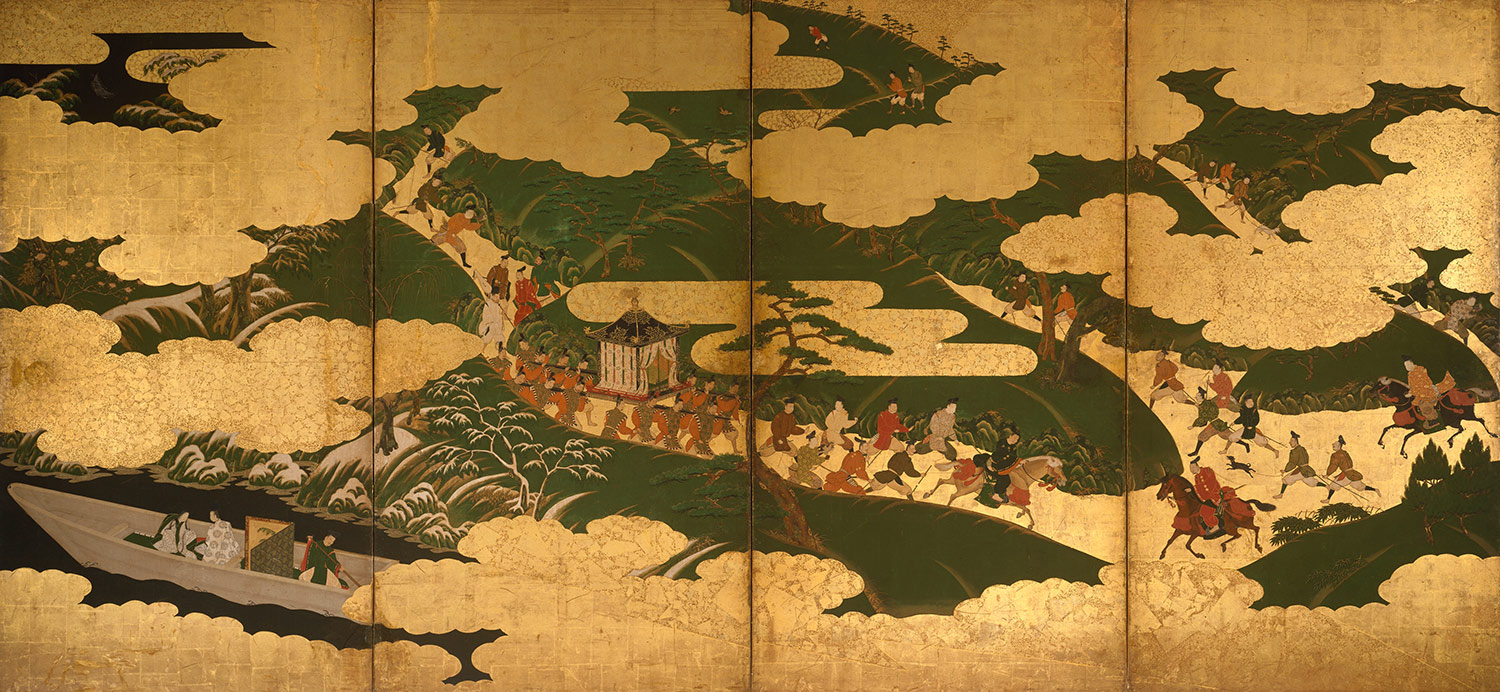 ---
Scenes from the Tale of Genji: "The Royal Outing" (Miyuki, chapter 29), "A Boat upon the Waters" (Ukifune, chapter 51), and "The Gatehouse" (Sekiya, chapter 16), Momoyama period (1573–1615), 17th century
Tosa Mitsuyoshi (Japanese, 1539–1613); Tosa Mitsuoki (Japanese, 1617–1691)
Pair of four–panel folding screens; ink, color, and gold on gilded paper; Each 65 1/2 x 140 in. (166.4 x 355.6 cm); folded: 67 1/2 x 36 3/4 x 3 3/4 in. (171.5 x 93.3 x 9.5 cm)
Fletcher Fund, 1955 (55.94.1–.2)
Themes from Japanese classical literature inspired some of the most innovative artistic work in seventeenth-century Japan, and no one subject was as richly mined as the tenth-century romance, the Tale of Genji. This pair of screens was originally in the sliding-door format, most likely part of a larger set that enclosed a room. The left screen illustrates chapter 16, "The Gatehouse" (Sekiya). when Genji unexpectedly encounters Utsusemi ("the lady of the locust shell") at the Osaka Barrier in autumn, long after they have ended an illicit and ephemeral affair. Her entourage pulls aside and kneels respectfully as Genji and his men pass. The fleeting but powerful nature of desire flavors the events of this chapter, which culminates in an exchange of poems:
By chance we meet upon this path,
and, though I might wish otherwise,
the waters here are fresh—
they lack the tidal riches of the sea;
we pass each other by.
At Osaka's barrier gate to meet–
what sort of gate I cannot fathom now
thickly covered by sighing groves.
The right screen illustrates two chapters. The first scene is chapter 29, "The Royal Outing" (Miyuki). In flurries of snow, princes and high courtiers are approaching in procession while falconers and huntsmen are hunting. The other scene, at the lower left, is from chapter 51, "A Boat upon the Waters" (Ukifune). In the heavy night snowfall, Prince Niou, Genji's grandson, abducts the young princess Ukifune.
These three scenes seem to have been selected by the artist because they are set outdoors and could be connected in the composition by the landscape and the winter. An inscription on the far left panel attributes the work to Tosa Mitsuyoshi (1539–1613), primarily known for his delicate album-leaf paintings representing classical themes. The inscription also identifies the panel as a replacement painted by Mitsuyoshi's grandson, Tosa Mitsuoki (1617–1691).
The composition of this painting depends on a harmonious balance of decorative shapes arranged across the surface. Although stylized, the figures in Mitsuyoshi's painting are surprisingly in motion, a departure from the more passive Japanese style of earlier handscrolls and books. The figures are also larger relative to the landscape details. A common thread of interest—the need to represent characters as something more than ciphers of literary events—seems to run through the figural art of this period, particularly in paintings on screens and sliding-door panels.
Related