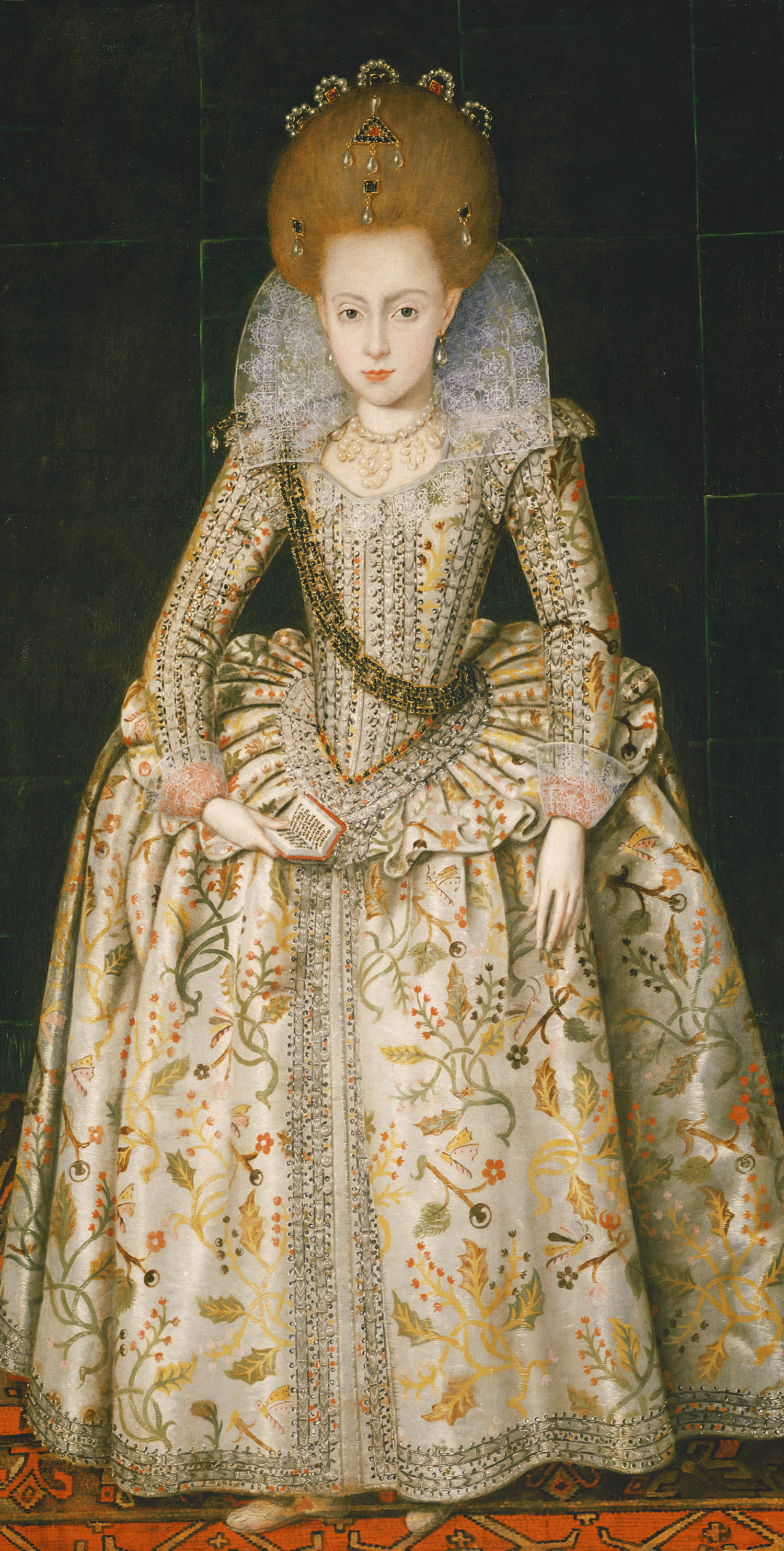 ---
Princess Elizabeth (1596–1662), Later Queen of Bohemia, ca. 1606
Robert Peake the Elder (British, ca. 1551–1619)
Oil on canvas

60 3/4 x 31 1/4 in. (154.3 x 79.4 cm)
Gift of Kate T. Davison, in memory of her husband, Henry Pomeroy Davison, 1951 (51.194.1)
The visual arts under the Tudors had been devoted to the enhancement of kingship. James I, who ascended the English throne on the death of Elizabeth I in 1603, retained various artists in service, thus preserving an iconic tradition of representation that was old-fashioned by Continental standards. Peake was a representative of that tradition. He was principal painter to James's son, the brilliant and precocious Henry Frederick, prince of Wales, until the prince's untimely death in 1612.
The sitter here is Elizabeth, younger sister of Henry Frederick and the future Charles I. The same delicately shaped face and poignant expression may be seen in portraits of her by the miniaturist Nicholas Hilliard. Typical are the smoothly modeled hands and face; the flat patterns of the lace, embroidery, carpet, and background; and the interest in intricate naturalistic details. The inscription on the princess's book refers to a "tablet," a flat or table-cut jewel, and the chain around her bodice is composed of diamonds of this kind. The lines of verse suggest that instead of jewelry, the Roman Catholic Queen Anne had offered her absent daughter a blessing in the form of a devotional text.
When Princess Elizabeth's father succeeded to the throne, she was placed in the care of Lord and Lady Harrington. In 1613, after a short period at the royal court, she married with great ceremony Frederick V (1596–1632), elector palatine, one of the most eligible bachelors in Europe. In 1619, he was elected king of Bohemia; in 1620, he was driven from the throne, and the couple spent the rest of their lives as royal refugees.
Related