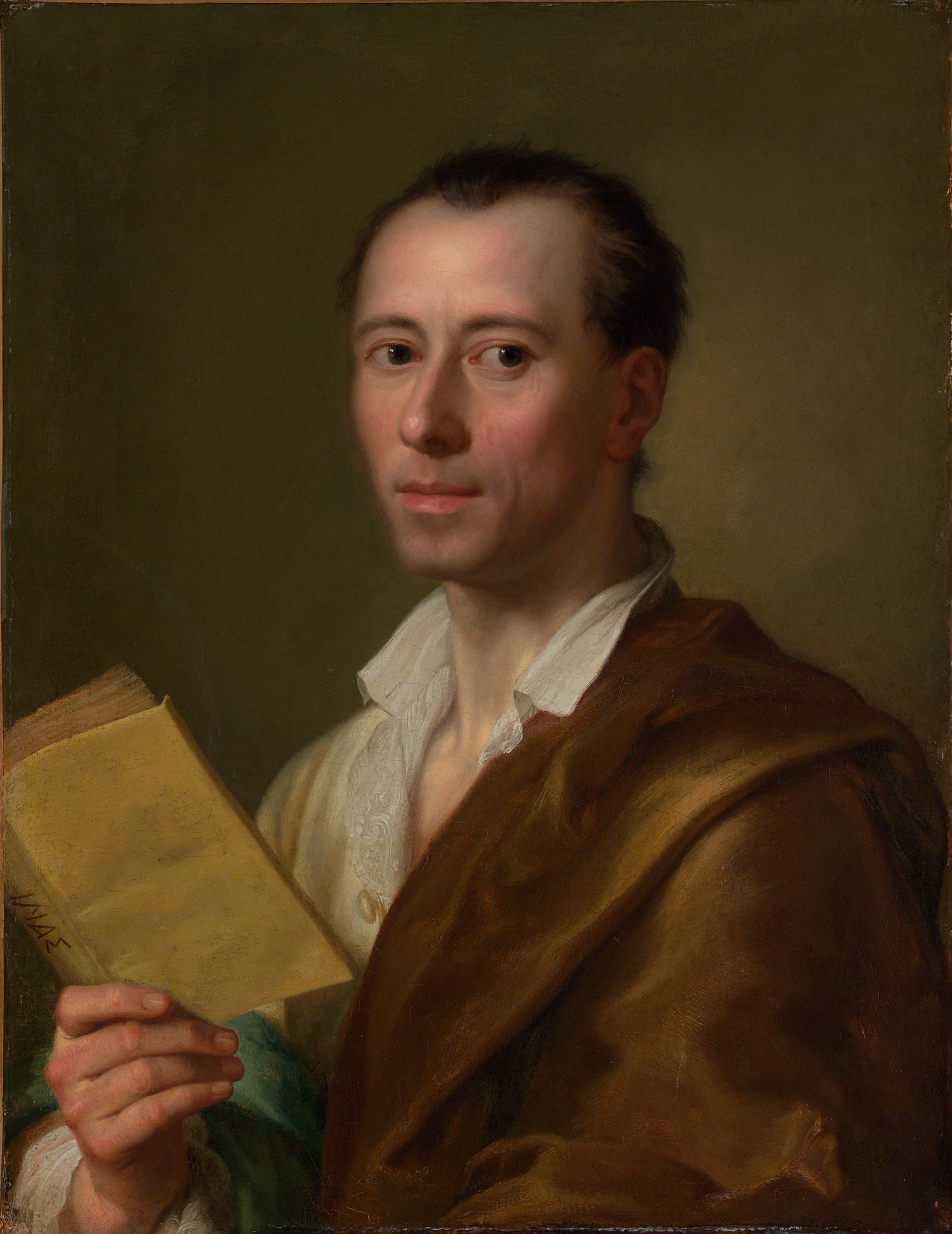 ---
Johann Joachim Winckelmann (1717–1768), ca. 1777
Anton Raphael Mengs (German, 1728–1779)
Oil on canvas; 25 x 19 3/8 in. (63.5 x 49.2 cm)
Harris Brisbane Dick Fund, 1948 (48.141)
Anton Raphael Mengs, born in Bohemia (in what is now the Czech Republic), spent his childhood in Dresden, where his father, Ismael Mengs (1688–1764), was court painter to Friedrich August II (1696–1763) of Saxony, king of Poland. The aptly named youth was schooled principally in Rome, where he spent the greater part of his life from 1740 onward. Mengs was well known to his contemporaries as a practitioner and theorist of Neoclassicism; he has been less admired since, and it could perhaps even be argued that he was too much influenced by Raphael (1483–1520). Among Mengs' most famous works are the ballroom ceiling depicting Parnassus in Cardinal Albani's villa in Rome, completed in 1761, and the fresco decorations undertaken immediately thereafter in the royal palace in Madrid.
Mengs was a disciple of the archeologist and writer Johann Joseph Winckelmann (1717–1768), who is credited with the rediscovery of ancient Greek art. Winckelmann, from Brandenburg, was educated in Latin, Greek, and theology at the universities of Halle and Jena; in 1748, he secured employment as a librarian at Nöthnitz, near Dresden, which allowed him to make himself known to members of the electoral court of Saxony. He converted to Roman Catholicism and, through connections in the church hierarchy, found his way to Italy, where he was to report back on recent archaeological discoveries at Herculaneum. Mengs and Winckelmann met within days of the latter's arrival in Rome in 1755. Their backgrounds were similar. Each admired the other and they shared a variety of interests and a wide acquaintance, especially among artists and foreign visitors. Winckelmann published his most important work, a history of ancient art (in its original language, Geschichte der Kunst des Altertums), in 1764. Having intended to visit Germany in 1768, he found himself in Trieste, where he was brutally murdered in what may have been a homosexual encounter.
This elegiac, idealized portrait was painted as a memorial in about 1771, several years after the sitter's death and not long before the death of the painter. José Nicolás de Azara (d. 1804), the Spanish ambassador to Rome, was the first owner of Mengs' portrait of Winckelmann, which he described as "handsomer that he, and yet like him." The sitter wears a white linen shirt, open at the neck, with a lace ruffle. The title of the open book he holds is inscribed in Greek on the spine: Iliad.
This work of art also appears on Connections: Books
Related