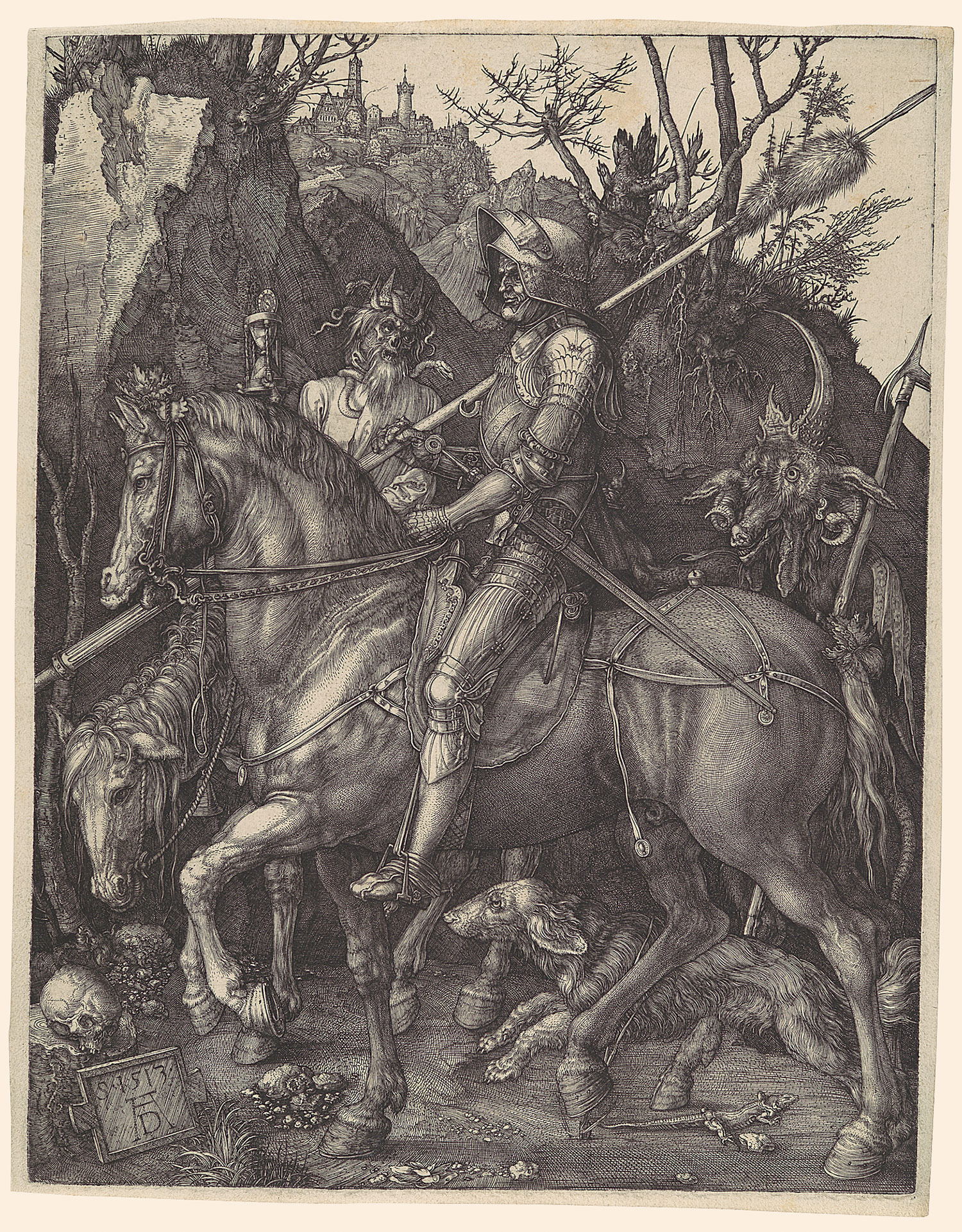 ---
Knight, Death, and the Devil, 1513–14
Albrecht Dürer (German, 1471–1528)
Engraving; 9 5/8 x 7 1/2 in. (24.4 x 19.1 cm)
Harris Brisbane Dick Fund, 1943 (43.106.2)

Dürer's Knight, Death, and the Devil is one of three large prints of 1513–14 known as his Meisterstiche (master engravings). The other two are Melancholia I and Saint Jerome in His Study. Though not a trilogy in the strict sense, the prints are closely interrelated and complementary, corresponding to the three kinds of virtue in medieval scholasticism—theological, intellectual, and moral. Called simply the Reuter (Rider) by Dürer, Knight, Death, and the Devil embodies the state of moral virtue. The artist may have based his depiction of the "Christian Knight" on an address from Erasmus's Instructions for the Christian Soldier (Enchiridion militis Christiani), published in 1504: "In order that you may not be deterred from the path of virtue because it seems rough and dreary … and because you must constantly fight three unfair enemies—the flesh, the devil, and the world—this third rule shall be proposed to you: all of those spooks and phantoms which come upon you as if you were in the very gorges of Hades must be deemed for naught after the example of Virgil's Aeneas … Look not behind thee." Riding steadfastly through a dark Nordic gorge, Dürer's knight rides past Death on a Pale Horse, who holds out an hourglass as a reminder of life's brevity, and is followed closely behind by a pig-snouted Devil. As the embodiment of moral virtue, the rider—modeled on the tradition of heroic equestrian portraits with which Dürer was familiar from Italy—is undistracted and true to his mission. A haunting expression of the vita activa, or active life, the print is a testament to the way in which Dürer's thought and technique coalesced brilliantly in the "master engravings."
Related