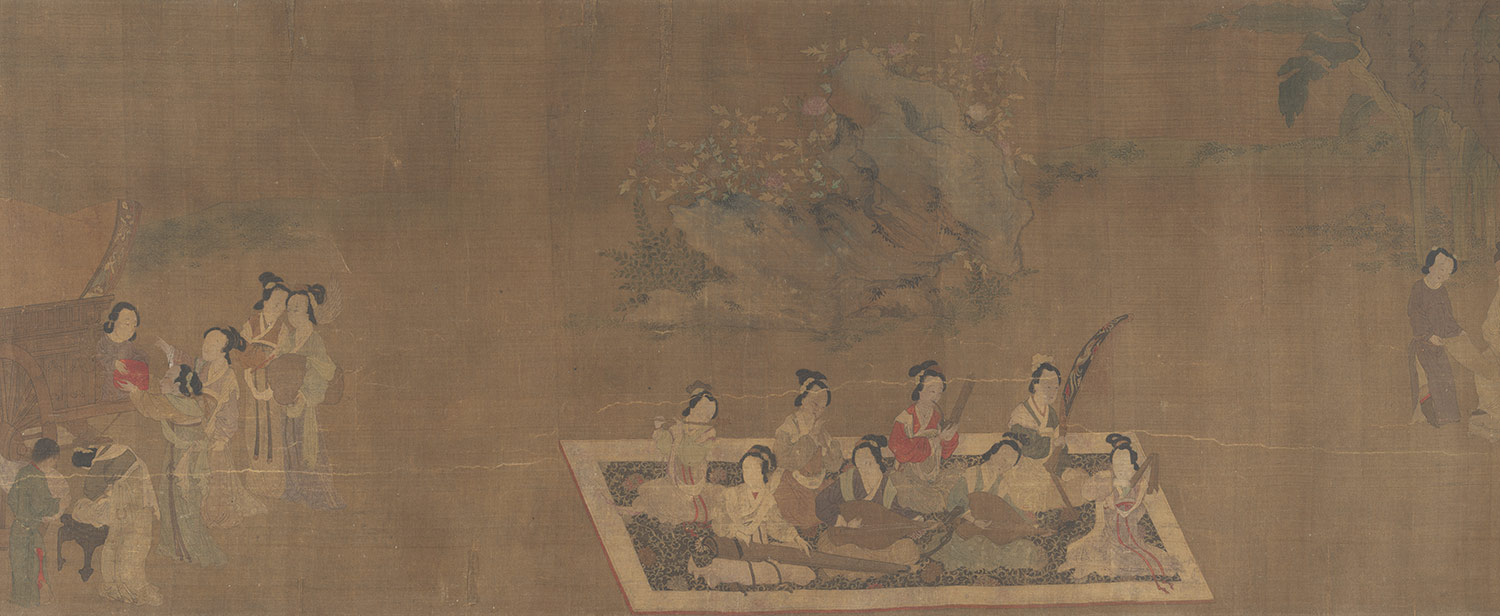 ---
Lady Su Hui and Her Verse Puzzle, Ming dynasty (1368–1644), 16th century
China
Handscroll; ink and color on silk; 10 1/16 x 122 3/4 in. (25.6 x 311.8 cm)
Gift of George D. Pratt, 1933 (33.167)
There are several versions of the story of Suhui, her separation from her lord Doutao, one-time governor of Qinzhou under Fujian (r. 357–84) of the Qin, and her happy reunion with him through the intercession of her famous poem. The most widely circulated version had its origin in a preface to the Xuan Jitu by Empress Wu Zedian (625–705) of the Tang dynasty, and was popularized in modern times in the novel Jing Huayuan (1828). According to this version, Suhui quarreled with her husband over his favorite concubine, Zhao Yangtai, whom he maintained in a separate establishment. When she discovered his secret, Suhui "raided" Zhao's quarters and abused the hapless concubine with both words and blows. Later, when Doutao was appointed governor of Xiangyang, he made an attempt at reconciliation, but the headstrong Suhui spurned his advances and refused to accompany him to his new post, whereupon the husband departed with his concubine.
It was then that Suhui composed and wove in five colors her poem of 840 characters (or 841 according to a recent edition of the Zhong Huayuan), so arranged that it can be read forward or backward and in a number of other ways. This she sent to Doutao, who was as much impressed by the feat as he was touched by the vague, plaintive sentiments. He sent away his concubine and welcomed the poetess to his Xiangyang household. The Jinshu (History of the Qin Dynasty), however, does not depict Suhui as a jealous wife; rather, it records that she wrote the poem while her husband was living in exile on the frontier.
The painting opens with the weaving scene. Suhui is shown seated at the loom with a wistful expression on her face; in front, carrying a tray of tea things, is a maid who stops to play with a pet dog. In the next scene we find the lady dispatching her emissary, with a number of attendants in her train carrying parcels, one of which, we fancy, must contain the woven poem. The third scene shows Doutao reading the poem, with Zhao Yangtai seated by his side, while a group of female musicians play various instruments. The last scene, in which we see the couple united, has been treated at greater length than others and with greater success in the depiction of character and emotion, especially in the case of the lady and her immediate attendants.
This scene appears in a later copy of a Tang-dynasty painting. The dating of the original painting is supported by the types of instruments depicted in it. Both the harp (konghou) and the pipa played with a plectrum disappeared after the Tang.
Front row, left to right: qin, pipa, pipa (played without plectrum), paiban.
Back row, left to right: dizi, xiao, sheng, konghou.
Related