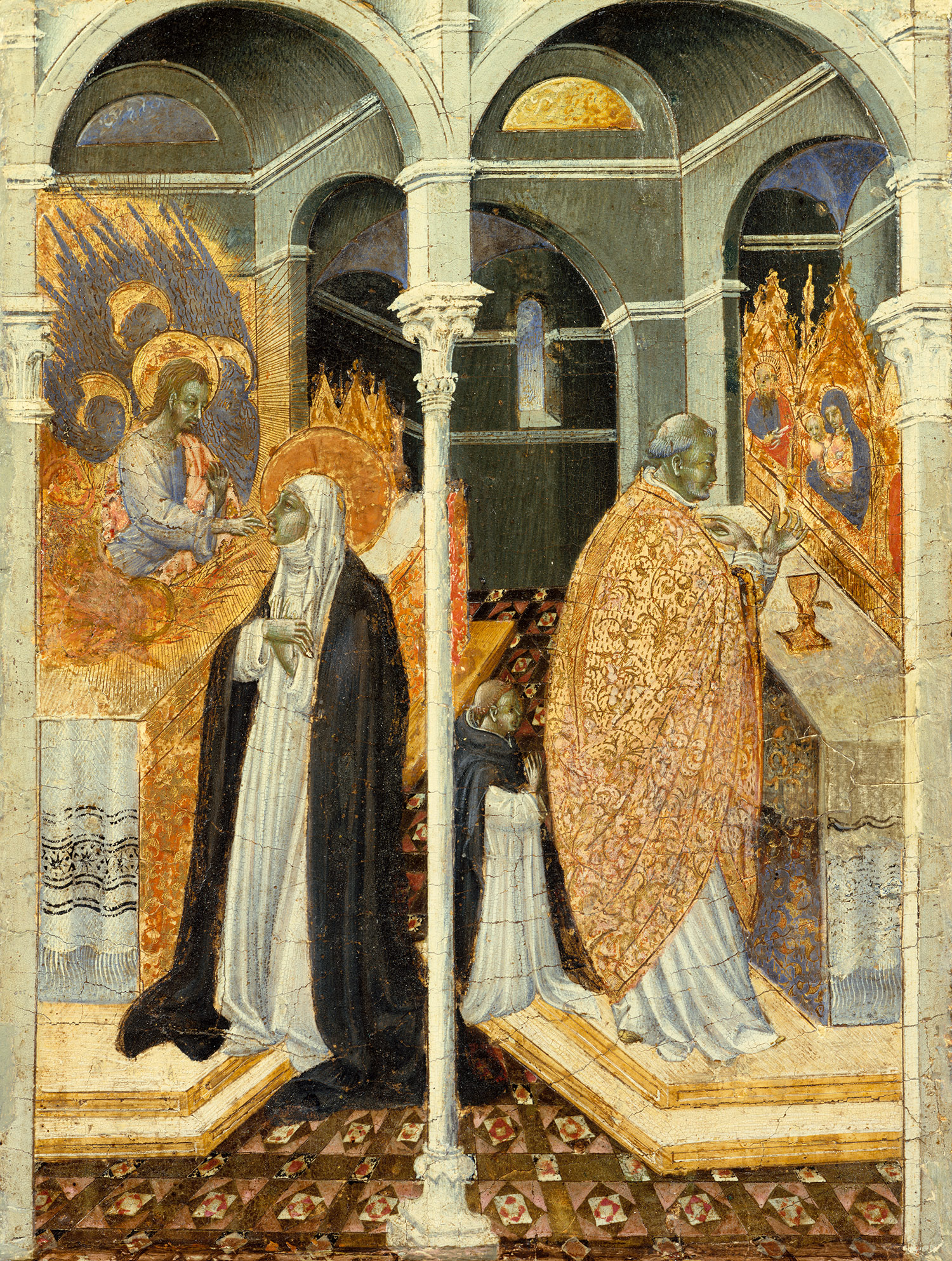 ---
The Miraculous Communion of Saint Catherine of Siena, 1747
Giovanni di Paolo (Giovanni di Paolo di Grazia) (Italian, 1398–1482)
Tempera and gold on wood

11 3/8 x 8 3/4 in. (28.9 x 22.2 cm)
The Friedsam Collection, Bequest of Michael Friedsam, 1931 (32.100.95)
These three panels are from a series of ten scenes that originally formed the predella of an altarpiece painted by Giovanni di Paolo for the hospital church of Santa Maria della Scala in Siena. This was among the artist's most important commissions, and the predella, painted soon after Saint Catherine's canonization in 1460, was the first extensive pictorial cycle of her life. A mystic as well as minister to the poor and plague-stricken, Saint Catherine was one of the outstanding figures of the fourteenth century. A biography was written by her confessor, Raymond of Capua, and this work provided the source for Giovanni di Paolo's scenes.
In the first scene, Catherine miraculously receives communion from Christ while her confessor, officiating at another chapel in the church, raises his hand in astonishment at the consecrated wafer, from which a piece has disappeared. In the second, Catherine is mystically united with Christ. Christ's mother presides over the event, and music is provided by the Israelite King David. In the third, Catherine is shown elevated in rapture, holding her heart, which leapt out of her body to be united with Christ's.
Among the most notable features of these pictures is the way space is manipulated to underscore the mystical nature of the stories. Two further scenes are in the Metropolitan (Robert Lehman Collection).
Related