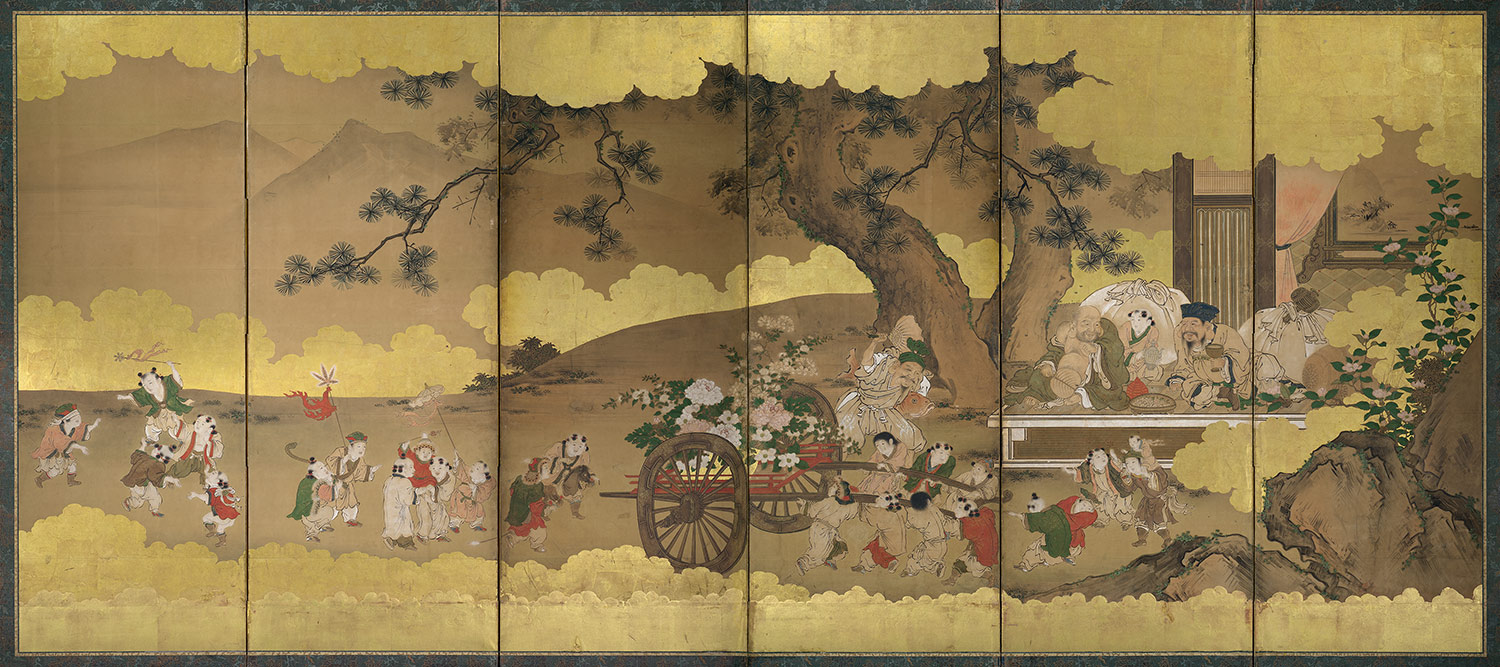 ---
Seven Gods of Good Fortune and Chinese Children, Edo period (1615–1868), 17th–18th century
Kano Chikanobu (Japanese, 1660–1728)
Six–panel folding screen; ink and color on paper; reverse side: ink, color, and gold on paper; 69 1/4 x 153 in. (175.9 x 388.6 cm)
Signed: Chikanobu
H. O. Havemeyer Collection, Bequest of Mrs. H. O. Havemeyer, 1929 (29.100.498)
The Seven Deities of Good Fortune (Shichifuku-jin) and Chinese children are auspicious symbols of wealth and abundance. This screen illustrates, from right to left, three of the seven deities: Daikokuten, Hotei, and Ebisu. Another screen, originally paired with this one but now missing, must have included the remaining four deities: Bishamonten, Jurojin, Benzaiten, and Fukurokuju.
Daikokuten (Mahakala in Sanskrit), holding a wine cup and wearing his distinctive hood, is here depicted in a relaxed pose, though in other manifestations he is a ferocious protector of Buddhist Law. Combining his Buddhist role with that of an indigenous Japanese god, Daikokuten became one of the most popular gods of good fortune. Here he is accompanied by his attributes, including the sack with a mallet and a rice bale.
Ebisu, holding a large red snapper under his left arm, is the only deity of entirely native origin. He was originally a god of fisherman and, later, merchants hoping for success in trade. Since the sixteenth century, both Daikokuten and Ebisu have been widely worshipped as gods of wealth and prosperity and as household deities.
Hotei (Budai in Chinese), exposing his rotund belly and talking to Daikokuten, is a legendary Chinese eccentric monk of the tenth century, said to be an incarnation of Miroku (Maitreya in Sanskrit), the Buddha of the Future. His distinctive features, joyful smile, and large sack make him a representative member of the seven deities of good fortune. Because of his carefree nature, he is closely associated with children; he delights in playing with them.
In this composition, Chinese children play under the kindly eye of the Deities of Good Fortune. They pull a carriage abundant with flowers, gallop on hobby horses, and engage in a game of tag. The happy-go-lucky spirit of this painting is intended to evoke joy and bliss.
Kano Chikanobu, head of the Kobikicho branch of the Kano school, served the shogunate in Edo. In this most propitious painting, he displays what he learned from the discipline of the Kano academy, the elegant fusion of ink and vivid colors with versatile brushwork. Chikanobu's signature and seals appear on the reverse of the screen.
Related