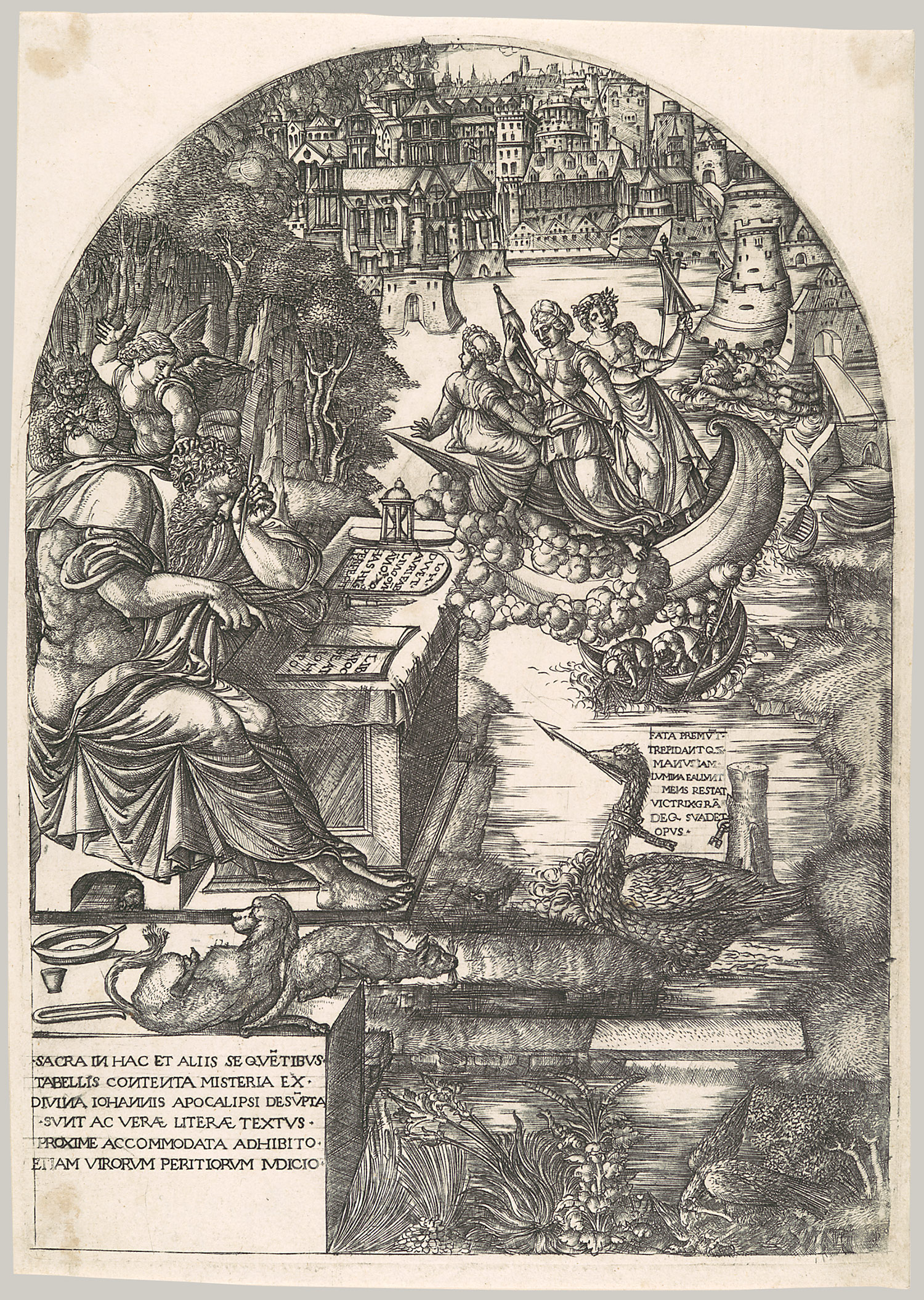 ---
Frontispiece of the Apocalypse, 1555
Jean Duvet (French, 1485–after 1561)
Engraving

11 7/8 x 8 1/2 in. (30.2 x 21.6 cm)
Harris Brisbane Dick Fund, 1925 (25.2.68)
Jean Duvet, a French goldsmith, engraver, and festival designer who worked in the provincial cities of Langres and Dijon, began his career as a printmaker by copying, with variations, the prints of Marcantonio Raimondi. Eventually assimilating these and other diverse influences, such as the engravings and woodcuts of Dürer and the etchings of Fontainebleau, Duvet developed a highly personal manner of engraving, seen to best advantage in his famous Unicorn and Apocalypse series.
The abstract and visionary qualities of Duvet's style are evident here in the rhythmic repetition of forms such as the verticals of the buildings and tree trunks; in the fine, short lines that cover the surfaces of every object to create a shimmering effect; and in the disturbing discrepancies of scale, evident in the juxtaposition between the massive Saint John, the tiny fishermen, the floating Fates, and the disproportionately large swimmer who emerges from beneath the bridge.
The weary Evangelist closes his eyes and rests his head on the hand that holds his pen, pointing with his other hand to his completed labors, the Book of the Apocalypse. On the table beside this book rests an engraver's burin, and beside this a tablet of the same shape as the engraved plates of the Apocalypse series, inscribed with the words: "Jean Duvet Goldsmith of Langres aged 70 made these histories 1555." From this it is clear that the aged man—Saint John is usually depicted much younger—is in some sense the artist himself, and that the many harbingers of death that appear in the image allude as much to the artist as to the Evangelist. One of the most poignant of these symbols is the swan who, having broken the golden chain of life, approaches with an arrow in his beak. The swan, an allusion to Duvet's name (which means "down"), was said to sing most sweetly before death. Clearly Duvet viewed this series as his swansong, for the inscription above the swan reads: "The Fates are pressing, already sight fails, the mind remains victorious, and the great work is completed."
Related