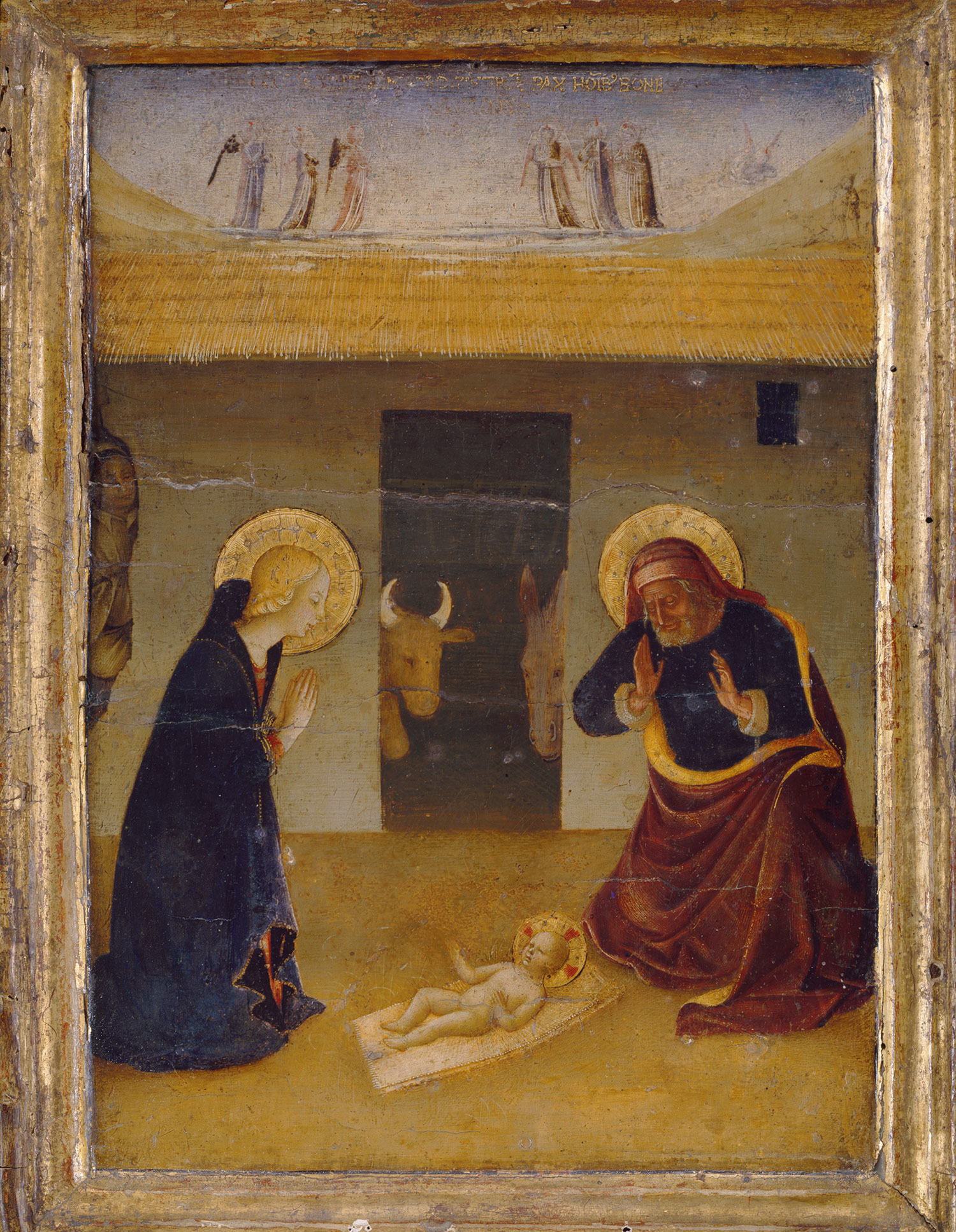 ---
The Nativity (The Adoration of the Christ Child), ca. 1460
Zanobi Strozzi (Italian, 1412–1468)
Tempera on panel

Overall 15 1/4 x 11 1/2 in. (38.7 x 29.2 cm), picture surface 13 x 9 1/8 in. (33 x 23.3 cm)
Rogers Fund, 1924 (24.22)
Vasari claims that Zanobi Strozzi "executed paintings for all Florence, which were dispersed among the houses of the citizens." Aside from images of the Virgin and Child, these works must have included small narrative panels such as this one, which served no apparent liturgical or devotional function but may have been intended simply as pious domestic decoration. It is interesting to speculate on the important role that Strozzi may have played in popularizing this new genre.
Zanobi di Benedetto di Caroccio degli Strozzi was born in 1412 to a noble family, one of the largest and wealthiest in Florence. Orphaned before the age of fifteen, he was apprenticed to the painter and miniaturist Battista di Biagio Sanguigni, with whom he lived near San Domenico, Fiesole. Strozzi and Sanguigni shared their house until 1438, when Strozzi married and moved to another residence nearby. The two artists continued to work closely together, not only on their own commissions but also as occasional assistants to Fra Angelico.
After Fra Angelico moved to Rome to work for Pope Eugenius IV late in 1445, Strozzi transferred his studio from Fiesole to Florence. From this date on, his name appears frequently in documents commissioning illuminated manuscripts, and over the next two decades he became the most important and prolific miniaturist in Florence. At least eighteen fully documented manuscripts by Strozzi survive, making his mature style in this medium easily recognizable. However, while he was equally admired by his contemporaries as a monumental painter in fresco and on panel, only one signed altarpiece by him is known, which has led to confusion over attributions of his work to other artists. Zanobi Strozzi died in 1468.
Related