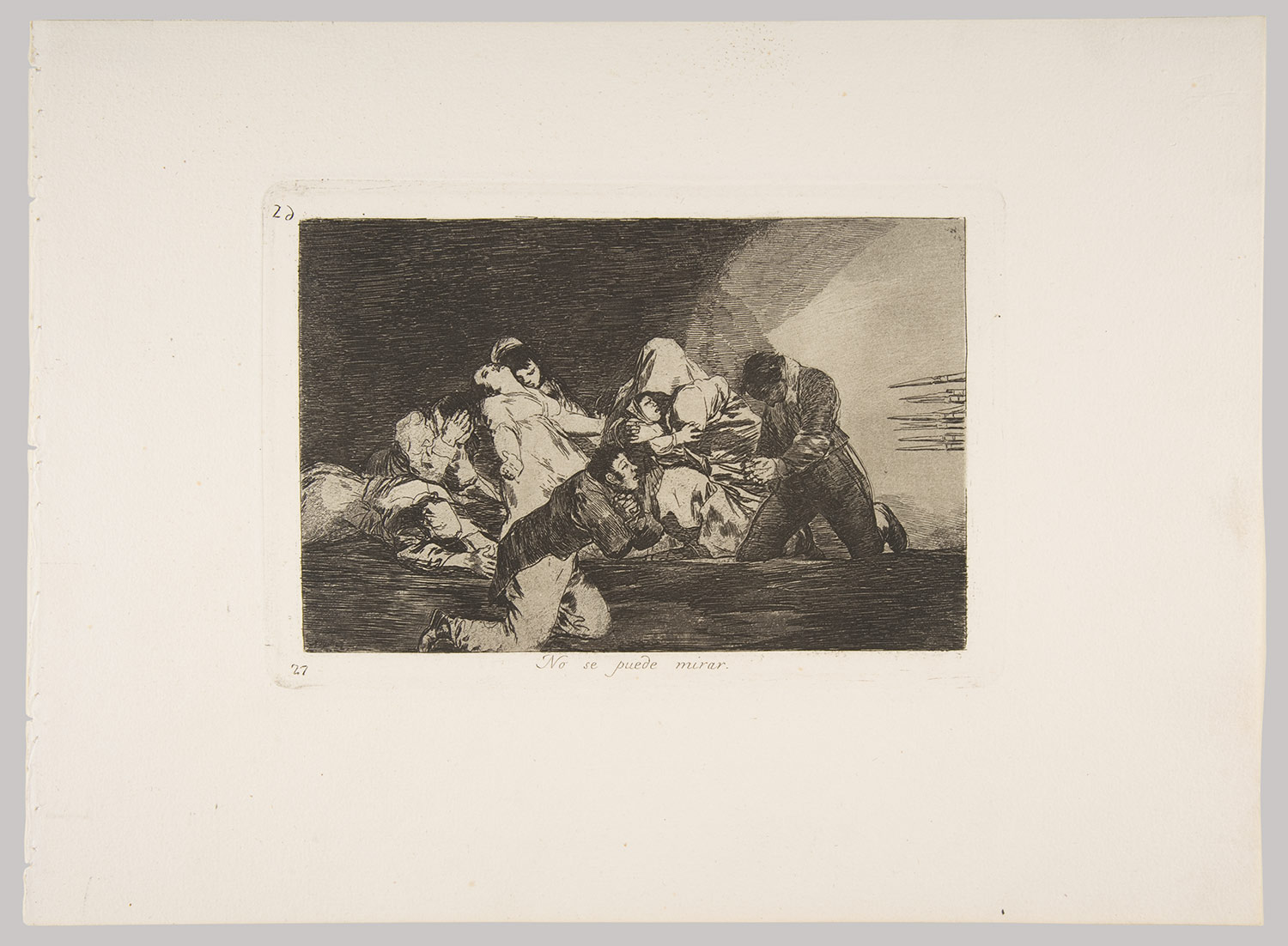 ---
One Can't Look (No se puede mirar), 1863
Francisco de Goya y Lucientes (Spanish, 1746–1828)
Etching, burnished lavis, drypoint, and burin; 5 11/16 x 8 1/4 in. (14.5 x 21 cm)
Rogers Fund and Jacob H. Schiff Bequest, 1922 (22.60.25.26)

After Napoleon's invasion of Spain in 1807 and 1808 brought about the abdication of the Bourbon ruler, violent protests against the French erupted in Madrid. The uprising of May 2, 1808, marked the start of the armed Spanish resistance, which dragged on in guerrilla warfare until 1814. That first brave rebellion by the Spaniards and the ferocious retaliation by the French were memorialized at the end of the war in Goya's two dramatic renditions of the deadly attacks. During the years of the war, Goya vented his horror and outrage at the atrocities committed by soldiers and patriots gone mad in the craze of hand-to-hand combat.
In eighty small, compact images, each etched with acid on copper, Goya told the appalling truth. He aimed a high-power beam on hideous sights: guerrillas shot at close range; the ragged remains of mutilated corpses; and the emaciated victims of war's partner, famine. Never before had a story of man's inhumanity to man been so compellingly told, every episode reported with the utmost compassion, the human form described with such keen honesty and pitying respect.
Goya probably estimated correctly that, once the conflict was ended, the Spanish people would have little appetite for anguished mementos of ruthlessness witnessed, reported, or imagined. Furthermore, it was a time of stern repression. Thus, aside from the proofs he made as he worked, Goya printed no other impressions of the Disasters of War. Not until 1863, thirty-five years after his death, was the first of seven posthumous editions of the Disasters published by Spain's Royal Academy, which in 1862 purchased all eighty etched copperplates.
Related