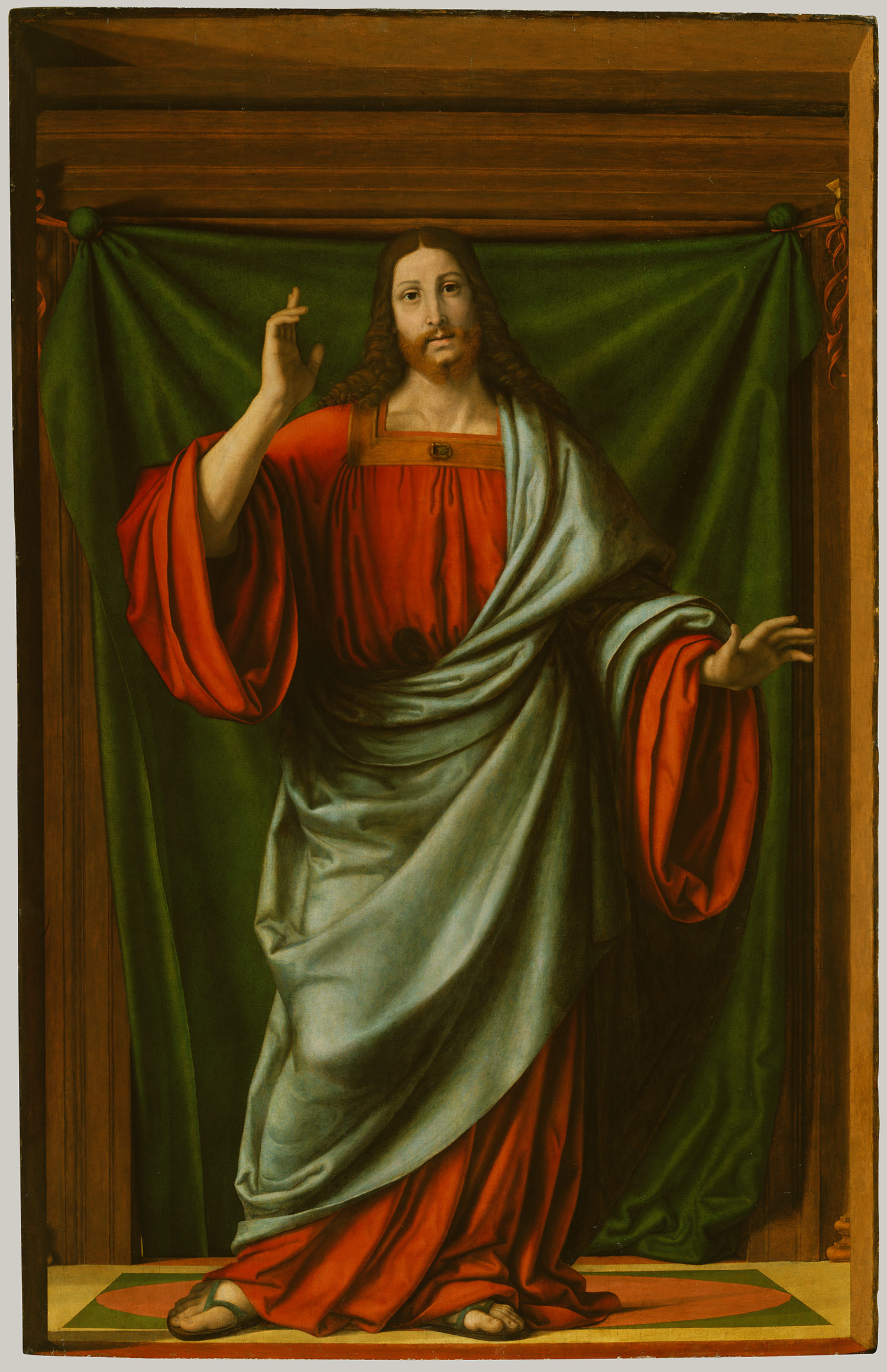 ---
Christ Blessing, ca. 1524
Andrea Solario (Italian, Milanese, ca. 1465–1524)
Oil on wood

80 1/4 x 51 1/2 in. (203.8 x 130.8 cm)
From the Collection of James Stillman, Gift of Dr. Ernest G. Stillman, 1922 (22.16.12)
This painting is a late work by Solario, and is related to a large Assumption of the Virgin in the Certosa at Pavia, which was left unfinished on the artist's death in 1524. It is generally thought to reflect the knowledge of the work of Raphael gained by the artist during a conjectural visit to Rome, about 1514. There is no record of the church for which it was painted, and it is not known whether it was an isolated panel or part of a larger altarpiece.
The space in which Christ stands is defined by a simple doorlike opening. The heavy green curtain hangs in an unusual, rather mysterious manner; the corners have been twisted into balls, then tied by ribbons that thread through the volutes of the capitals and drop down in ringlets. Although the curtain is bunched up on the floor at the right, it falls behind the pavement at the left, forcing us to consider the nature of the space being described and the way that the floor must drop off in the background. The recession of the pavement, with its colored marble inlay of a circle inscribed in a square, has also been carefully calculated. This perspectival scheme creates the illusion that Christ stands in a sacred space that is an extension of the viewer's.
It is difficult to assign any precise meaning to this painting, but it may be suggested that the severe architecture of the draped door is meant to evoke antique tombs, and that Christ is being shown as triumphant over death. This interpretation is reinforced by the floor pattern—a circle inscribed in a square—which refers to the nature of Christ as God in human form.
Related