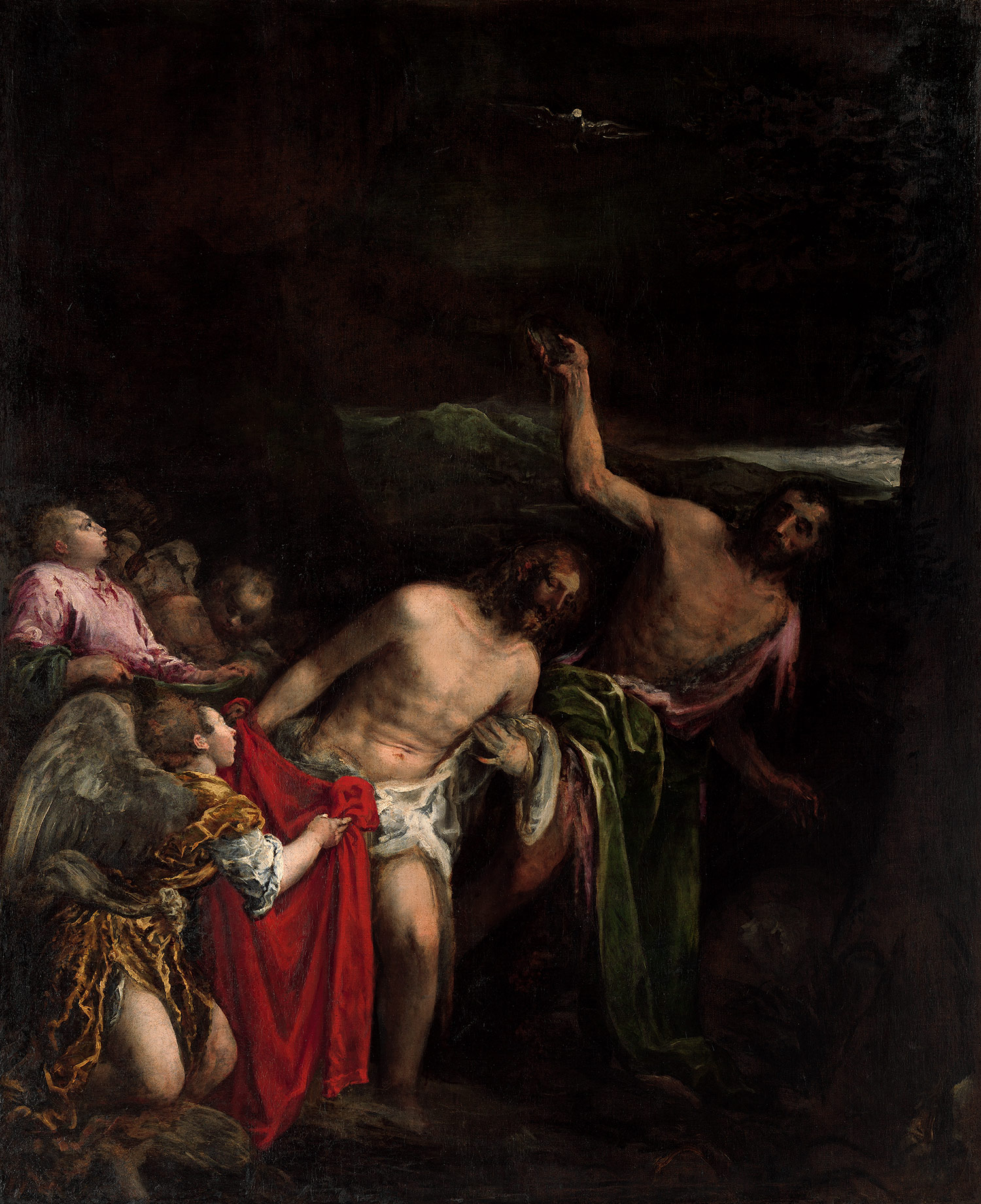 ---
---
Related Multimedia
Thomas P. Campbell (Director) and Keith Christiansen (Department of European Paintings) discuss Jacopo Bassano's The Baptism of Christ (L.2009.6) (2009).
The Baptism of Christ
Jacopo Bassano (Jacopo da Ponte) (Italian, ca. 1510–1592)
Oil on canvas; 75 1/2 x 63 in. (191.8 x 160 cm)
Private collection (2012.99)
This extraordinary picture—deeply expressive and unique in showing the Baptism of Christ as occurring at night—is the last known work by the great Venetian painter Jacopo Bassano, who left it unfinished when he died in 1592. It was viewed by his heirs as his artistic testament and was retained by them rather than completed and delivered, as would have been the normal practice. They evidently felt that, as in the case of Michelangelo's and Titian's unfinished works, the picture fully expressed Jacopo's intentions. The idea of lack of finish (non finito) as an expressive style rather than a mere description of the physical state of a work of art originates in the Renaissance. Writing in 1648, the critic-biographer Carlo Ridolfi speaks of Bassano's late style, "done in stabs [colpi] of color." In the seventeenth century, a sketched-in work was sometimes preferred to a picture brought to a high degree of finish—one thinks of Guido Reni's late paintings or Rubens's oil sketches. To our eyes, this non finito seems a crucial step toward modernism, and the comparison of this work by Bassano with, for example, Goya's so-called black paintings is inevitable. Comparisons with the last paintings of Caravaggio as well as with Rembrandt have also been made. What cannot be doubted is that Bassano here explores an expressive intensity—dark in mood as in palette—that is a direct and deeply personal response to Titian's late pictures (in particular, his two versions of the Martyrdom of Saint Lawrence and his unforgettable—and unfinished—Pietà, painted to decorate his own funerary chapel). In Bassano's picture, spectral figures of Christ, Saint John the Baptist, and three angels are shown in a nocturnal landscape. John leans forward and, turning back, baptizes Christ, who is also depicted leaning forward, as though shedding his scarlet robe. His tormented face expresses foreknowledge of his tragic destiny. The three angels serve as counterpoints: one, holding Christ's robe, gazes at him ecstatically, while a second angel looks upward, at the mystical apparition of a dove in the black sky. The horizon is lit by the rays of the setting sun.
This work of art also appears on 82nd & Fifth: Unfinished
Related