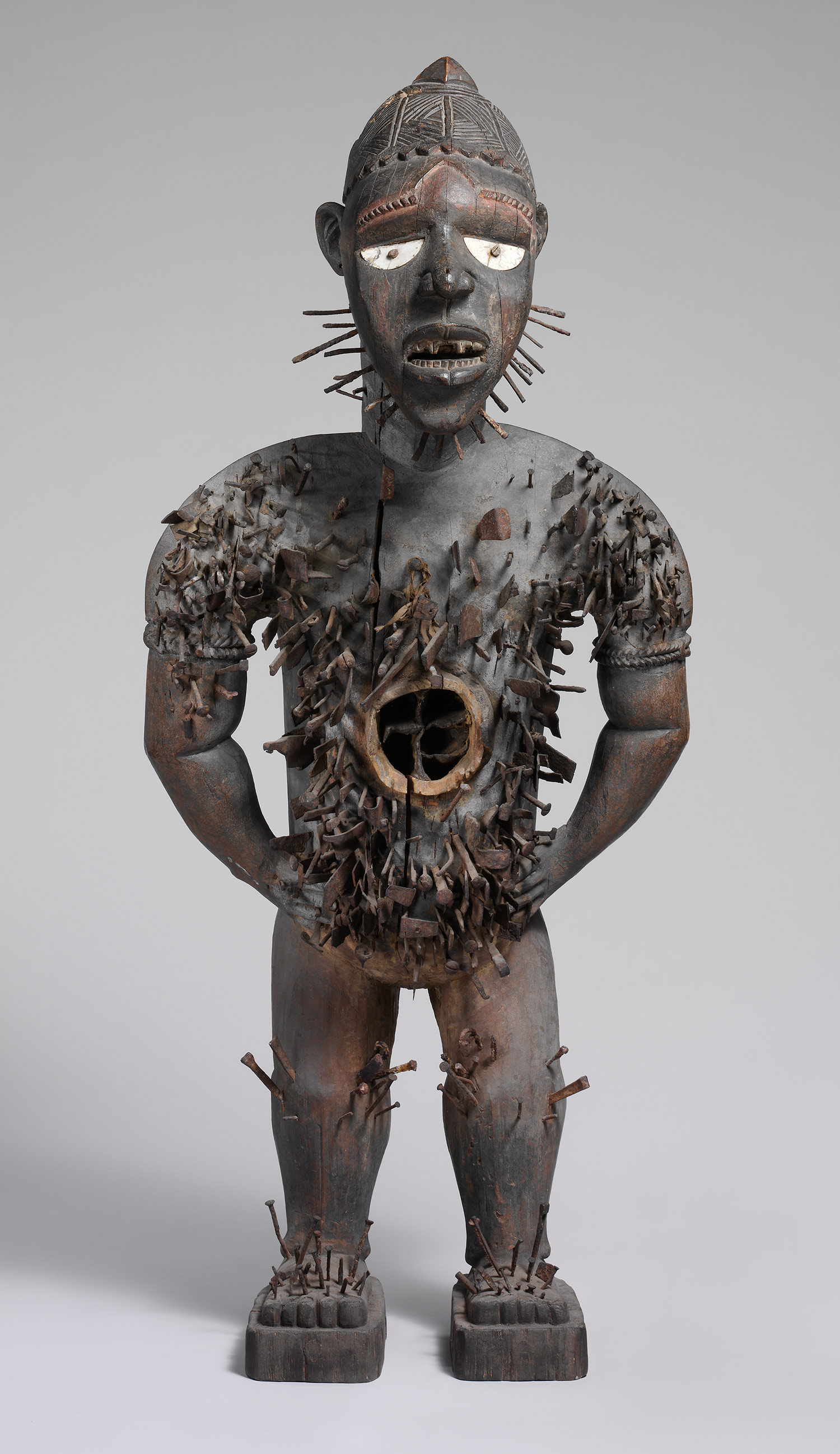 ---
---
Related Multimedia
Philippe de Montebello (Director Emeritus) and Alisa LaGamma (Department of Arts of Africa, Oceania, and the Americas) discuss Mangaaka Power Figure (Nkisi N'Kondi) (2008.30) (July 2008).
Mangaaka Power Figure (Nkisi N'Kondi), second half of 19th century
Democratic Republic of Congo or Angola, Chiloango River Region; Kongo
Wood, metal, resin, enamel; H. 46 7/16 in. (118 cm)
Purchase, Lila Acheson Wallace, Drs. Daniel and Marian Malcolm, Laura G. and James J. Ross, Jeffrey B. Soref, The Robert T. Wall Family, Dr. and Mrs. Sidney G. Clyman, and Steven Kossak Gifts, 2008 (2008.30)
The author of this Kongo personification of power—among the most impressive sculptural creations from sub-Saharan Africa—sought to inspire awe, to intimidate, and to evoke a power without bounds. Conceived to house specific mystical forces, Kongo power figures were the collaborative creations of sculptors and ritual specialists. This work belongs to the most ambitious class of that tradition. It is one of only twenty such figures more than a meter high identified with the preeminent force of jurisprudence, Mangaaka.
The sculptor gives visual expression to an ideal of unrivaled and assertive force as a presiding authority and enforcing lord. The crowning element is the distinctive headdress worn by chiefs or priests. The figure's posture and gesture—leaning forward arms akimbo—constitute the aggressive attitude of one who challenges fearlessly. There are also vestiges of an abdominal cavity for medicinal matter that originally attracted the figure's defining force. The various metals embedded in the expansive torso attest to the figure's central role as witness and enforcer of affairs critical to its community. They document vows sealed, treaties signed, and efforts to eradicate evil. Ultimately, this work inspired reflection on the consequences of transgressing established codes of social conduct.
Related