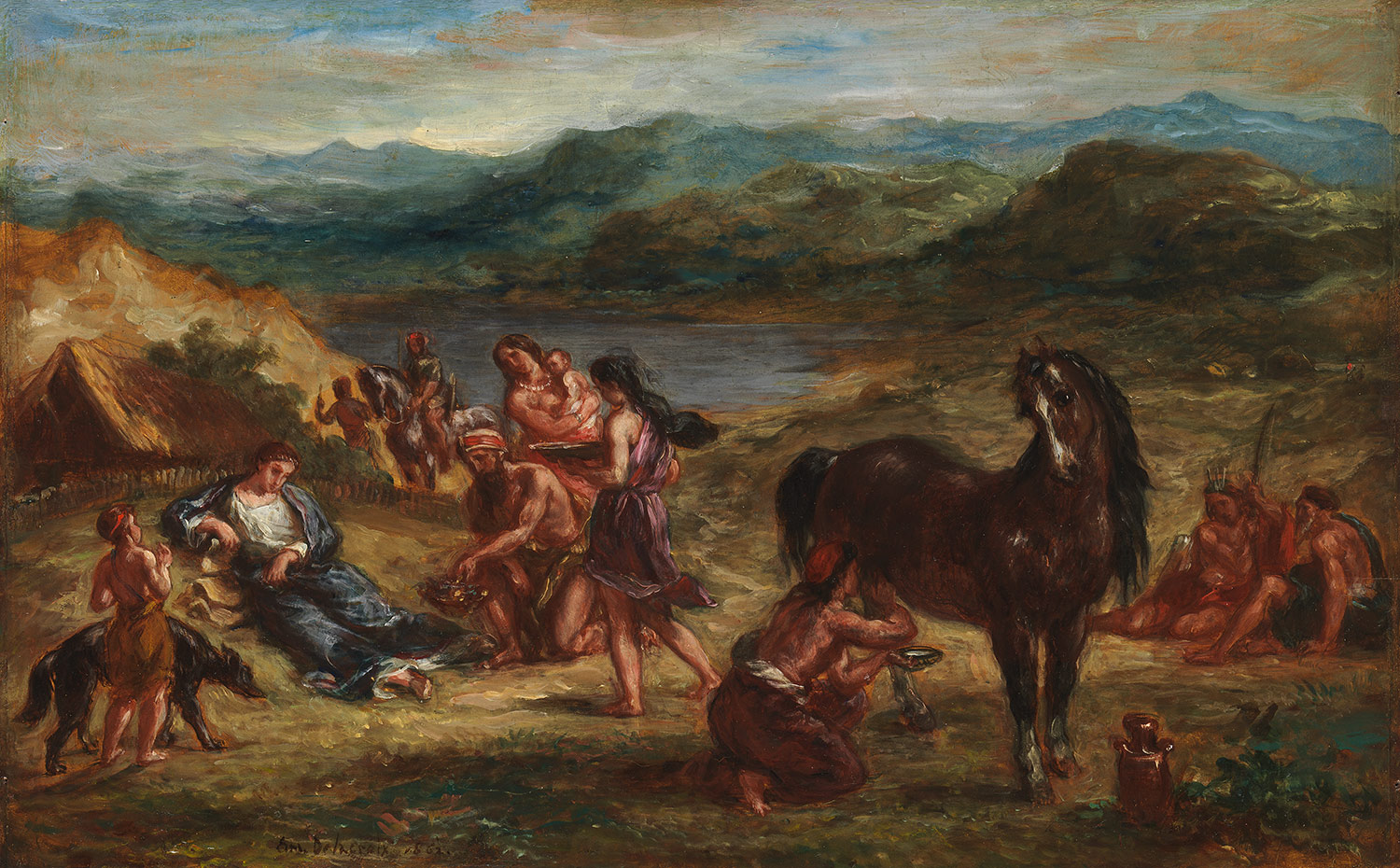 ---
Ovid among the Scythians, 1862
Eugène Delacroix (French, 1798–1863)
Oil on paper laid down on wood; 12 5/8 x 19 3/4 in. (32.1 x 50.2 cm)
Wrightsman Fund, in honor of Philippe de Montebello, 2008 (2008.101)
This is one of a number of late easel pictures in which Eugène Delacroix returned to themes previously elaborated in decorative programs. Delacroix first contemplated the subject of Ovid among the Scythians in about 1835, and his first treatment of it was in a pendentive for his decoration for the Palais Bourbon, Paris. He painted this work in 1862, the year before his death, no doubt to tempt a private collector, at a moment when he was attracting the admiration of the painters who later came to be identified with Impressionism. Its freedom of execution imparts an immediacy of touch and expression more typical of a sketch than a finished painting.
When the largest version of Ovid among the Scythians (National Gallery, London) was exhibited at the 1859 Paris Salon, the unusual composition and strange scale of the figures provoked criticism, even among Delacroix's admirers such as Baudelaire and Gautier, although artists like Edgar Degas were deeply impressed. In this variant, Delacroix more closely integrated the figures and landscape and rectified the problems of scale.
In 8 A.D., Emperor Augustus banished Ovid from Rome to the Black Sea port of Tomis (present-day Constanta, Romania) in Scythia Minor. The poet found the local custom of drinking mare's milk unusual. Like the French writers Chateaubriand and Baudelaire, Delacroix identified Ovid with the notion of the romantic artist misunderstood by his own people.
Related