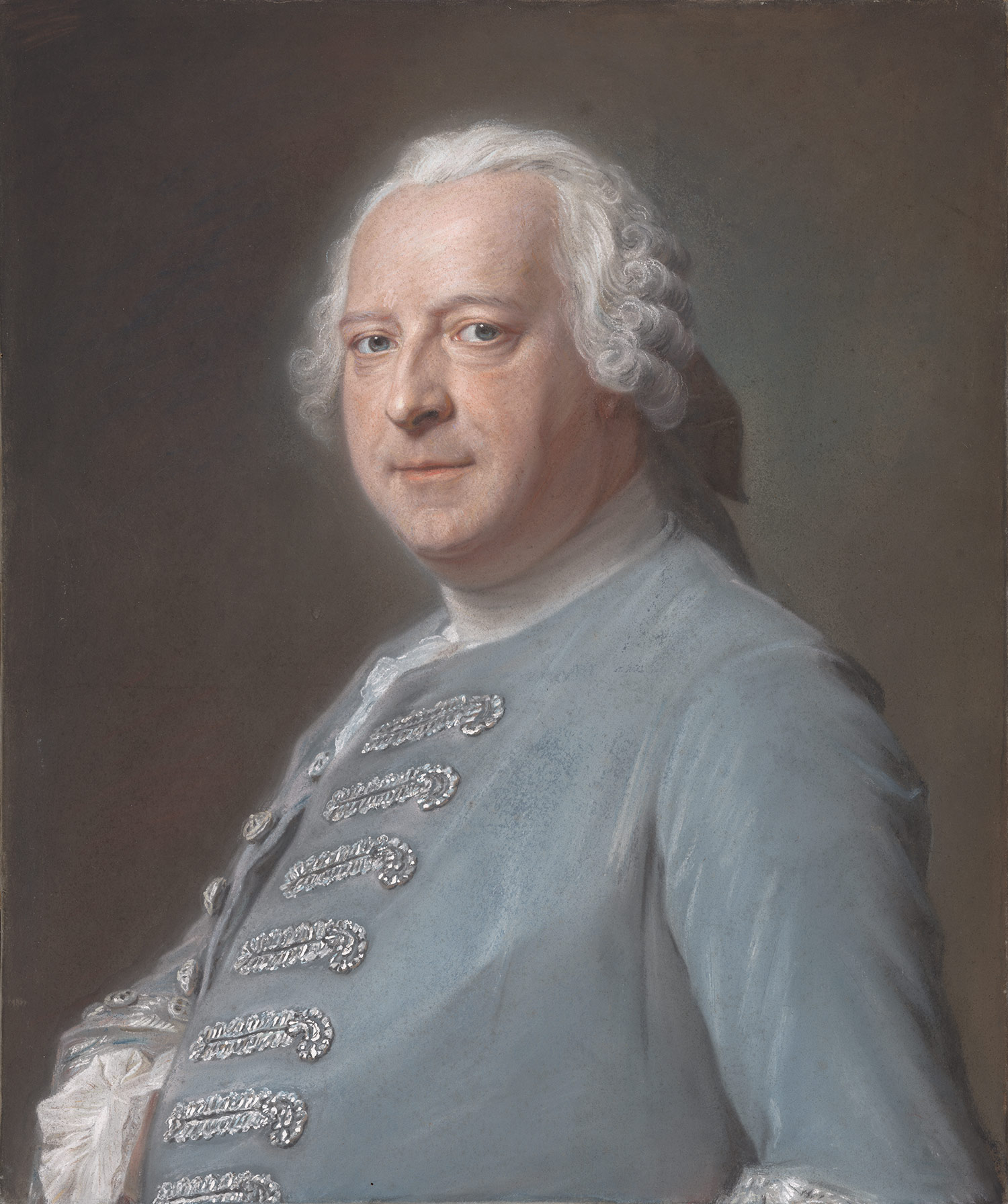 ---
Jean Charles Garnier d'Isle (1697–1755)
Maurice Quentin de La Tour (French, 1704–1788)
Pastel and gouache on paper, laid down on canvas

25 3/8 x 21 1/4 in. (64.5 x 54 cm)
Purchase, Walter and Leonore Annenberg and The Annenberg Foundation Gift, 2002 (2002.439)
A native of Saint-Quentin, in northern France, this gifted pastellist (for Maurice Quentin de La Tour was exclusively a pastellist) arrived in Paris in 1719 to apprentice with a now little known painter, Claude Dupouch (d. 1747). He was thus fortunate to see at an early age the work of the famous Venetian pastellist Rosalba Carriera (1675–1757), who made a much heralded visit to the French capital in 1720–21. La Tour settled permanently in Paris in 1727. Ten years later, he became a candidate member of the Acadèmie de Peinture et de Sculpture and began to show at the Salon. He was received as a full member in 1746. He sent to the Salon of 1748 pastel portraits of Louis XV (1710–1774), Queen Marie Leszczynska (1703–1768), and the Dauphin Louis (1729–1765), becoming for the balance of his long career one of the most highly placed, successful, and prolific portraitists in France. La Tour is famous not only for his highly finished and blended works, in which the strokes of the pastel crayons are not visible, but also for his lively and engaging prèparations, which present a first, spontaneous record of the expression of a sitter taken from life.
Born in 1697, Jean-Charles Garnier d'Isle was admitted to membership in the Acadèmie Royale d'Architecture in 1728. He must have owed his advancement in part to his wife, the daughter of the architect Claude Desgotz (1655–1732), who was in turn related to, and trained under, the celebrated French building and garden designer Andrè Le Nôtre (1613–1700). Garnier's rise coincided with the ascendency of Madame de Pompadour (1721–1764) as Louis XV's mistress and his name is associated with the design of formal gardens at properties remodeled or constructed for her use. These include Crècy, which was bought by the king in 1746; Bellevue, where several years later she built a château; and the Hermitage at Fontainebleau. In 1747, Garnier was appointed director of the Gobelins tapestry manufactory; in 1748, he became an associate member of the Acadèmie Royale de Peinture et de Sculpture and assumed the powerful post of controller of the Luxembourg and Tuileries palaces. He commissioned from La Tour a portrait that was exhibited at the Salon of 1751.
It may have been this one, but we shall never be sure, as there are three undated pastels by La Tour representing Garnier. Another of the same size shows him seated in a damask-upholstered chair and wearing a gray moirè silk coat (Fogg Art Museum, Cambridge, Mass.), and there is also a smaller head-and-shoulders study in that costume (Musèe Antoine-Lècuyer, Saint-Quentin). Perhaps Garnier's double chin and ample girth are deemphasized in the present pastel; on the other hand, he may have been older when it was painted than in the other two portraits. The artist's impeccable handling of details of costume pales by comparison with the sitter's fleeting and perhaps self-satisfied smile.
Related