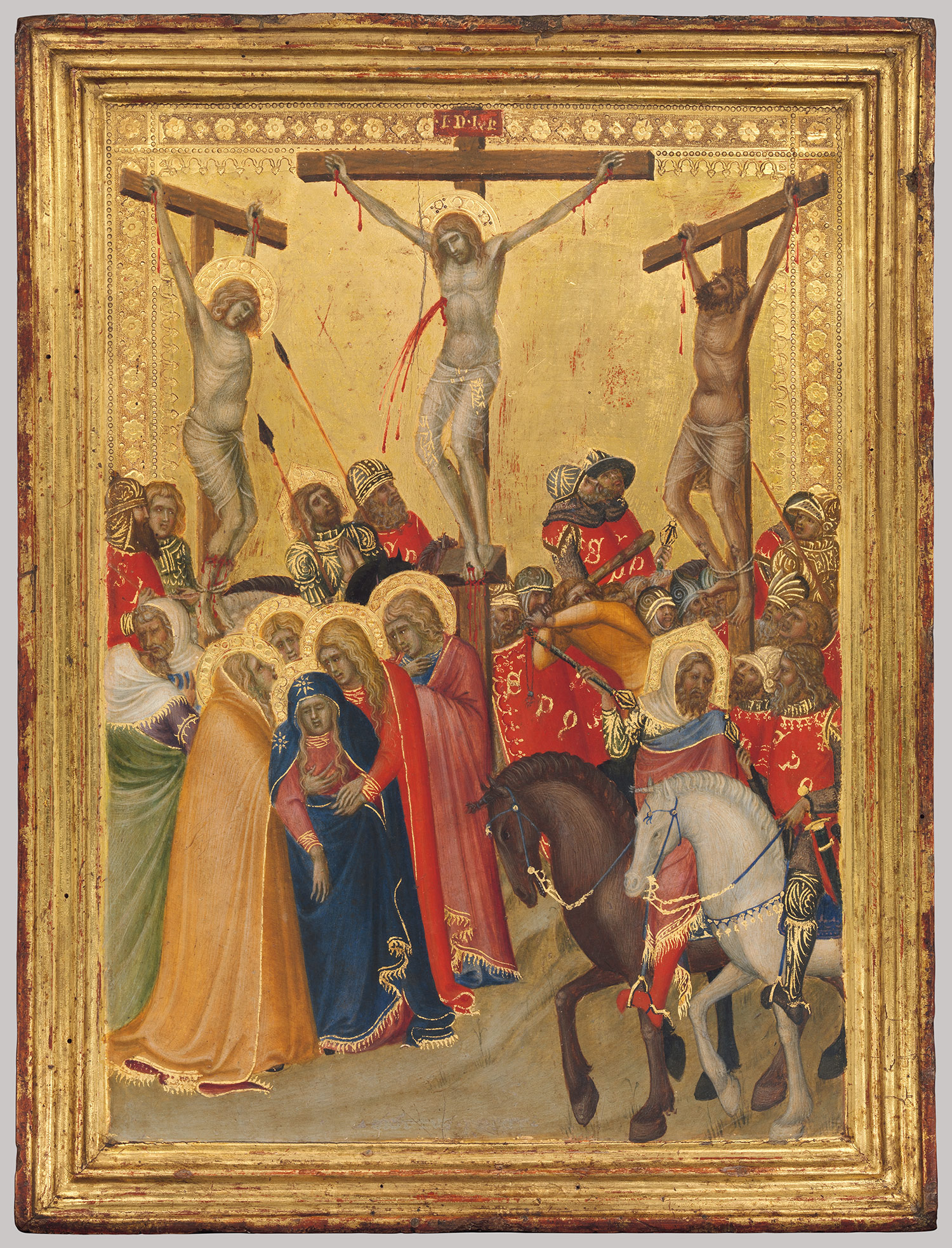 ---
The Crucifixion, 1340s
Pietro Lorenzetti (Italian, Sienese, active 1320–44)
Tempera on wood, gold ground, with original engaged frame

Overall 16 1/2 x 12 1/2 in. (41.9 x 31.8 cm); painted surface 14 1/8 x 10 1/8 in. (35.9 x 25.7 cm)
Purchase, Lila Acheson Wallace Gift and Gwynne Andrews Fund, 2002 (2002.436)
This exquisite picture, of unusual dramatic intensity and characterization, belonged to a portable altarpiece of which one other panel is known: Christ before Pilate (Pinacoteca Vaticana, Vatican City). Originally there may have been four panels showing the Passion of Christ.
Like his brother Ambrogio, Pietro Lorenzetti is one of the true innovators of Italian art. Trained in Siena under Duccio, he was attentive both to the sculpture of Giovanni Pisano and the paintings of Giotto. His frescoes in the basilica of San Francesco, Assisi, are a landmark of expressive naturalism. Although small in scale, this panel fully testifies to the scope of his imagination. It was painted as a devotional aid, but the emphasis is on narration. Every detail gives evidence of Pietro's ability to infuse the time-worn biblical subject with a human dimension. Especially notable is the swooning Virgin, supported by her companions, and the energetic figure about to break the legs of one of the thieves who was crucified with Christ.
The picture belonged to the French painter Paul Delaroche (1797–1856), who believed it to be by Giotto.
This work of art also appears on Connections: Grief
Related