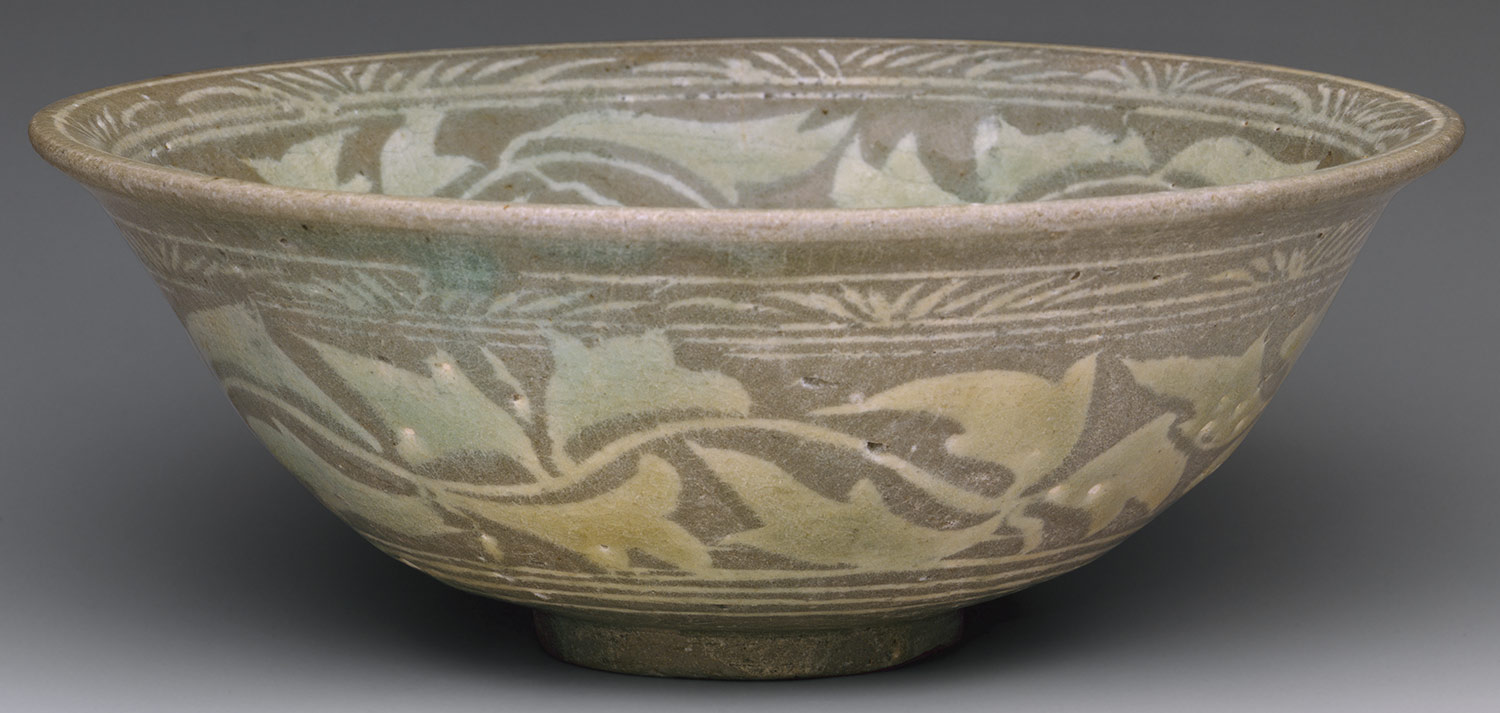 ---
Bowl, Joseon dynasty (1392–1910), second half of 15th century
Korea
Stoneware with inlaid and stamped decoration of peony leaves and chrysanthemum flowers under buncheong glaze; H. 2 7/8 in. (7.3 cm)
Purchase, the Vincent Astor Foundation Gift, 2002 (2002.132)

This attractive bowl exemplifies buncheong ware's link to the past and simultaneously reveals the new ceramic type's innovative verve. Buncheong's physical connection to celadon of the Goryeo dynasty (918–1392) lies in its clay and glaze; the stylistic tie between the two ceramic wares is evident in the decorative vocabulary of inlay. This bowl does not have the characteristic green hue of the famed Goryeo ware, due partly to the smaller amount of iron in the glaze, and partly to the abundant surface coverage in white slip. Indeed, propensity for whiteness is one of buncheong ware's distinguishing features. Yet as this piece demonstrates, it is a creative, even playful, use of white—an alternative to the solemnity of white porcelain of the early Joseon dynasty (1392–1910).
The decoration on the outside of the bowl is divided into three horizontal bands: a continuous scroll of peony leaves bound by a border of simplified grass on top and a linear border on the bottom. The top half of the interior of the bowl mimics the exterior design scheme; the rest of the space is covered with concentric circles of tightly packed, miniature chrysanthemum flower heads surrounding a single, much larger bloom in the center. The individual motifs on this bowl are standard types for buncheong ware, particularly of the fifteenth century. However, the combination of inlaid peony leaf scroll with stamped chrysanthemum heads is rare and unexpected. And the juxtaposition of shapes—bold, sweeping foliage versus delicate, round flowers—is visually striking.
The term buncheong is a contraction of bunjang hoecheong sagi—literally, "gray-green ceramic ware decorated with powder"—and was first used in the twentieth century (the original name of this ware remains unknown). Manufactured only in the fifteenth and sixteenth centuries, this ceramic type was used by virtually all classes, although it was eventually displaced by porcelain. Beyond the domestic consumer, buncheong found esteem among tea practitioners in contemporaneous Japan—a captive audience to its earthy appeal.
Related