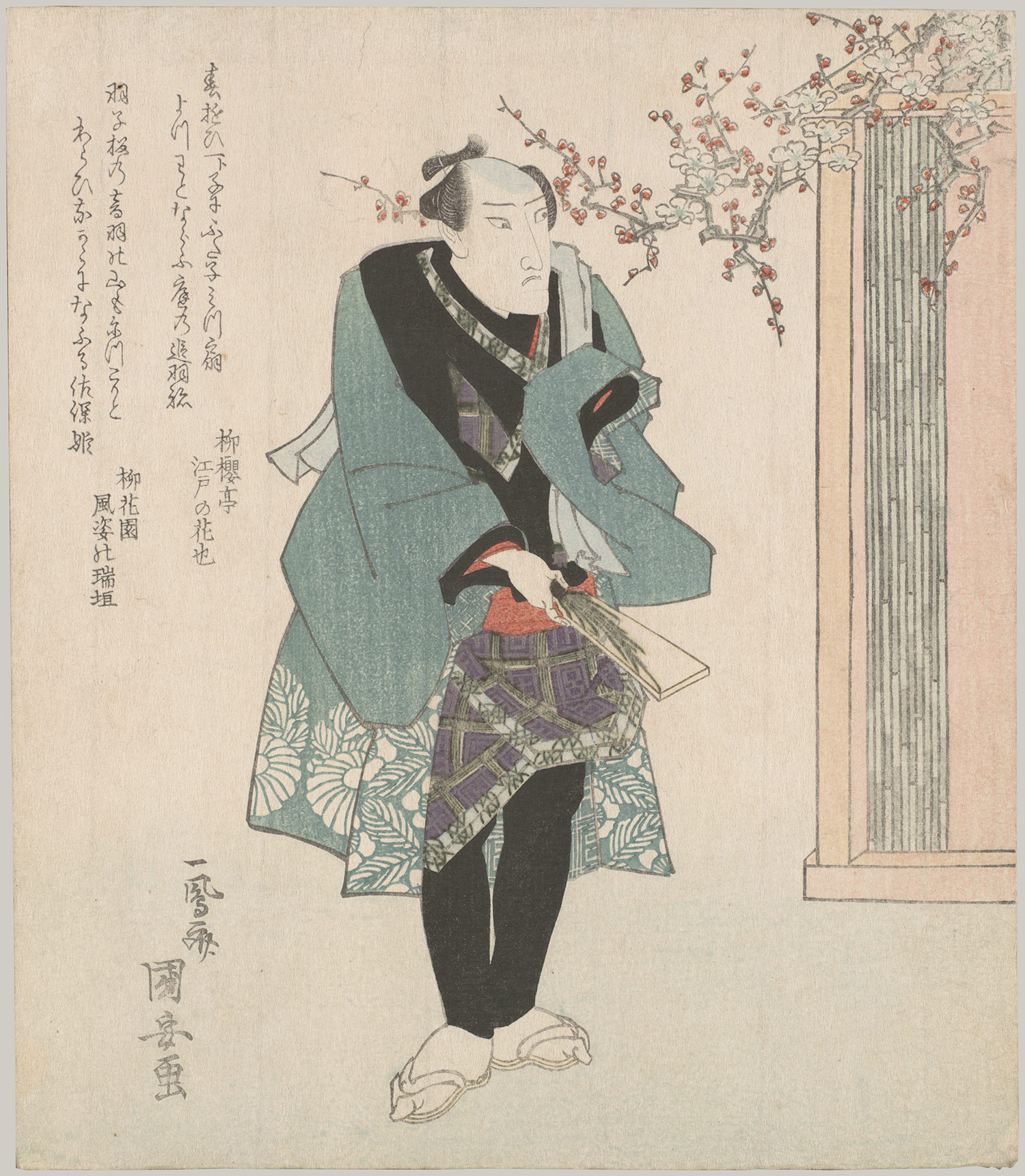 ---
Three Kabuki Actors [from right to left]: Iwai Hanshiro V (1776–1847), Segawa Kikunojo (1802–1832), and Onoe Kikugoro III (1784–1849), Edo period (1615–1868), ca. 1823
Utagawa Kuniyasu (Japanese, 1794–1832)
Surimono, woodblock print; ink and color on paper; Triptych, each: 7 1/4 x 8 3/8 in. (18.4 x 21.3 cm)
Purchase, Jack Green Gift, 2001 (2001.715.4)

This surimono triptych, produced in honor of the New Year, features three kabuki actors, one per sheet, each standing near a tall fence. Branches of blossoming plum trees, the first flowers of early winter, and pine trees, a popular symbol of longevity, extend over the fence. These images from kabuki theater combine the sumptuous costumes, distinctive acting styles, and popular delights of the urban pleasure quarters. Two actors, Iwai Hanshiro V on the right and Segawa Kikunojo in the center, are portrayed in characteristic poses from female roles. Onoe Kikugoro III, on the left, is shown in a male role. The two figures on the left hold battledores (hagoita), and the actor on the right holds a feathered shuttlecock. Hanetsuki, a badminton-like game game, is a New Year's activity. Because the figures do not interact with each other but stand in poses that well display their sumptuous clothes, the image focuses on the visual appeal of kabuki actors and their costumes.
Each sheet bears at least one humorous poem, a kyoka (literally "crazy poem") composed by the following poets: Shohuen no Yamazumi; Shizentei rachi no Akikane; Ryuotei Edo no Hananari; and Ryukaen Fushi no Zuigaki. Each sheet bears the artist's signature, Ipposai Kuniyasu ga ("painted by Ichiyusai Kuniyasu").
Surimono, or "printed things," are high-quality woodblock prints made on sumptuous, unsized paper. Made by special order, surimono were especially popular as New Year's gifts. They differ from more typical woodblock prints in that they are usually made in very limited quantities, are frequently decorated with gold, silver, and copper overlays, and have added texture and depth.
Related