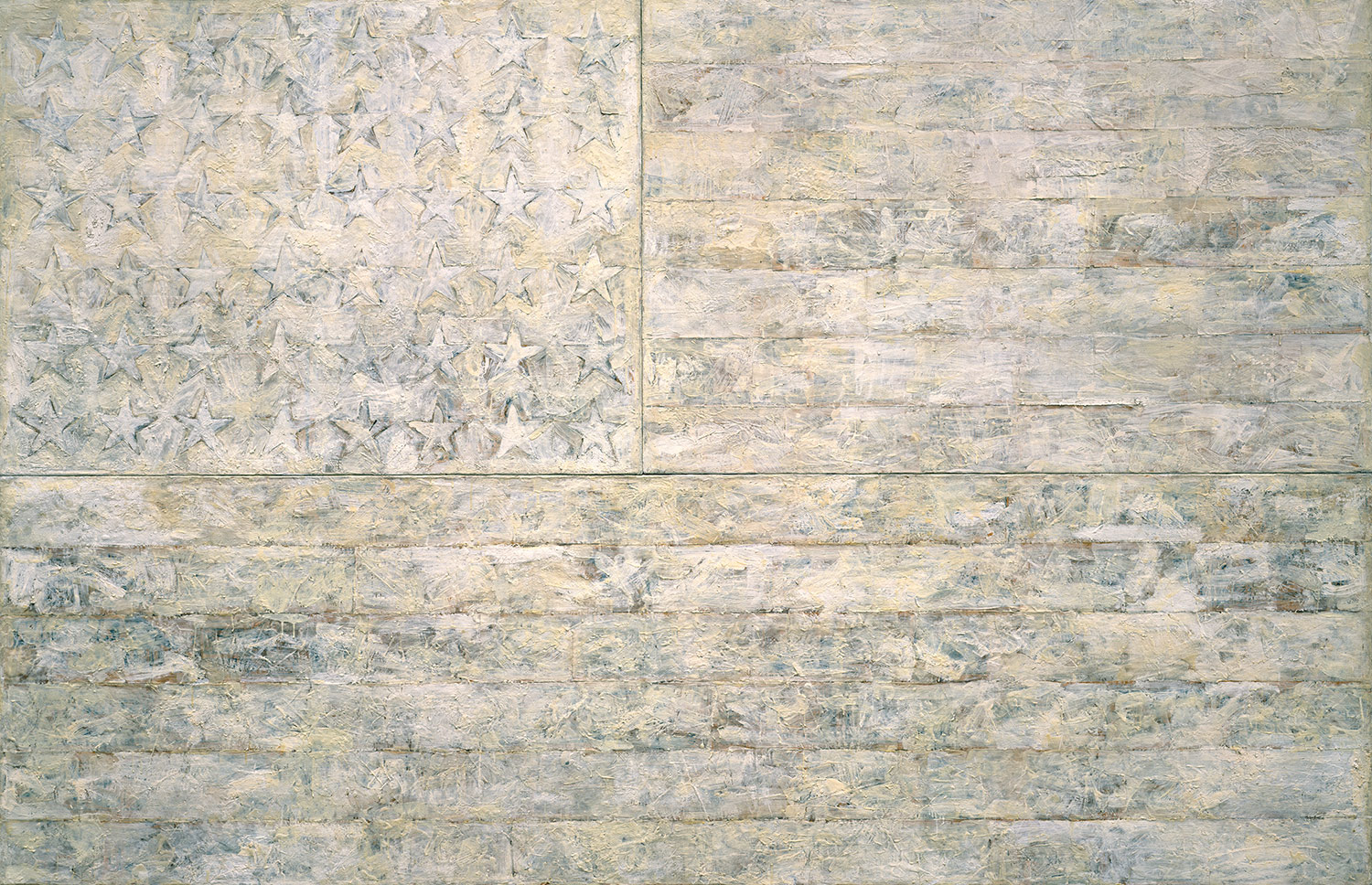 ---
---
Related Multimedia
Philippe de Montebello (Director Emeritus) and Nan Rosenthal (Department of Nineteenth-Century, Modern, and Contemporary Art) discuss White Flag (1998.329) (July 2008).
White Flag, 1955
Jasper Johns (American, born 1930)
Encaustic, oil, newsprint, and charcoal on canvas

78 5/16 x 120 3/4 in. (198.9 x 306.7 cm)
Purchase, Lila Acheson Wallace, Reba and Dave Williams, Stephen and Nan Swid, Roy R. and Marie S. Neuberger Foundation Inc., Louis and Bessie Adler Foundation Inc., Paula Cussi, Maria-Gaetana Matisse, The Barnett Newman Foundation, Jane and Robert Carroll, Eliot and Wilson Nolen, Mr. and Mrs. Derald H. Ruttenberg, Ruth and Seymour Klein Foundation Inc., Andrew N. Schiff, The Cowles Charitable Trust, The Merrill G. and Emita E. Hastings Foundation, John J. Roche, Molly and Walter Bareiss, Linda and Morton Janklow, Aaron I. Fleischman, and Linford L. Lougheed Gifts, and gifts from friends of the Museum; Kathryn E. Hurd, Denise and Andrew Saul, George A. Hearn, Arthur Hoppock Hearn, Joseph H. Hazen Foundation Purchase, and Cynthia Hazen Polsky and Leon B. Polsky Funds; Mayer Fund; Florene M. Schoenborn Bequest; Gifts of Professor and Mrs. Zevi Scharfstein and Himan Brown, and other gifts, bequests, and funds from various donors, by exchange, 1998 (1998.329)
© Jasper Johns/Licensed by VAGA, New York, NY
White Flag is the largest of Johns's flag paintings and the first in which the flag is presented in monochrome. The lush reticence of the work perfectly exemplifies his early style. The fast-setting medium of encaustic enabled the artist to make each brushstroke distinct, while the forty-eight-star flag design—contiguous with the perimeters of the canvas—provided a structure for the richly varied surface, which ranges from translucent to opaque. White Flag is painted on three separately stretched panels of cotton: the star area, the seven upper stripes to the right of the stars, and the longer stripes below. Johns worked on each panel separately. After applying a ground of unbleached beeswax, he built up the stars, the negative areas around them, and the stripes with applications of collage: cut or torn pieces of newsprint, other papers, and bits of fabric. He dipped these into molten beeswax and adhered them to the surface. He then joined the three panels and overpainted them with more beeswax mixed with pigments, adding touches of white oil. This painting remained in the artist's collection until it was acquired by the Metropolitan Museum in 1998.
This work of art also appears on Connections: Collage
Related