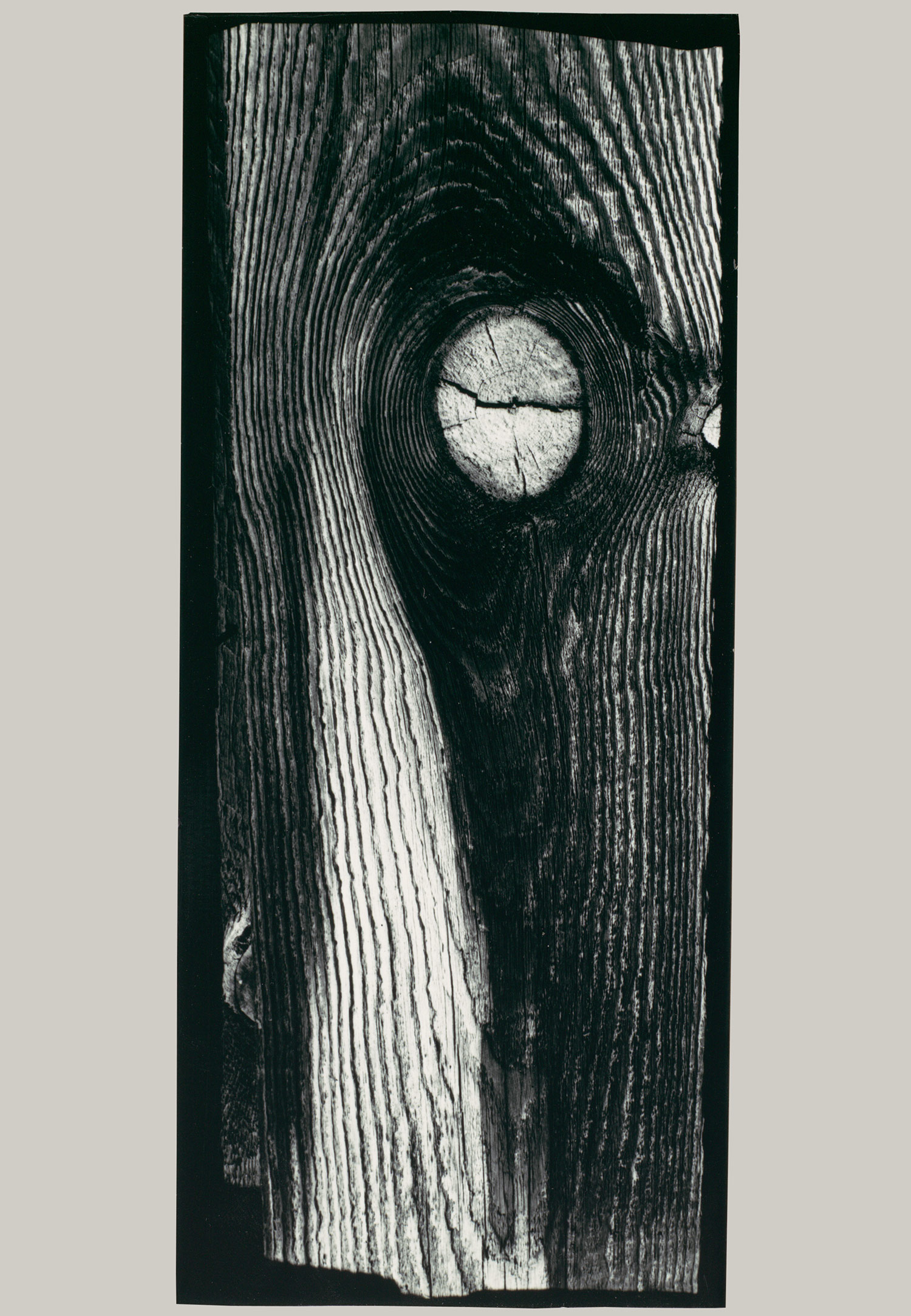 ---
Untitled, 1967
Minor White (American, 1908–1976)
Gelatin silver print; 8 3/8 x 3 9/16 in. (21.3 x 9.1 cm)
Gift of Jane Ciabattari, 1995 (1995.563)
© The Trustees of Princeton University. All rights reserved.

After serving in the army during World War II, White traveled from his home in Oregon (he was originally from Minneapolis) to New York, where he studied art history and aesthetics with Meyer Schapiro at Columbia University and met Beaumont and Nancy Newhall, the photography curators at the Museum of Modern Art. Through them, he was introduced to the triumvirate of modern photography: Paul Strand, Edward Weston, and Alfred Stieglitz, whose concept of "equivalence"—the notion of finding in nature formal relationships that reflect the photographer's internal experience—had a profound effect on his thinking. Not long after this journey he wrote, "A sequence of photographs is like a cinema of stills. The time and space between photographs is filled by the beholder … The spring-tight line between reality and photograph has been stretched relentlessly, but it has not been broken. … abstractions of nature have not left the world of appearances; for to do so is to break the camera's strongest point—its authenticity."
This photograph served as the final image in one of his most significant sequences, Sequence 1967. The weathered board was among White's favorite subjects, evocative of the passage of time. So too was the finding of eye shapes in natural forms—wood, rocks, etc.—something that White emphasized in this photograph by holding back the knothole during printing (as indicated in the printing instructions on his proof card). This particular eye served several functions within the sequence: it is the expressive eye, that of the photographer looking at the world; it is the spiritual eye, seeing meaning in natural form; and it is the reflective eye, summing up the experience of the sequence and reflecting on its metaphorical significance.
Related