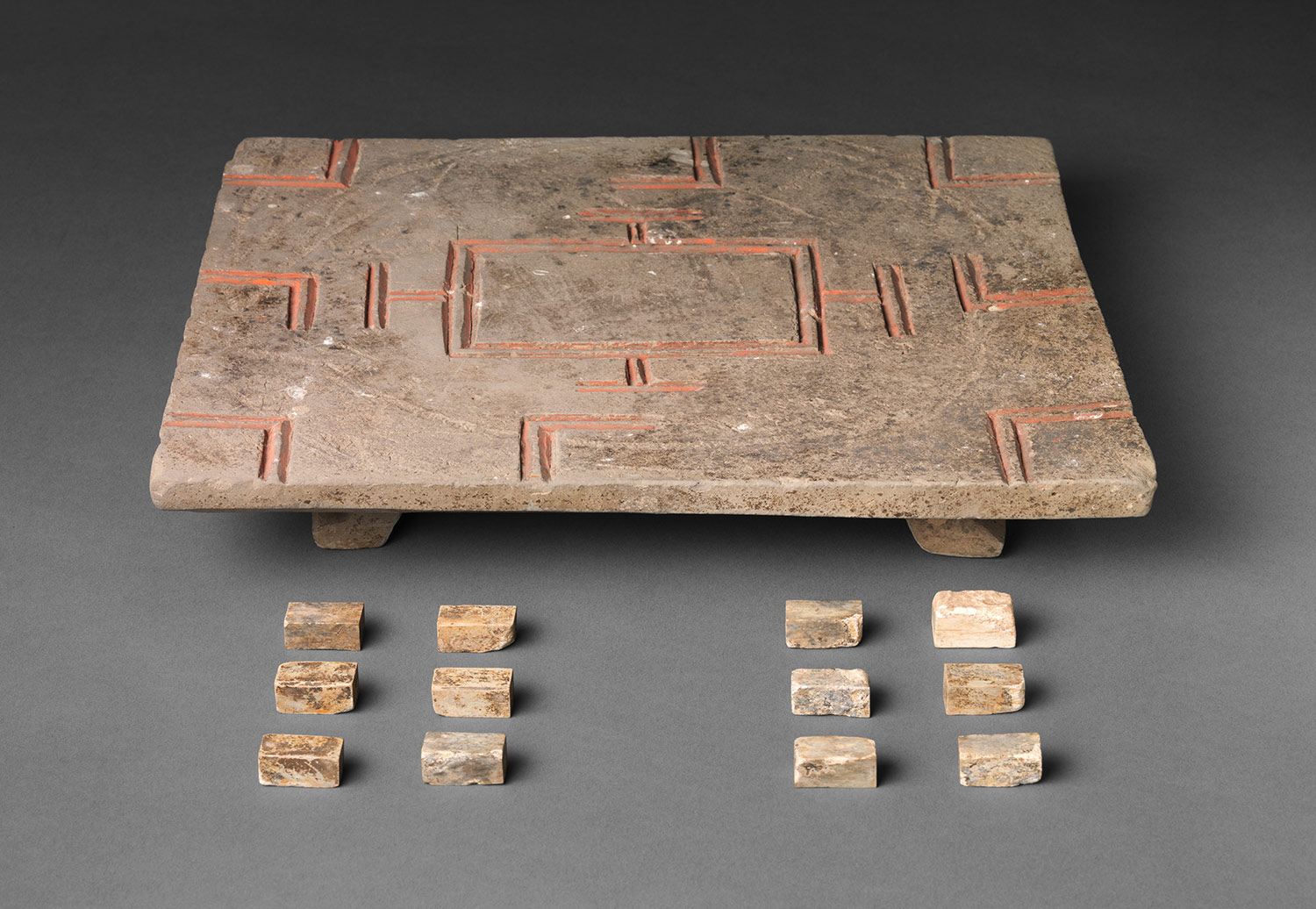 ---
Liubo board and pieces, Han dynasty (206 b.c.–220 a.d.), 1st century b.c.–1st century a.d.
China, probably Luoyang, Henan Province
Earthenware with pigment, bone; L. 14 1/4 in. (36.2 cm)
Purchase, Eileen W. Bamberger Bequest, in memory of her husband, Max Bamberger, 1994 (1994.285a–m)
This square ceramic board and twelve game tiles found in a tomb replicate the popular Han-dynasty pastime called liubo. The exact rules and goals of this "game of sixes" remain a mystery, but it engaged at least two players across a board etched with cosmological markings resembling those used for divination. Each player used six sticks and six tiles and it is possible that dice and tallies, accumulated in a bowl for each player to keep score, were also part of the game. A player tossed the sticks on the board and read their pattern, imitating Daoist divination practices that were widespread during the Han dynasty.
While some models of liubo boards found in Han tombs are flat and placed on top of a low dais or table, small feet below elevate this one to a comfortable height for clay models of players sitting or kneeling on opposite sides. The etched lines on the surface are painted in red.
The historian Sima Qian (ca. 145–86 B.C.) tells a legend of a Shang-dynasty (1600–1100 B.C.) emperor who forced his subjects to play liubo using pieces shaped like the gods. Not daring to overcome the emperor, his opponents would let him win, and the emperor then declared he was victorious over the gods themselves. Whatever its origins, the game continued to be popular throughout the Warring States period (ca. 475–221 B.C.), and reached its height of fashion in elite as well as common circles during the Han dynasty. In addition to ceramic models in Han tombs, references to the game have been preserved in poems and in pictorial depictions carved in stone. The popularity of liubo plummeted mysteriously during the third century A.D., and vanished altogether within a century.
Related