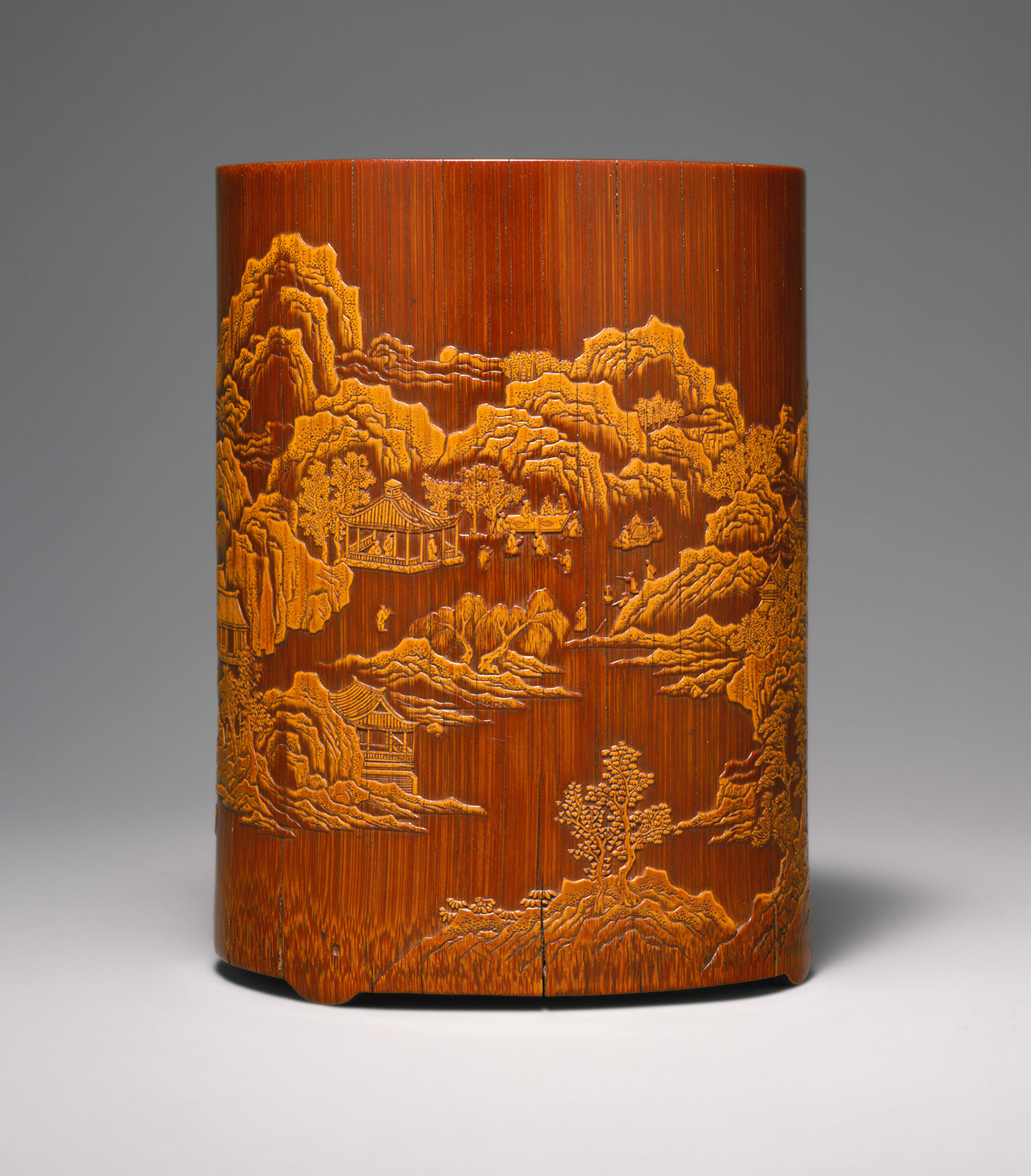 ---
Brush holder, Ming dynasty (1368–1644), early 17th century
Zhang Xihuang (Chinese, active early 17th century)
China
Bamboo; H. 5 1/4 in. (13.3 cm)
Purchase, Mr. and Mrs. John A. Wiley Gift, Seymour Fund, Bequest of Dorothy Graham Bennett, and Erich O. Grunebaum Bequest, 1994 (1994.208)

The continuing development in bamboo carving during the seventeeth century was marked by the high achievement of liuqing (reserve-green) technique, a type of shallow relief that exploits the contrasting colors and textures of the smooth greenish bamboo skin and the darker, more fibrous inner layer of the stalk. The design is cut from the lighter skin and stands in relief against the ground. By varying the amount of skin retained, the artist could achieve an articulated picture with subtle color gradations. Zhang Xihuang, a bamboo carver from Jiangyin in southern Jiangsu Province, was credited with producing many works in this technique and bringing it to a high artistic and technical level.
The relief carving on this brush holder depicts the scholars' outing recorded in the famous Ode to the Pavilion of the Inebriated Old Man by Ouyang Xiu (1007–1072). The event took place in 1045 in the mountains of Chuzhou, in today's eastern Anhui Province, where Ouyang served as a prefectural governor. Recently demoted from an influential position in the imperial court, Ouyang found the scenic mountains of Chuzhou a pleasant distraction. The pavilion of the story was named by Ouyang Xiu after himself, referring to the facts that he became intoxicated easily and was the oldest among his associates.
Pictorial motifs with direct correspondence to descriptions in the ode can be found on this brush holder. The gathering takes place in a panoramic landscape viewed from an elevated perspective. In the center of the composition, in a vast clearing flanked by boulders and heaps of earth, Ouyang Xiu's banquet takes place beside the pavilion. On the right his friends are playing chess and touhu, an ancient game described in the poem. Dwarfed in the panoramic landscape, the human figures are represented as diminutive shapes with only generalized forms.
The other side depicts more visitors mentioned in Ouyang's poem. The space above is filled with the entire text of the ode in running script, also carved in the reserve-green style. The inscription is followed by Zhang Xihuang's signature and seal.
Related