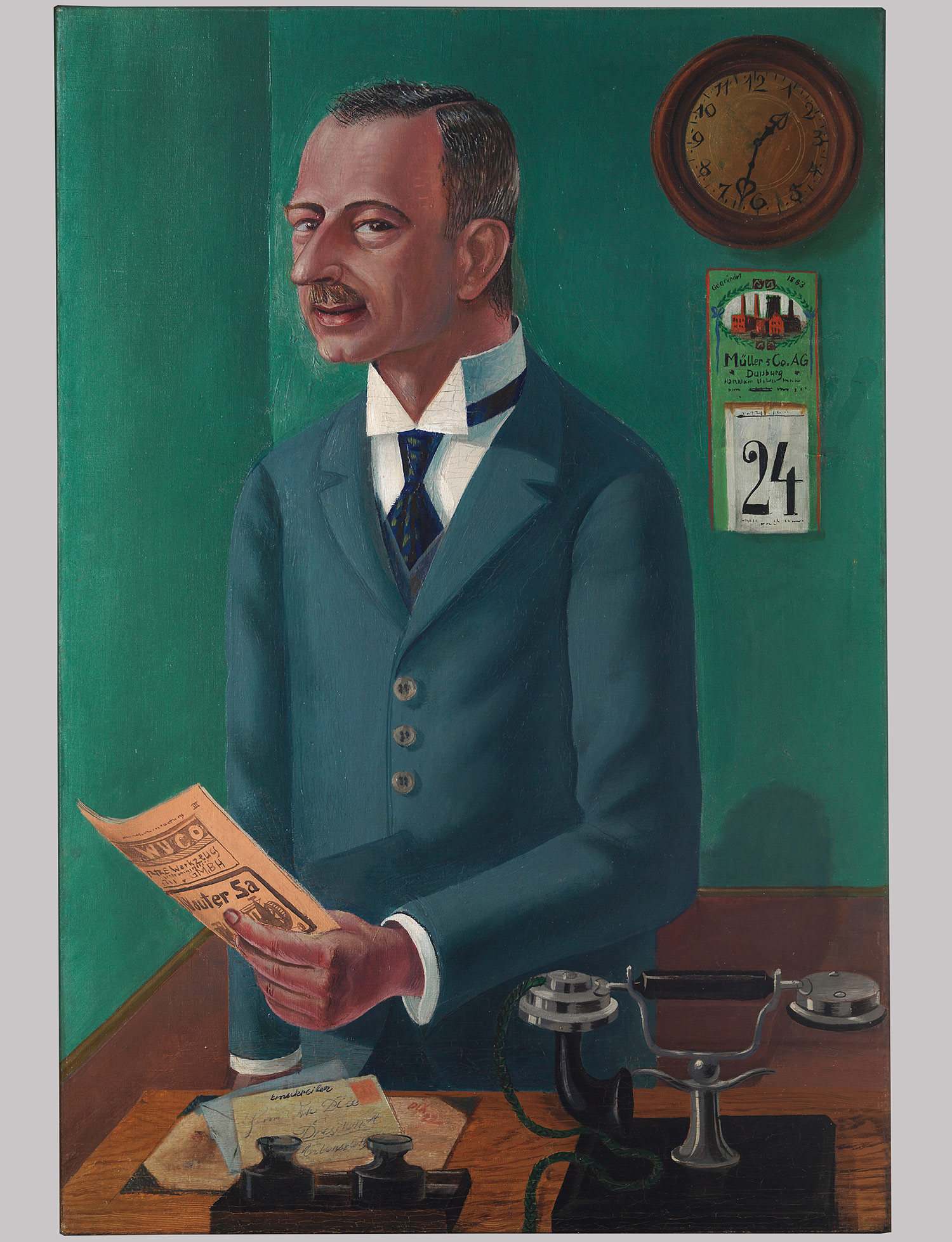 ---
---
Related Multimedia
Philippe de Montebello (Director Emeritus) and Sabine Rewald (Department of Nineteenth-Century, Modern, and Contemporary Art) discuss The Businessman Max Roesberg, Dresden (1992.146) (July 2008).
The Businessman Max Roesberg, Dresden, 1922
Otto Dix (German, 1891–1969)
Oil on canvas; 37 x 25 in. (94 x 63.5 cm)
Purchase, Lila Acheson Wallace Gift, 1992 (1992.146)
© 2011 Artists Rights Society (ARS), New York / VG Bild–Kunst, Bonn

The German painter and printmaker Otto Dix worked in a variety of styles, from Expressionism to Dada, but his most celebrated mode was the deadpan, matter-of-fact realism known as Neue Sachlichkeit (New Objectivity) as seen in The Businessman Max Roesberg. Dix was a leader of the Neue Sachlichkeit movement, which reacted against all that was personal and spiritual in Expressionism while still maintaining many Expressionistic techniques. Dix and other artists of this movement, such as George Grosz and Christian Schad, turned to a hyper-realistic treatment of contemporary themes that was influenced by the work of German old masters. Their work depicts people and places with such clinical objectivity that their pictures allow us to reconstruct the fashions, coiffures, interior furnishings, and social life of Germany during the 1920s and 1930s.
The Businessman Max Roesberg is an excellent example of the celebrated portraits Dix painted in Dresden, Düsseldorf, and Berlin between 1921 and 1927. With just a few poignant details, he was able to capture the individuality of his sitters, who included prominent lawyers, businessmen, and art dealers as well as poets, prostitutes, and performers.
This work of art also appears on 82nd & Fifth: Doomed
Related