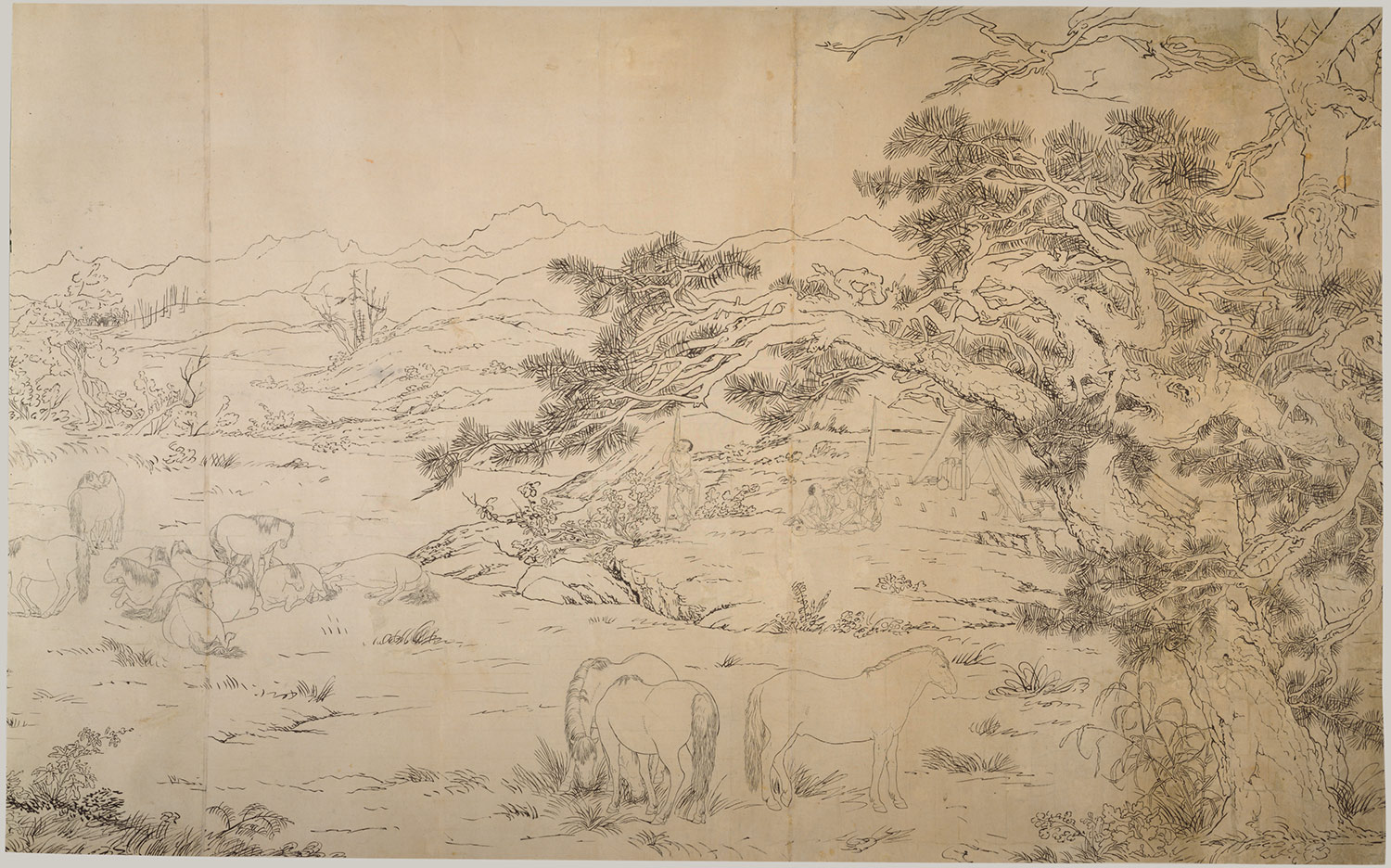 ---
One Hundred Horses, datable to 1728
Giuseppe Castiglione (Lang Shining) (Italian, 1688–1766)
Handscroll; ink on paper; 37 x 310 3/4 in. (94 x 789.3 cm)
Purchase, Friends of Asian Art Gifts, in honor of Douglas Dillon, 1991 (1991.134)

During the eighteenth century, the Manchu Qing dynasty sponsored a major revival of courtly arts, which attained a new monumental scale, technical finish, and descriptive intricacy. A key figure in establishing this new court aesthetic was the Italian Jesuit Giuseppe Castiglione. A master of vividly naturalistic draftsmanship and large-scale compositions, in Europe he worked as a muralist. Castiglione helped to create a new, hybrid style that combined Western realism with traditional Chinese conventions of composition and brushwork.
This monumental scroll, a unique example of a Castiglione preparatory drawing, is the model for one of his most famous paintings, the One Hundred Horses scroll preserved in the National Palace Museum, Taipei. The drawing, although done with a brush rather than a pen, is executed almost exclusively in the European manner. Landscape is represented using Western-style perspective, figures are often shown in dramatically foreshortened views, and vegetation is depicted with spontaneous arabesques and cross-hatching. The large scale of the painting also suggests a European influence, as if Castiglione had taken a typical Western canvas and extended its length to make an architectural frieze.
[Horses with heavy outlines:]
Some of the horses have reinforced outlines to enable the artist and his assistants to trace them accurately onto the silk of the finished version.
[Man in water:]
In the finished version of this painting, Castiglione gave the water a bluish tint and depicted reflections on its surface—attributes that almost never appear in traditional Chinese landscape painting.
[Half-naked groom:]
In the finished version of this painting, this figure appears entirely clothed. Whereas European artists have a long tradition of painting and sculpting nudes, naked figures rarely appear in Chinese art.
Related