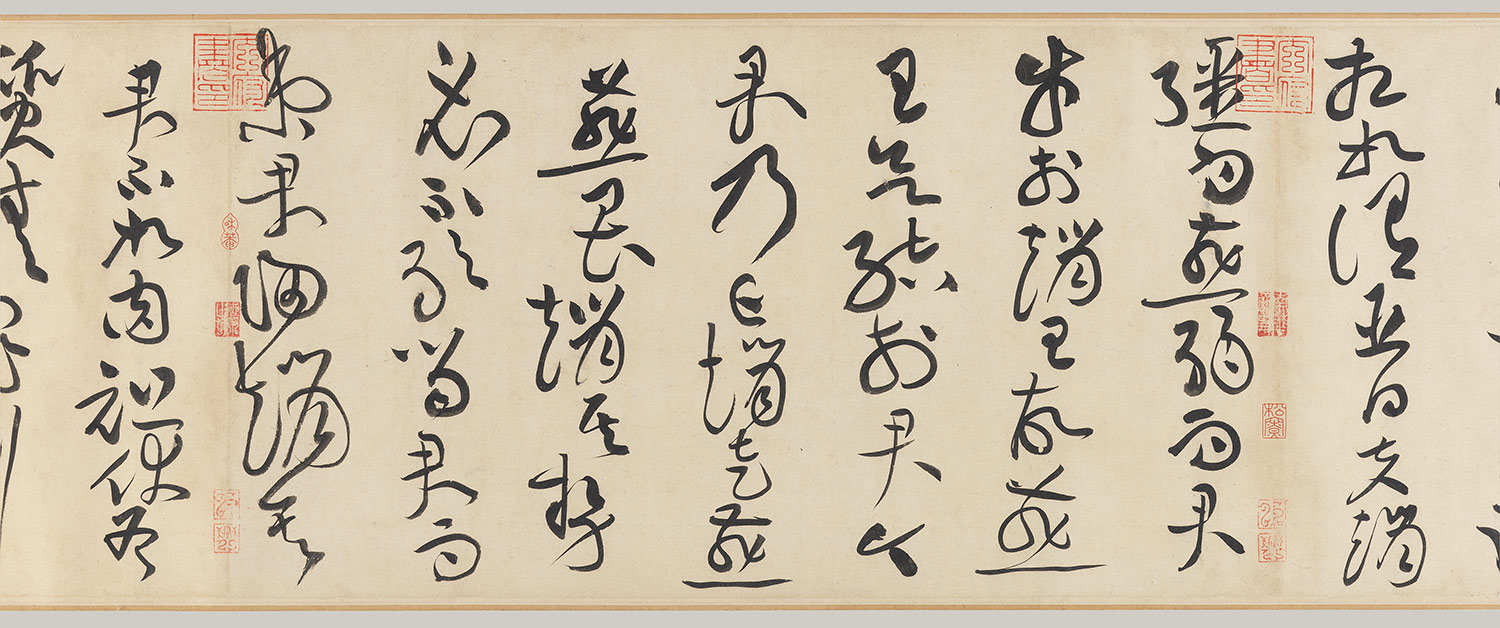 ---
Biographies of Lian Po and Lin Xiangru, ca. 1095
Huang Tingjian (Chinese, 1045–1105)
Handscroll; ink on paper; 12 3/4 in. x 59 ft. 9 in. (32.5 x 1822.4 cm)
Bequest of John M. Crawford Jr., 1988 (1989.363.4)
Poet, calligrapher, and Chan (Zen) Buddhist adept, Huang Tingjian shared the view of his contemporary Su Shi (1036–1101) that calligraphy should be spontaneous and self-expressive—"a picture of the mind."
Biographies, measuring almost sixty feet in length and containing nearly 1,200 characters, is Huang Tingjian's longest extant work and one of the longest calligraphy handscrolls ever executed. This masterpiece of cursive-script writing displays a sustained energy, exuberant curvilinear forms, and round brush lines that show a clear indebtedness to the "wild cursive" manner of the "mad monk" Huaisu (ca. 735–?800), whose Autobiography Huang saw in 1094.
Biographies transcribes an account from the Records of the Historian (Shi ji) by Sima Qian (145–80 B.C.) that describes the rivalry of two officials in the state of Zhao who served King Huiwen (r. 268–266 B.C.): Lian Po, a distinguished general, and Lin Xiangru, who began his career as steward to the chief eunuch, but whose skill as a strategist in dealing with the powerful state of Qin led to his being promoted to a rank superior to that of the general. Insulted by this apparent snub, Lian Po resolved to humiliate Lin, but Lin avoided a confrontation and eventually won Lian's support by placing the well-being of the state above private grievances. Huang's transcription edits the historical text to focus on this key event, ending abruptly with Lin's words: "[When] two tigers fight, one must perish. I behave as I do because I put our country's fate before private feuds." Read in the context of Northern Song factional politics, Huang's transcription becomes a powerful indictment of the partisanship that led to his own banishment to Qianzhou, in Sichuan Province, in 1094.
Huang once boasted that he could write several thousand characters without tiring, and Biographies substantiates that claim. While changes in the consistency and tonality of the ink show that Huang replenished his ink supply several times, there is no obvious change in the momentum of his writing. Instead, shifts in the spacing, scale, and tonality of the characters primarily reflect Huang's emotional response to the text. In writing Lin's final words, Huang permits his emotions to pour out, scarcely lifting the brush from the paper until the last stroke—the grandly sweeping diagonal of the final particle ye—which embodies Huang's fierce determination to rise above factional politics. The historical text does not end here, but Huang's decision to stop his transcription at this juncture underscores his intention to use this ancient text as a critical commentary on contemporary politics.
Huang probably elected to leave his work unsigned in order to safeguard both himself and the scroll's recipient from possible political reprisal for either creating or possessing such an inflammatory text brushed by a prominent banished official. A generation later, however, the scroll became a treasured work in the Song imperial collection, as confirmed by the seals of Emperor Gaozong (r. 1127–62) placed over the paper joins as a kind of inventory mark to prevent the removal of a portion of the scroll.
Related