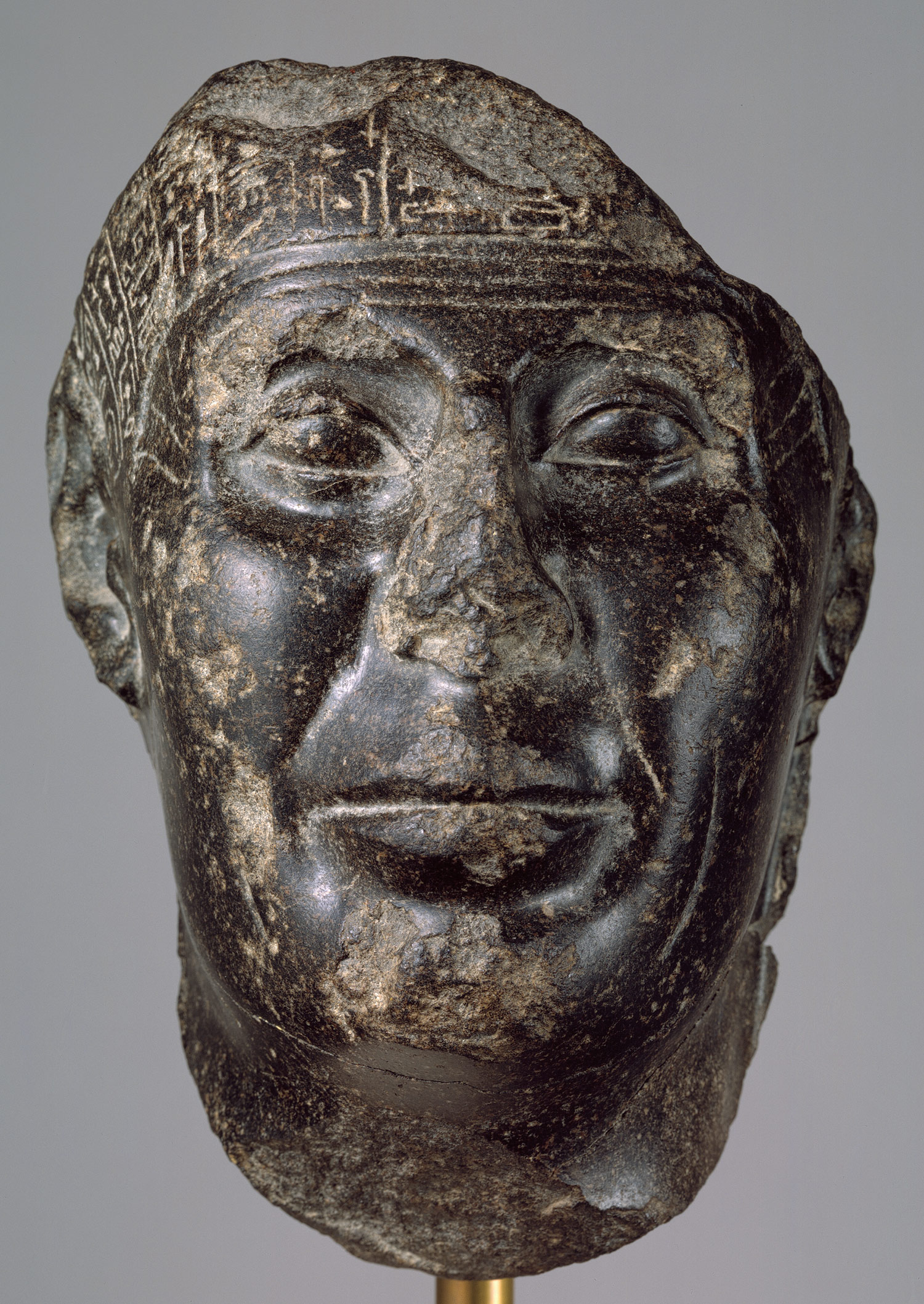 ---
---
Related Multimedia
Philippe de Montebello (Director Emeritus) and Dorothea Arnold (Department of Egyptian Art) discuss Head of a Priest (1989.281.102) (July 2008).
Head of a Priest, 4th century b.c.
Egyptian
Basalt; H. 8 3/8 in. (21.2 cm), W. 5 3/4 in. (14.5 cm)
Gift of Norbert Schimmel Trust, 1989 (1989.281.102)
This magnificent fragmentary head is about two-thirds lifesize. It depicts a man well advanced in years, as indicated by the furrowed brow, the very linear crow's feet, the pronounced nasolabial folds, and the sharply etched lines in the cheeks. The head also has a weak chin; the full throat almost completely obscures the jawline, perhaps another indication of the subject's old age. It has been pointed out that heads such as this show characteristics usually identified with later Roman portraiture. However, similar realistic representations of individuals are known from late Dynasty 26 (ca. 525 B.C.) and probably continued to be made during the Persian Period (ca. 525–404 B.C.). They certainly were popular from the fourth century until the end of the Ptolemaic Period (332–30 B.C.).
The man's bagwig, now mostly destroyed, was inscribed with magical texts of a type recorded most completely on the Metternich stela (50.85). These texts protect against scorpions, snakes, and other dangerous animals, and were inscribed on statuary only in the fourth century B.C. This head probably came from a statue similarly covered with text. In contrast to other statues, the hieroglyphs across the man's brow are right side up.
It is thought that water was poured over these statues and then was used medicinally, having taken on the magical quality of the texts. With this in mind, and considering the large size of the head, it is unlikely that the original statue was in an upright, striding position. Lacking a beard, it was probably not a block statue, which at this time always had a beard. Possibly the figure was kneeling and held a small magical stela, or cippus.
Related