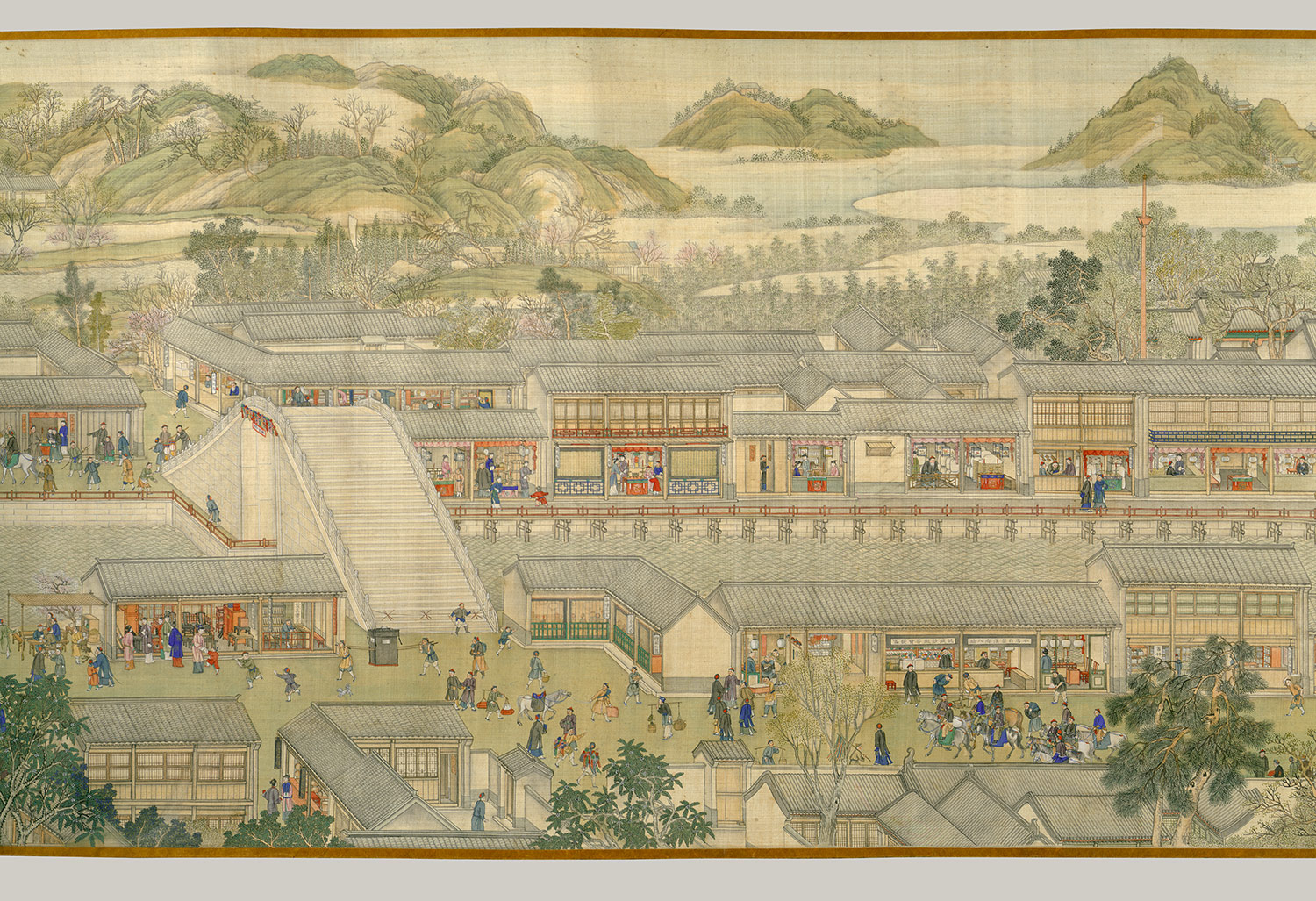 ---
The Qianlong Emperor's Southern Inspection Tour, Scroll Six: Entering Suzhou and the Grand Canal, Qing dynasty (1644–1911), dated 1770
Xu Yang (Chinese, active ca. 1750–76)
Handscroll; ink and color on silk; 27 1/8 x 784 1/2 in. (168.8 x 1994 cm)
Inscribed by Yu Minzhong (1714–1780)
Purchase, The Dillon Fund Gift, 1988 (1988.350)

The court painter Xu Yang, a native of Suzhou, was commissioned by the Qianlong emperor (r. 1736–95) to record in twelve monumental handscrolls the emperor's historic 1751 tour of southern China. This scroll, the longest of the twelve, chronicles the lavish pageantry of the emperor's arrival in Suzhou.
The careful attention to detail offers a rare opportunity to observe the daily life and activities of an eighteenth-century Chinese city. People, residences, shops, famous temples, and renowned scenic gardens and sites reflect the artist's intimate knowledge and love of his hometown. The influence of Western art on court taste is evident in the use of perspective and foreshortening in architectural details.
Grand Secretary Yu Minzhong inscribed the beginning of the painting with a poem about Suzhou composed by the Qianlong emperor. Palace archives reveal that Xu Yang began a draft of this set of scrolls in 1764 and completed the silk version in time for the emperor's sixtieth birthday, in 1770.
[Detail 1:]
Along the near shore of the Grand Canal is a shop selling furniture, a stand for dumplings, and a backstage view of a theatrical performance. Officials or wealthy residents often sponsored outdoor theatrical performances on elaborate temporary stages to welcome the emperor. Here, the artist provides a glimpse behind one such stage, where props are readied and actors change hurriedly for their appearance in the next scene.
[Detail 2:]
The scenic site of Tiger Hill, on the outskirts of Suzhou, was a favorite place for outings from the city. The Qianlong emperor visited this small mountain, topped by an ancient Buddhist pagoda, during his stay in the city. At the base of the hill, a family of fishermen enjoys a meal; nearby, a boy flies a kite—a Chinese invention.
[Detail 3:]
The great Chang Gate of Suzhou allows entrance to the city either by land—across a bridge—or water, along a tributary of the Grand Canal.
[Detail 4:]
Marco Polo called Suzhou the Venice of China because of its network of canals, which served as the most convenient thoroughfares for travel and trade. Here, a fisherman offers a large fish for sale from his boat.
[Detail 5:]
The arrival of the emperor, who is shown mounted on a white horse entering the city through the Xu Gate. Accompanied by imperial bodyguards, he is greeted by numerous officials and local dignitaries.
This work of art also appears on Connections: Maps
Related