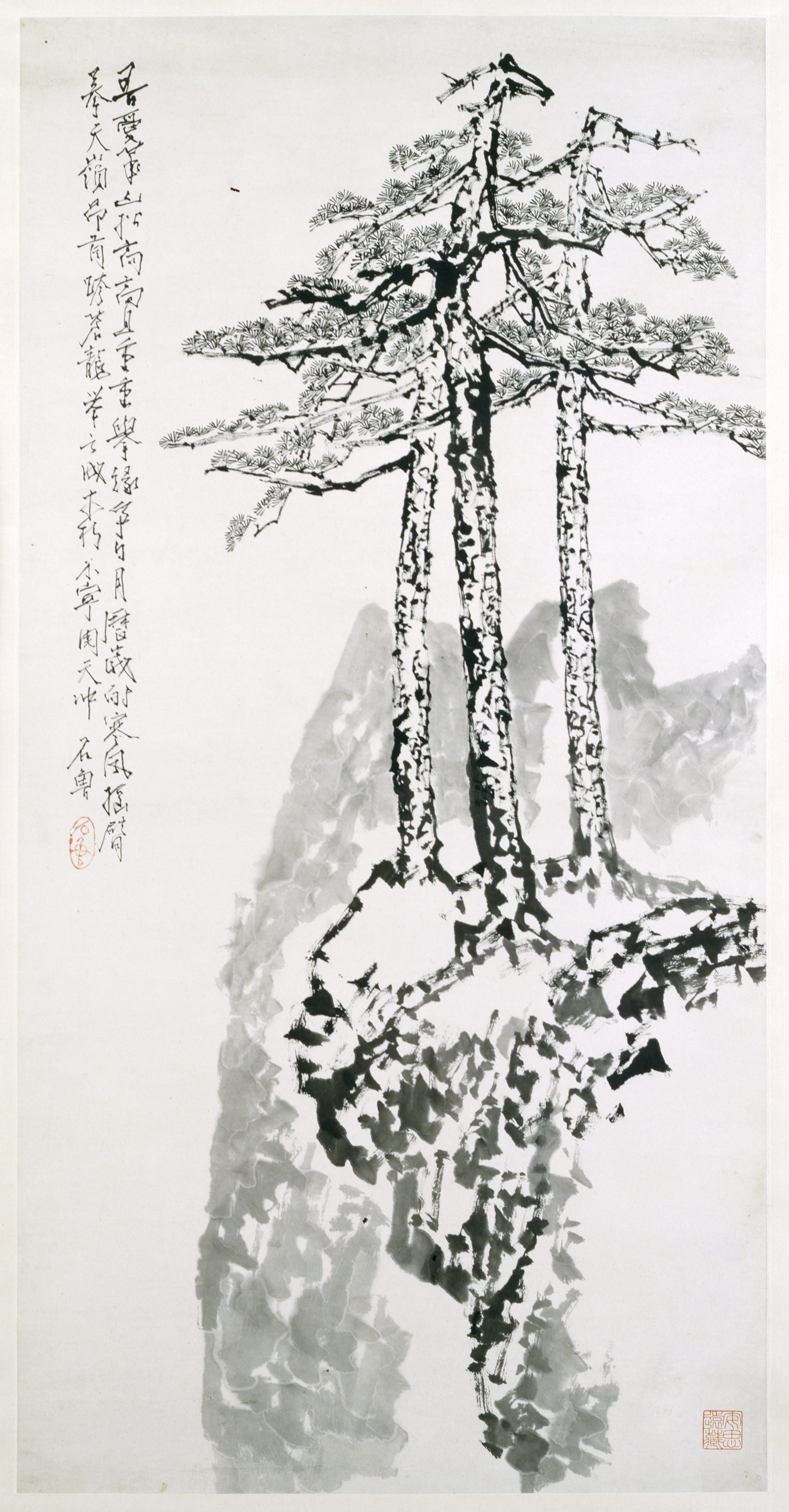 ---
Stately Pines on Mount Hua, ca. 1972
Shi Lu (Chinese, 1919–1982)
Hanging scroll; ink on paper; 53 3/4 x 27 3/8 in. (136.6 x 69.5 cm)
Inscribed by the artist
Gift of Robert Hatfield Ellsworth, in memory of La Ferne Hatfield Ellsworth, 1986 (1986.267.351)

Having openly criticized the Gang of Four in 1969, Shi Lu took refuge in the wilderness near Xi'an. After a year he sought asylum in the hospital where he had been treated earlier for schizophrenia and alcoholism.
In the early 1970s, his compositions were distilled to a new clarity. His highly individual technique of pushing the brush like a carver's tool became more expressive. He found China's sacred western peak, Mount Hua, whose name is synonymous with the enduring character of both the landscape and the nation, a repeated source of inspiration. The theme of Shi's poem is the perseverance in adversity of noble spirits:
I love the pines of Mount Hua,
Tall, noble, solemn, and dignified.
Their thrusting trunks vie with the sun and the moon.
Resisting cold winds through the years,
They shake their arms at the sky-scraping ridge
And hold high their heads, like striding blue dragons.
They support the clouds forever,
Without taking flight to the heavens.
(translation from Robert H. Ellsworth et al., Later Chinese Painting and Calligraphy: 1800–1950 [New York: Random House, 1987], vol. 1, p. 207)
Related