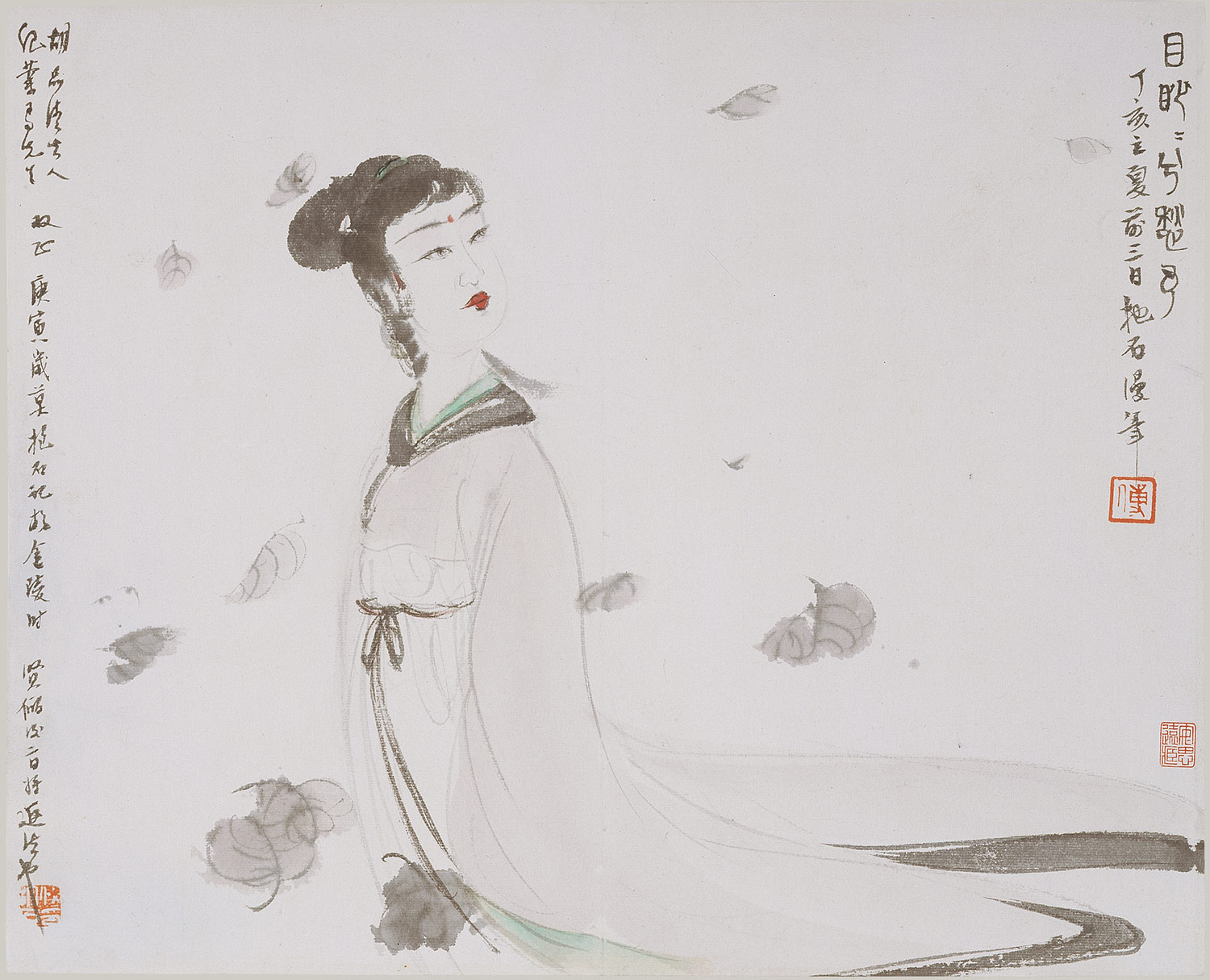 ---
Lady of the Xiang River, dated 1947
Fu Baoshi (Chinese, 1904–1965)
Album leaf; ink and color on paper; 10 1/2 x 12 7/8 in. (26.7 x 32.7 cm)
Signed: "Baoshi"
Gift of Robert Hatfield Ellsworth, in memory of La Ferne Hatfield Ellsworth, 1986 (1986.267.277)

Fu Baoshi here imitates the archaic simplicity of a fourth-century painting style to impart an ethereal elegance to his depiction of a legendary goddess. However, the earlier style is transformed by Fu's modern sensibility. The naturalistic treatment of the nose, eyes, and wisps of hair across the forehead reflects Fu's training in Western-style life drawing. Indeed, his model may have been his wife, whom Fu is said to have portrayed often during the difficult war years in gratitude for her steadfast devotion. Fu inscribed the painting again in 1950, just one year after the birth of the People's Republic and his return to Nanjing, where he took a post as a professor at Nanjing Teachers' College. In this second inscription, he dedicated the painting to the then French ambassador to China.
The subject, the Lady of the Xiang River, is taken from a cycle entitled the Nine Songs (Jiu ge), traditionally attributed to Qu Yuan, a minister to the king of Chu who remained loyal to his ruler through years of slander and exile. The Xiang River, a major tributary of the Yangzi that ran through the state of Chu, was known to harbor a goddess in its depths. She surfaced and enchanted the poet, who swore to make her his bride. The moment of enchantment depicted by the artist is described by the poet thus:
The Child of God, descending the northern bank,
Turns on me her eyes that are dark with longing.
Gently the wind of autumn whispers;
On the waves of Dongting Lake the leaves are falling.
(translation from David Hawkes, Songs of the South: An Ancient Chinese Anthology of Poems by Qu Yuan and Other Poets [Harmondsworth: Penguin, 1985])
Related