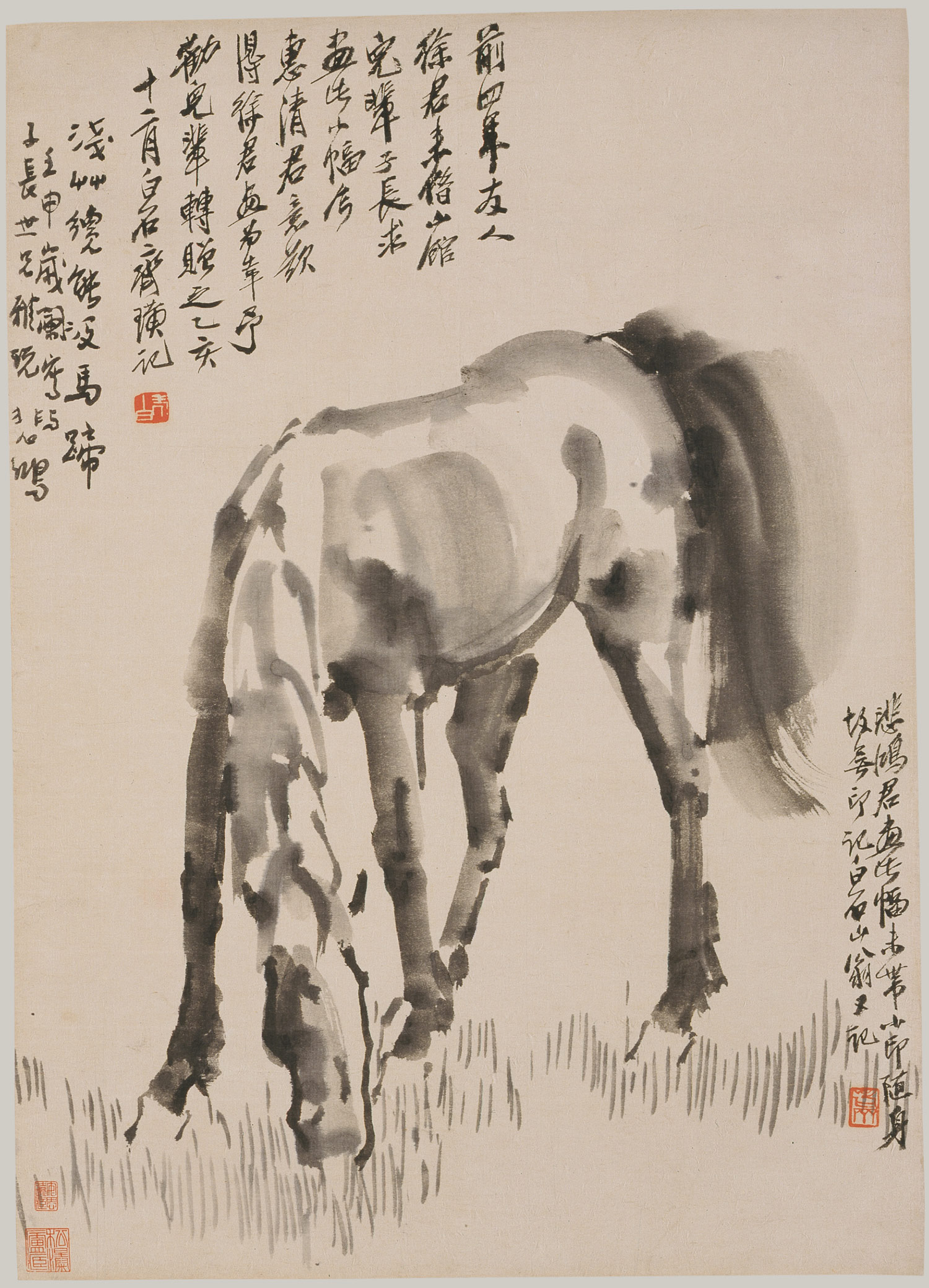 ---
Grazing Horse, dated 1932
Xu Beihong (Chinese, 1895–1953); Qi Baishi (Chinese, 1864–1957)
Hanging scroll; ink on paper; 20 1/2 x 14 3/4 in. (52.1 x 37.5 cm)
Inscribed by the artist and by Qi Baishi
Gift of Robert Hatfield Ellsworth, in memory of La Ferne Hatfield Ellsworth, 1986 (1986.267.192)

Xu Beihong was the most influential champion of Western-style academic realism in twentieth-century China. Inspired by the ideas of the political reformer Kang Youwei (1858–1927), who advocated "an integration of Chinese and Western art to create a new era of Chinese painting," Xu traveled to Japan in 1917 to study Western art, returning the following year to become an art instructor at Beijing University. In 1919, Xu became the first government-sponsored student to go to Europe to study art. Until 1927, he was a student in Paris and Berlin, mastering an already moribund academic manner.
This painting exemplifies Xu Beihong's fusion of East and West. While employing the conventional Chinese medium of brush and ink, Xu's drawing technique is purely Western. Rather than defining the horse with calligraphically energized outlines, Xu sketches the horse impressionistically with light and dark washes and uninked areas of white paper integrated to suggest the modeling effects of light and shadow. Reflecting studies from life, the horse's complex pose—foreshortened body, twisting neck, and naturalistically placed legs—is deftly rendered in a few well-practiced brushstrokes, while the layered tones of the animal's tail give the impression of movement.
Recalling a long tradition of the horse as an emblem of state, Xu Beihong's spirited animals appeal to national pride. He painted so many of them that they have become synonymous with his name. This early example, still fresh in his mind and in execution, was done for Qi Baishi's son on the occasion of a visit by Xu to Qi's house. Qi explains in his inscription that Xu failed to bring his seals, which is why the painting lacks an impression.
Related