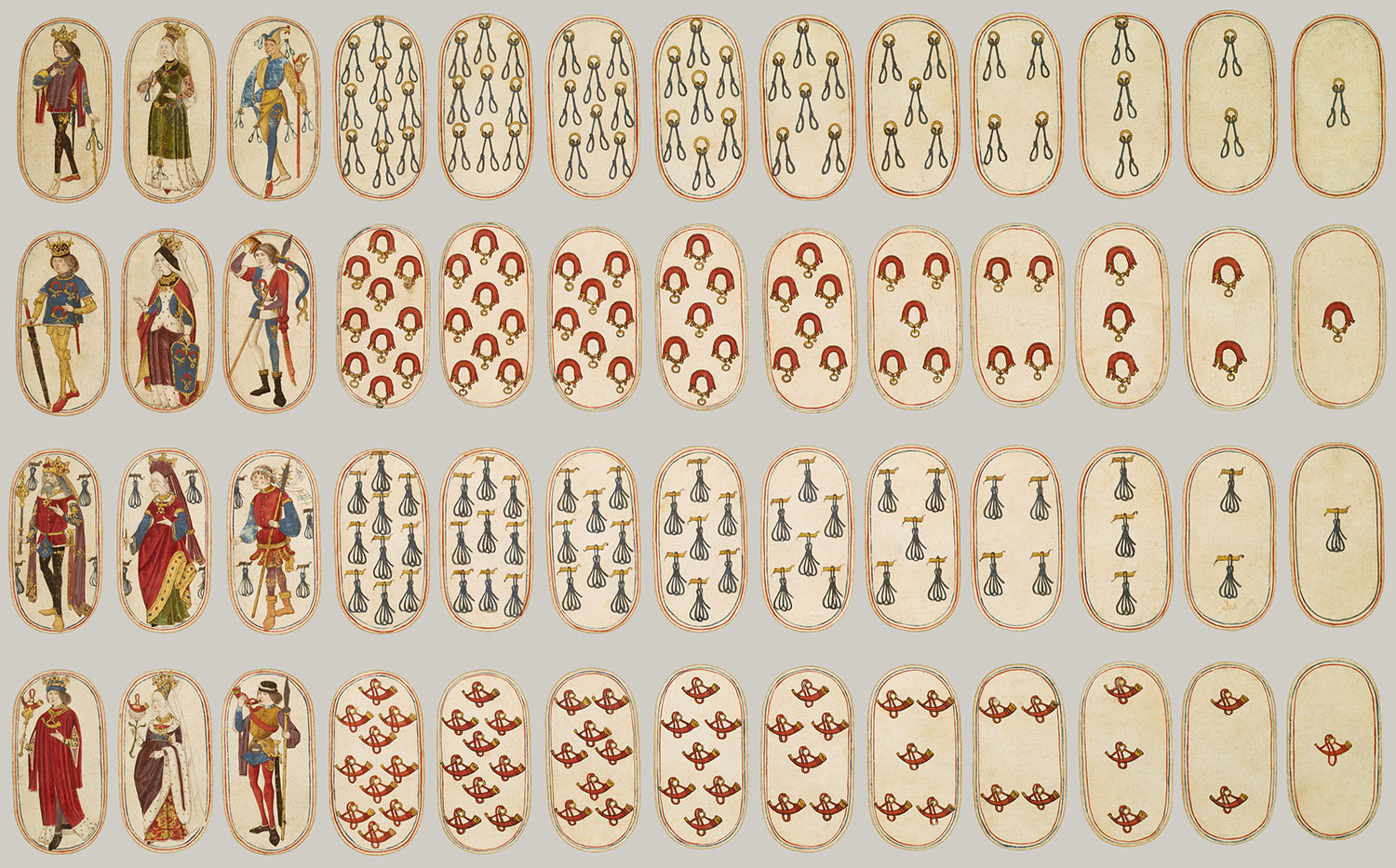 ---
---
Related Multimedia
Philippe de Montebello (Director Emeritus) and Timothy B. Husband (Department of Medieval Art and The Cloisters) discuss Set of Fifty-Two Playing Cards (1983.515.1–52) (July 2008).
Set of Fifty–Two Playing Cards, ca. 1475
South Netherlandish (Burgundian Territories)
Pasteboard with pen and ink, tempera, applied gold and silver; each ca. 5 7/8 x 2 5/8 in. (13.8 x 7.1 cm)
The Cloisters Collection, 1983 (1983.515.1–.52)
The Cloisters playing cards constitute the only known complete fifteenth-century illuminated set. Fifty-two cards in all, the set comprises four suits, each with a king, queen, knave, and number cards from 1 through 10. The suit designations pertain to equipment of the hunt: dog collars, tethers, gaming nooses, and hunting horns. The collars and horns are red and the tethers and nooses are blue, but their ranking is unknown. The values of the pip cards are designated by the appropriate repetition of the suit sign. The royal figures are dressed in elaborate costumes fashionable at the courts of the Burgundian dukes in the second and third quarters of the fifteenth century. What games were played with such cards is unknown, but their excellent state of preservation suggests that they were little used. Stylistically the figures are related to a master who came from the south Lowlands, possibly Bruges, but traveled to England and worked with the London printer William Caxton. Executed with verve, charm, and humor, these cards provide a unique document of leisure pursuits in the Burgundian lands at a time when the principal players were better known for their skills at the headier games of politics and war than at ordinary diversions.
Related