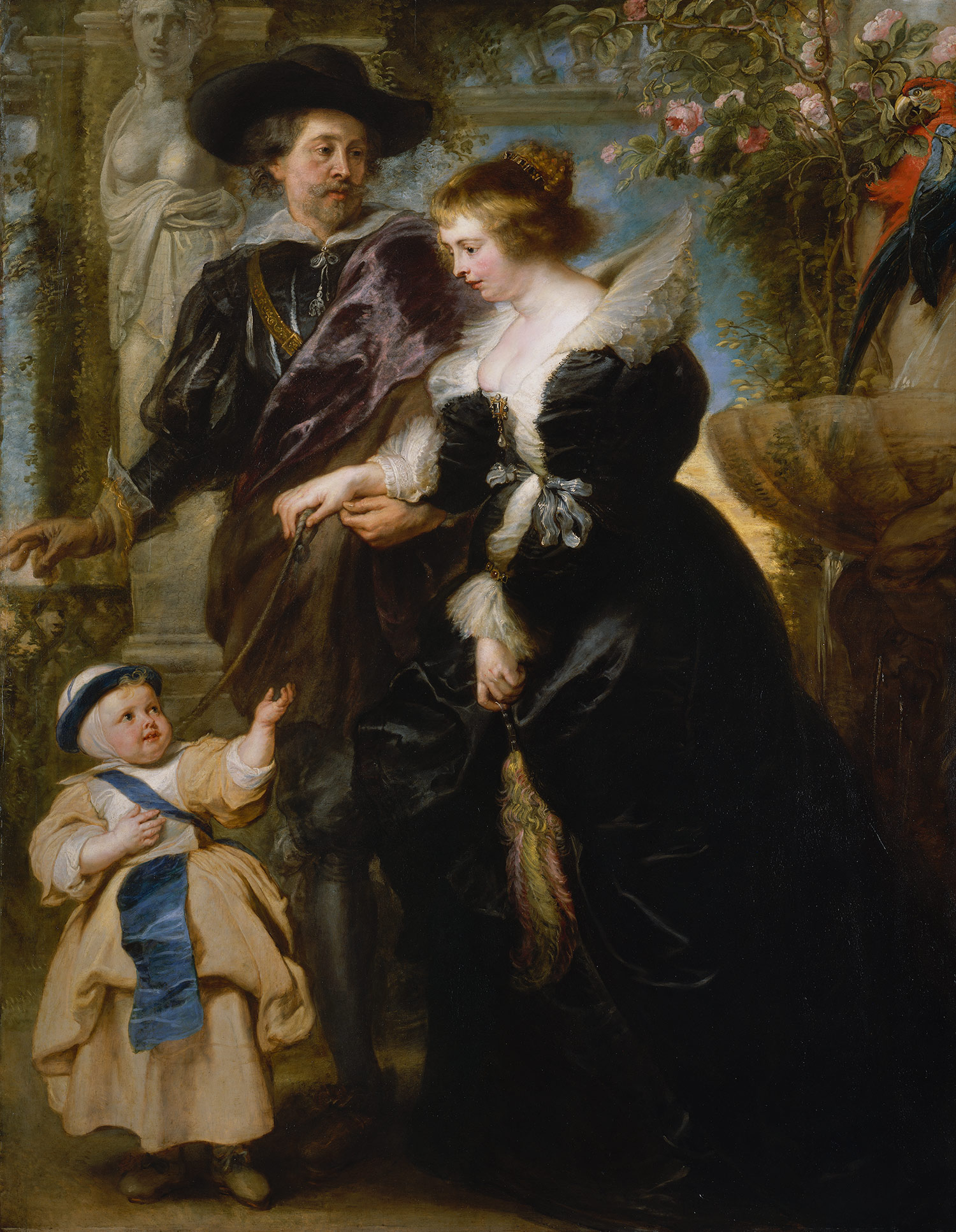 ---
---
Related Multimedia
Philippe de Montebello (Director Emeritus) and Everett Fahy (Department of European Paintings) discuss Rubens, His Wife Helena Fourment (1614–1673), and Their Son Peter Paul (born 1637) (1981.238) (July 2008).
Rubens, His Wife Helena Fourment (1614–1673), and Their Son Peter Paul (born 1637), mid– to late 1630s
Peter Paul Rubens (Flemish, 1577–1640)
Oil on wood; 80 1/4 x 62 1/4 in. (203.8 x 158.1 cm)
Gift of Mr. and Mrs. Charles Wrightsman, in honor of Sir John Pope–Hennessy, 1981 (1981.238)
This magnificent portrait of Rubens, his second wife Helena Fourment, and one of their five children has usually been dated on stylistic grounds to the late 1630s. The child's blue sash, heavy shoes, and plain collar resemble adult male attire and suggest that he is either Frans Rubens, born in 1633, or Peter Paul, born March 1, 1637. Rubens married Helena Fourment on December 6, 1630, when he was fifty-three and she was sixteen. Helena became the model and the inspiration for many paintings by Rubens dating from the 1630s, particularly those dealing with themes of ideal beauty or love. The present composition was considerably revised during execution to shift the emphasis from Rubens, as the dominant half of a courtly couple, to Helena, as ideal wife and mother. The parrot, long a symbol of the Virgin Mary, suggests ideal motherhood, while the fountain, caryatid, and garden setting imply fertility and recall Rubens's own garden in Antwerp, where he frequently escorted Helena. The painting hung at Blenheim, the Churchill family seat, between its presentation to the first duke of Marlborough by the city of Brussels in 1704 and its purchase by Baron Alphonse de Rothschild in 1884.
This work of art also appears on Connections: Borders
, Date Night
Related