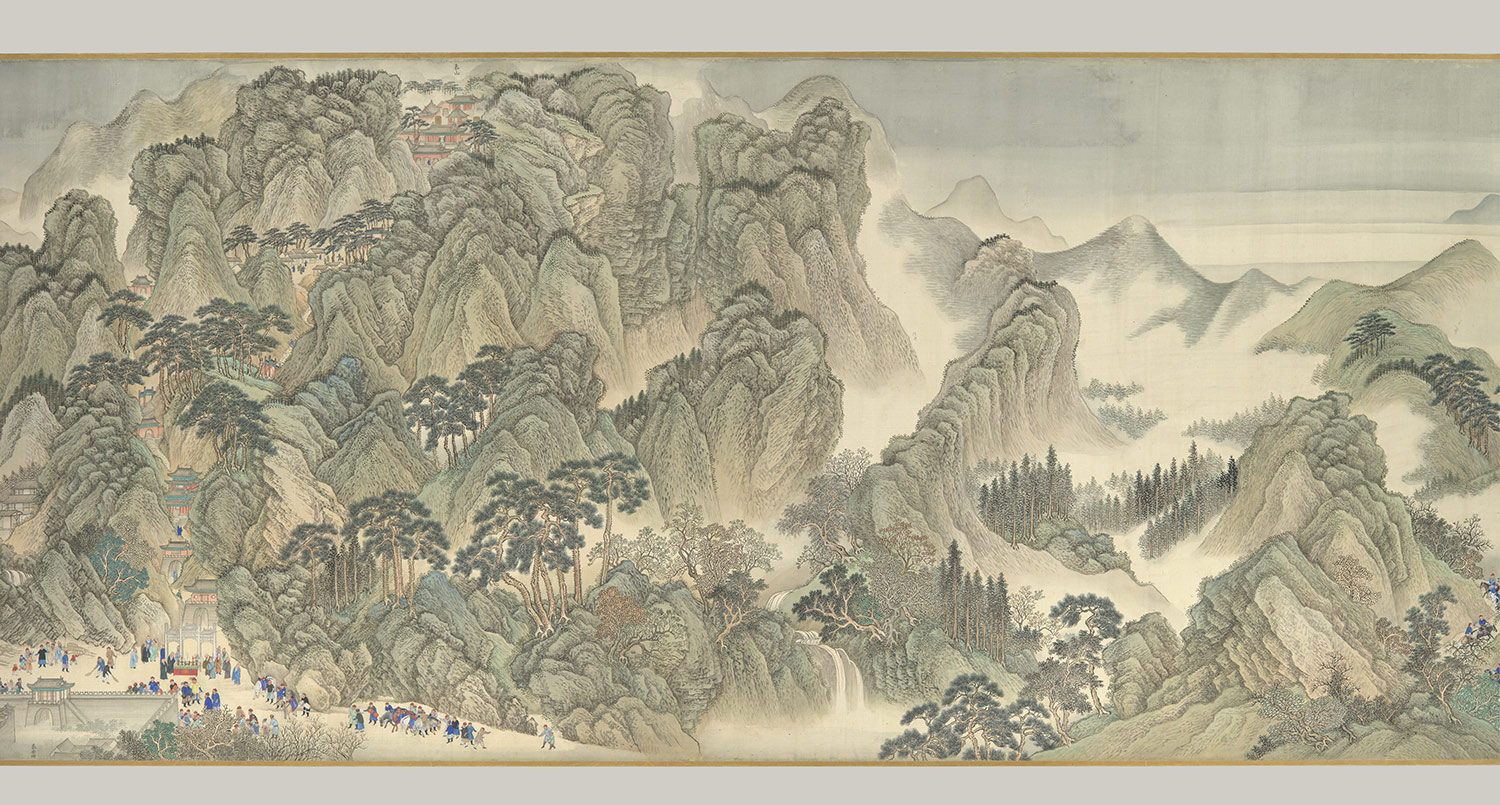 ---
The Kangxi Emperor's Southern Inspection Tour, Scroll Three: Ji'nan to Mount Tai, Qing dynasty (1644–1911), 1698
Wang Hui (Chinese, 1632–1717) and assistants
Handscroll; ink and color on silk; 26 3/4 x 548 1/2 in. (67.8 x 1393.8 cm)
Purchase, The Dillon Fund Gift, 1979 (1979.5)
To consolidate Manchu authority over China, the Kangxi emperor (r. 1662–1722) made a second tour of inspection in 1689, traveling from Beijing to the commercial and cultural centers of the Yangzi delta region. In 1692, Wang Hui was commissioned to commemorate this epic journey. Breaking down the tour into episodes, the artist designed a series of twelve massive handscrolls, each one measuring from forty to eighty feet in length and focusing on one important event. It took a team of assistants six years to complete the project.
This scroll highlights the route of the emperor and his entourage from the city of Ji'nan to Mount Tai, in Shandong Province, a distance of about thirty miles that the party covered between February 5 and 6 in 1689. Throughout the scroll, which is more than forty-five feet long, soldiers, porters, and officials in the advance party wend their way through the countryside on their way to Mount Tai, the "cosmic peak of the East." A sacred site where Chinese rulers worshipped heaven and reported on the state of the empire below, Kangxi's visit here held tremendous symbolic importance, identifying him as a traditional Confucian monarch.
Wang Hui did not accompany the emperor on his tour and had not seen this portion of the route. Instead, he relied on maps and the imperial diary to label key sites and lay out rivers and towns. Cities are indicated by walled compounds and Mount Tai is schematically presented with its fabled path to the summit—not visible in reality—clearly depicted. Scale is fluid, distances are not measurable—the route frequently disappears behind a mountain or below the scroll's lower margin—and the stylized "blue-green" color scheme imitates a classical landscape style to suggest that Kangxi's reign would revive a golden age of rulership.
This work of art also appears on Connections: Details
Related