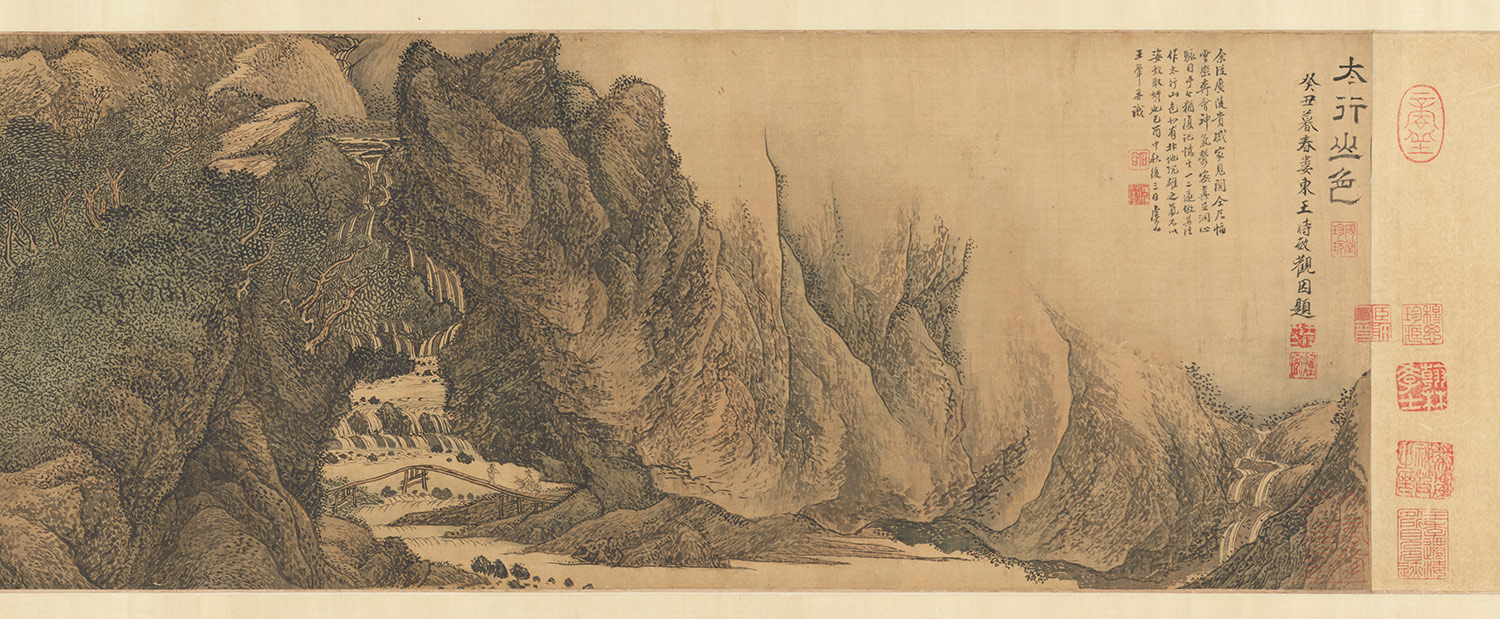 ---
The Colors of Mount Taihang, Qing dynasty (1644–1911), dated 1669
Wang Hui (Chinese, 1632–1717)
Handscroll; ink and color on silk; 10 x 82 1/2 in. (25.3 x 209.4 cm)
Inscribed by the artist (upper right) and by Wang Shimin (1592–1680; far right)
Gift of Douglas Dillon, 1978 (1978.423)
Wang Hui explored the art of the northern masters Guan Tong (active early tenth century) and Fan Kuan (active ca. 990–1030) with no less passion than he studied the southern masters through the 1660s. His effort culminated in this powerful, nearly faultless work from his best period. It depicts the majestically rugged terrain of the Taihang mountains in northern China by combining Guan Tong's craggy rock contours with Fan Kuan's stippled "raindrop" texture pattern. In his inscription, he wrote:
In Guangling [modern Yangzhou, Jiangsu Province], at the home of a noble person, I once saw a small scroll by Guan Tong. With its cloudy peaks racing together in an oppressive and dense atmosphere, it pierced my heart and shook up my eyes. Today . . . I follow its method and paint this Colors of Taihang. I hope it exhibits some of the deep and heroic atmosphere of the North country, rather than merely posturing with pretty details.
The "noble person" may refer to Li Zongkong (jinshi degree, 1647), an enthusiastic patron of Wang Hui. In adapting Guan Tong's vertical composition to a handscroll format, Wang Hui turned the convoluted rock contours into a giant, billowing mountain range like a "dragon," thought of as the moving spirit of the great earth.
Title and colophon to The Colors of Mount Taihang, 1673
Wang Shimin (Chinese, 1592–1680)
Ink on silk; one column in large clerical script, one column in regular script

The Colors of Mount Taihang.
In the guichou year [1673] Wang Shimin admired [this painting] and therefore inscribed [this title].
Related