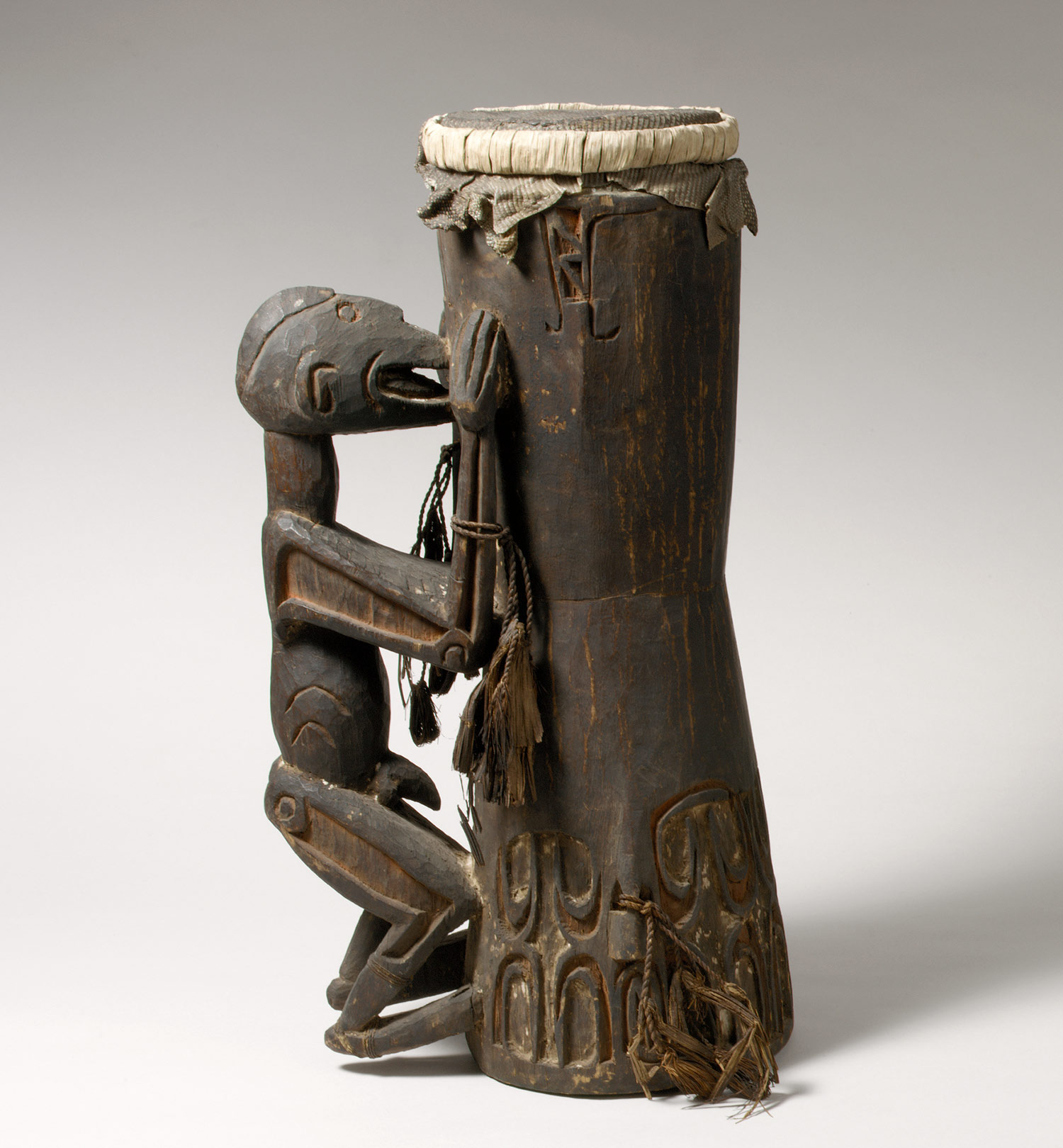 ---
---
Related Multimedia
Original music and a description by Thomas P. Campbell (Director) and Eric Kjellgren (Department of Arts of Africa, Oceania, and the Americas) (November 2009).
Drum, mid–20th century
Carved by Omas
New Guinea, Papua Province, Asmat people, Pomatsj River, Sauwa village
Wood, lizard skin, paint, fiber
H. 22 3/4 in. (57.8 cm)
The Michael C. Rockefeller Memorial Collection, Gift of Nelson A. Rockefeller and Mrs. Mary C. Rockefeller, 1965 (1978.412.962)
The principal musical instruments of the Asmat people of southwest New Guinea are hourglass-shaped wood drums. At virtually every significant ceremony and feast, one or more men gather to play the drums and sing the appropriate music. Performances often last many hours, beginning in the late afternoon and continuing all through the night, a process that can go on for days or weeks. Primarily a male instrument, drums are occasionally played by women.
In Asmat cosmology, the drum was associated with the beginnings of humanity. In some origin traditions, humans were born from wood figures carved by a primordial being named Fumeripits. Fumeripits built the first men's ceremonial house, but grew lonesome living alone, so he carved wood human figures for company. The lifeless figures did not relieve his loneliness, so he made a drum. As he drummed, the figures slowly came to life, becoming the first Asmat.
Drums are individually owned and any man can make one. However, individuals often commission them from master carvers. Asmat drums are typically elaborately carved with ornate openwork handles and extensively decorated bodies. The handle of this drum, made by the master carver Omas, depicts a man named Pam who was probably the father of the man who commissioned it. The figure's mouth is carved in the form of the beak of a black king cockatoo. Because it plucks fruit from trees, this bird was metaphorically associated with the former practice of headhunting.
Related