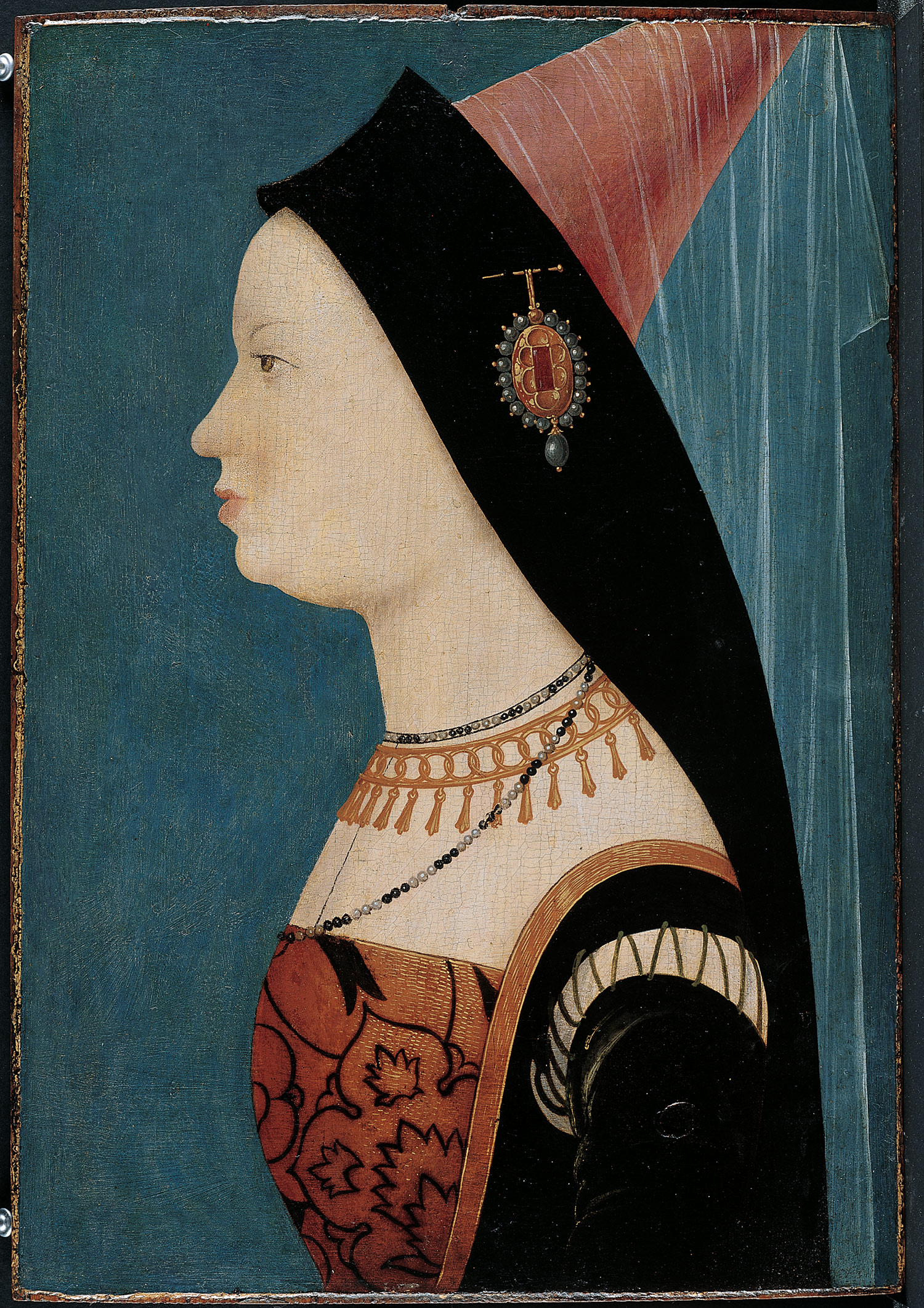 ---
Mary of Burgundy, Tyrol(?), 1528
Master H.A. or A.H. (Austrian, 1528)
Oil on conifer panel; Overall 17 5/8 x 12 1/4 in. (44.8 x 31 cm), painted surface 17 1/4 x 12 in. (43.9 x 30.5 cm)
Robert Lehman Collection, 1975 (1975.1.137)

Mary, duchess of Burgundy (1457–1482), was the first wife of Emperor Maximilian I, whom she married in 1477. She wears a tall Burgundian hennin, or steeple headdress, characteristic of 1470s fashion. The heavy band of material over her forehead is pinned to the base of the conical headdress by a distinctive agrafe (ornamental clasp). Three necklaces, the most conspicuous of which is made of gold, stand out against the sitter's pale skin. Her features closely match Maximilian's description of his young bride, who had a "snow white complexion, brown hair and gray eyes, pretty and bright … The mouth is rather high, yet clear and red …" The attribution of the Lehman portrait to Master H.A. or A.H. is based on a monogram on the reverse of the panel that, until recent technical investigation, had been hidden beneath a later painting of the Virgin. There are four other similar profile portraits on panel representing the duchess—all probably based on a lost prototype. Since painted portraits in profile were extremely rare in the Netherlands and France in the fifteenth century, the original model was almost certainly a portrait medal. The Museum's portrait, which dates to the late 1520s, attests to the popularity of images of Mary of Burgundy well after her death. Since the Habsburgs owed their Netherlandish territories to the marriage between Maximilan and Mary, her portrait continued to have historical significance even after Maximilian's death in 1519.
Related