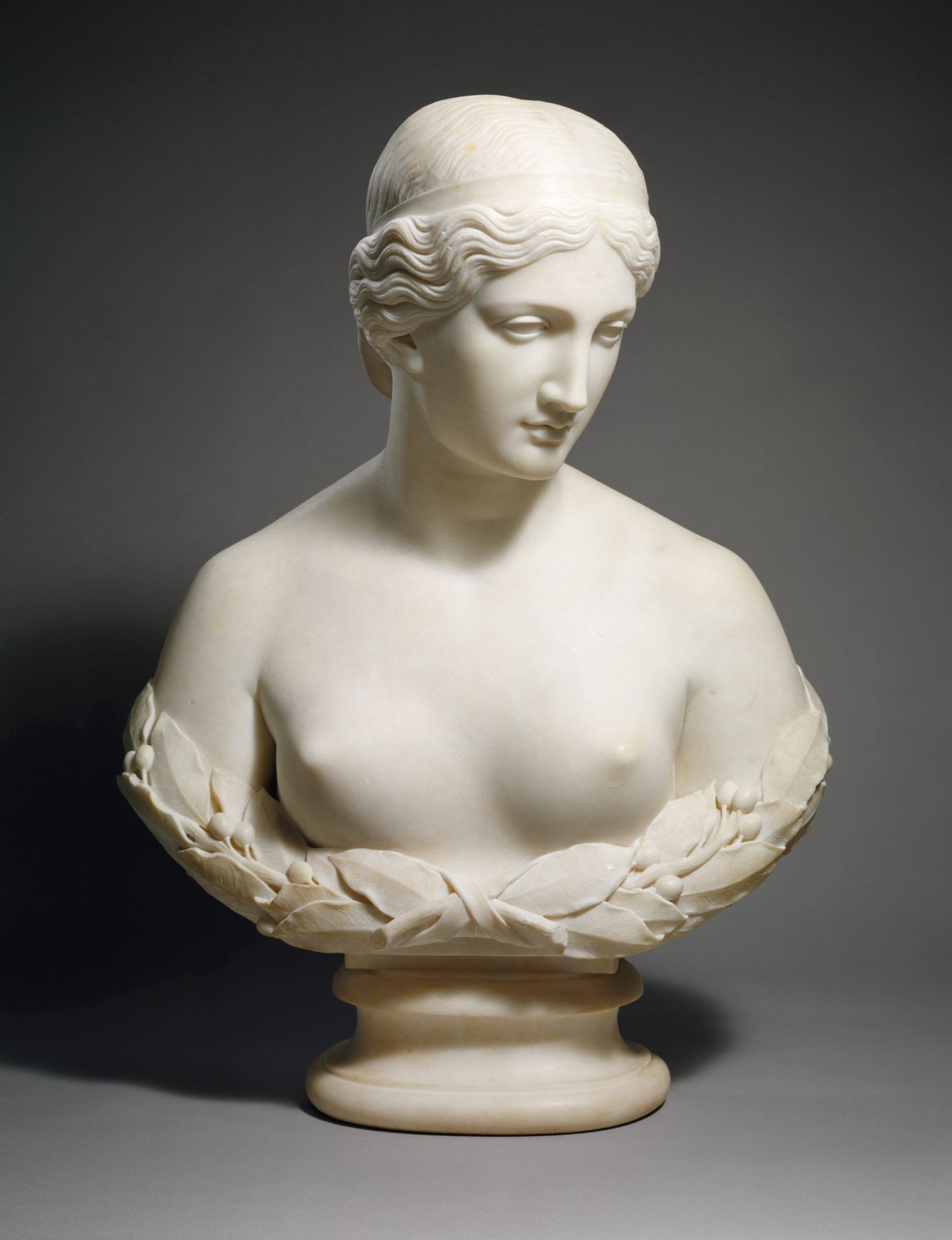 ---
Daphne, 1853; this carving, 1854
Harriet Goodhue Hosmer (American, 1830–1908)
Marble; 27 1/2 x 19 5/8 x 12 1/2 in. (69.9 x 49.8 x 31.8 cm)
Morris K. Jesup Fund, 1973 (1973.133)

By the spring of 1853, Hosmer, living in Rome and working in the studio of British sculptor John Gibson, received a commission from her St. Louis patron Wayman Crow for a full-length figure of her choosing. In gratitude for this and for past generosity, she wrote Crow that before she undertook the large sculpture, "you will sooner see a bust of my handiwork … I send it … as a love-gift to the whole family. … Her name is Daphne & she is represented just as [she is] sinking away into the laurel leaves." In Greek mythology, Daphne was a nymph who was pursued first by Leucippus and afterwards by Apollo, from whom she escaped by transforming into a laurel tree. The theme was popular with artists through the ages; however, true to her Neoclassical training, Hosmer eliminated the emotional overtones of the subject and presented a restrained and exquisitely elegant heroine. Daphne, Hosmer's first independent work in Rome, is infused with the austere simplicity of Gibson's own productions. Her head is turned slightly to her left, and she gazes calmly downward. Her facial features and the arrangement of her hair—wavy locks parted down the center, bound by a fillet, and twisted into a knot at the nape—are elements borrowed from the classical models Hosmer had studied. The bust terminates in laurel branches that cross in the front and curve around the upper arms toward the back.
Related