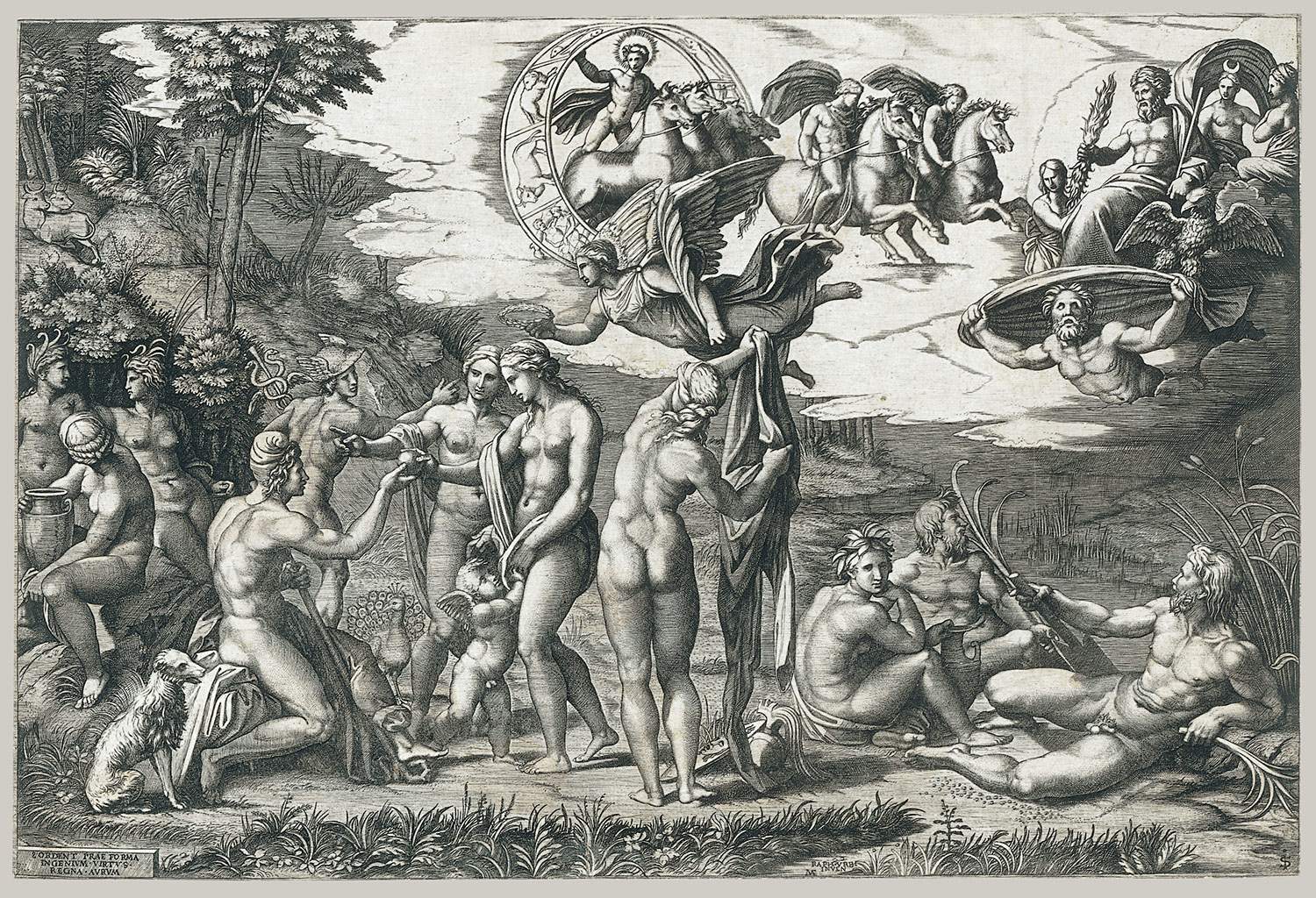 ---
The Judgment of Paris, ca. 1510–20
Marcantonio Raimondi (Italian, ca. 1480–before 1534); Designed by Raphael (Raffaello Sanzio or Santi) (Italian, Marchigian, 1483–1520)
Italian
Engraving; 11 1/2 x 17 3/16 in. (29.2 x 43.6 cm)
Rogers Fund, 1919 (19.74.1)

A masterpiece of Renaissance printmaking, this work represents a high point in the collaboration between Raphael and Marcantonio. While Marcantonio sometimes worked from drawings created for other projects, in this case Raphael created the drawing for the sole purpose of having it engraved by Marcantonio. Drawings done, as Vasari tells us, "to please himself," gave Raphael a forum in which to explore the ancient motifs that so fascinated him, while the process of printing ensured that Raphael's private research would be known to a wide audience. The engraver's controlled, systematic line, curving around the figures, gives them a great three-dimensional presence.
At the wedding of King Peleus of Thessaly and the sea goddess Thetis, Strife showed up uninvited and threw into the midst of the guests a golden apple inscribed "to the fairest." To put an end to the squabbling between Minerva (Athena), Venus (Aphrodite), and his wife Juno (the Greek Hera), Jupiter decreed that the handsomest man on earth, a Trojan prince raised as a shepherd, would be the judge. All of the goddesses bribed Paris, but Venus—promising him the most beautiful woman in the world as his bride—won the contest. Unfortunately, her candidate was already married, and Paris' abduction of Helen from her Greek husband sparked the Trojan War.
In illustrating this ancient myth, Raphael drew inspiration from the relief sculpture found on two ancient Roman sarcophagi (stone burial caskets). Marcantonio's controlled and systematic line, curving around the figures, beautifully conveys the sculptural quality that Raphael sought. The rich areas of gray tone were created through an unusual procedure: before engraving the lines, Marcantonio roughened the metal plate with pumice, so that all areas not later burnished smooth hold some of the ink in their textured surface.
Related