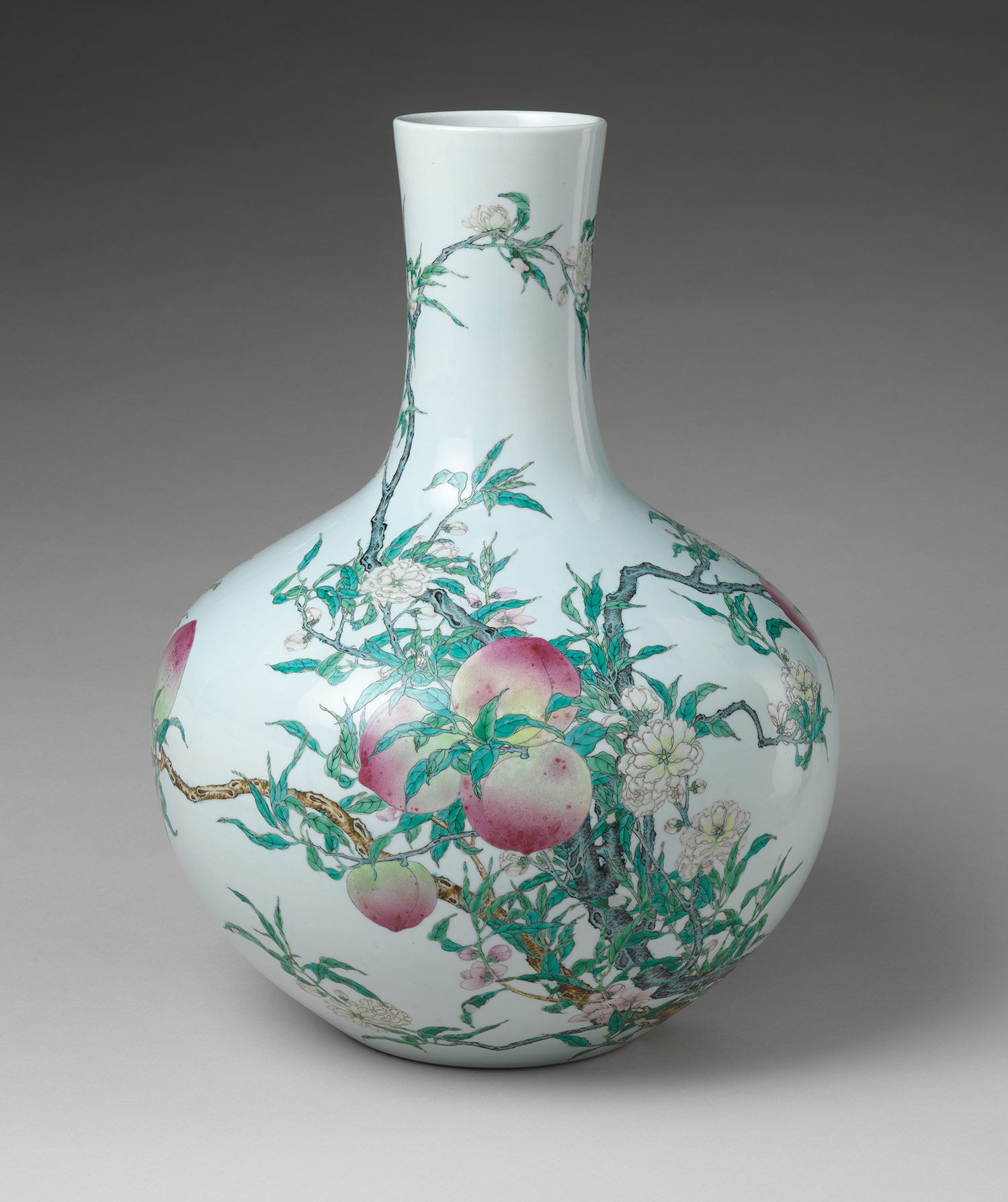 ---
Vase with peaches, Qing dynasty (1644–1911), Qianlong mark and period (1736–95), 18th century
China
Porcelain with overglaze enamels; H. 20 in. (50.8 cm), Diam. 16 in. (40.6 cm), Diam. of rim 4 1/2 in. (11.4 cm), Diam. of foot 7 in. (17.8 cm)
Mr. and Mrs. Isaac D. Fletcher Collection, Bequest of Isaac D. Fletcher, 1917 (17.120.194)
The famille rose palette of opaque and semi-opaque enamels differs from earlier overglaze enamels used to decorate Chinese porcelains in two respects. First is the addition of a rose pink, from which this type of enameling takes its name. Derived from colloidal gold, this pink was used in a wide spectrum of tones, from the palest blush to deep ruby. Second—and perhaps even more important—an opaque white pigment was mixed with the colors to modify them, enabling the painter to achieve a range of color values for the first time. These new graduated tones allowed the artist to reproduce subtle shades and to model his drawing much as the oil painter does. In addition, a variety of mixed tints was produced by combining colors, usually with the addition of opaque white. The Chinese have several names for the low-fired famille rose palette: fencai ("pale colors"), ruancai ("soft colors"), yangcai ("foreign colors"), or falangcai ("enamel colors").
The famille rose palette of enamels, which was developed in the Yongzheng period (1723–35), enjoyed wide currency during the reign of the Qianlong emperor (1736–95). Early Qianlong famille rose porcelains in "court taste," like this one, are, for the most part, a continuation of the imperial wares of the Yongzheng period, exhibiting the same unforced elegance.
Blossoms, fruit, and leaves all occur on the same branches of this otherworldly peach tree. The peach is a longevity symbol through its connection with at least two stories: the mythological peach orchard of the immortal queen mother of the west, Xiwangmu, and the tale of the peach blossom spring from a poem by Tao Yuanming (365–427), in which a village in a peach grove was insulated from the passage of time and the pressures of the world.
This work of art also appears on Connections: Clay
Related