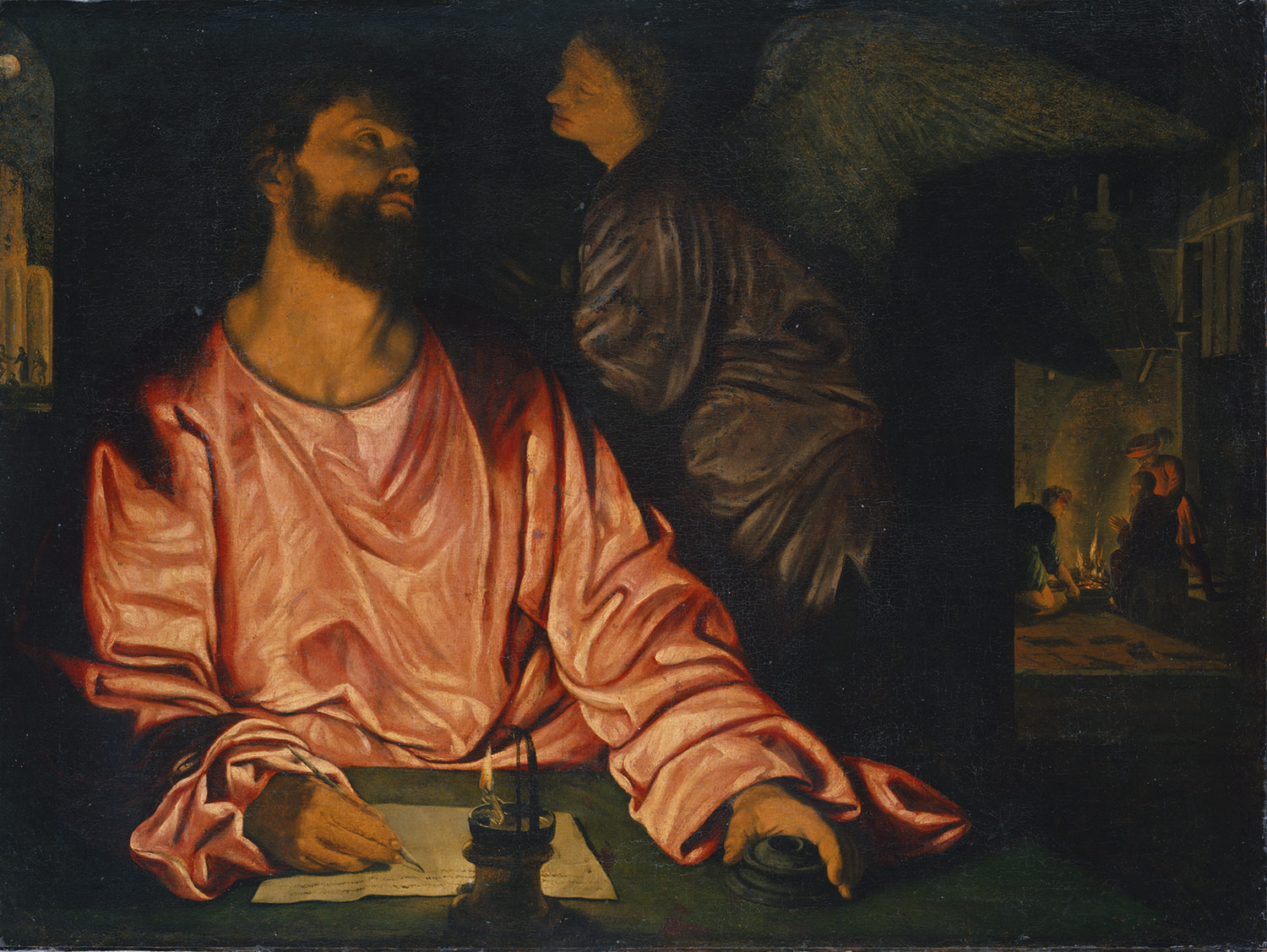 ---
Saint Matthew and the Angel, 1534
Giovanni Gerolamo Savoldo (Italian, Brescian, 1480/85–after 1548)
Oil on canvas

36 3/4 x 49 in. (93.4 x 124.5 cm)
Marquand Fund, 1912 (12.14)
The painting shows Saint Matthew—inspired by an angel, the traditional symbol of the Evangelist—writing his gospel. In the background are two scenes from the saint's life. On the right, he receives hospitality from the eunuch of the queen of Ethiopia, a country in which he preached and exposed the falseness of two magicians. On the left, four small figures, one lower down on the ground, are silhouetted against a towering moonlit edifice; this enigmatic scene may represent Matthew's martyrdom, which, according to some accounts, occurred in Ethiopia.
The simple, rough lamp at the edge of the table throws the figure of Matthew into areas of intense light and dark, strongly illuminating the torso but leaving much of the head in shadow. Each of the background scenes has its own source of light—firelight and the moon—and the expressive drama of the painting is linked with this investigation of light and dark.
It is almost certain that this painting originally hung in the palazzo of Milan's zecca, or mint. Documents show that Savoldo worked for the Milanese duke Francesco II Sforza in 1534, the date given by most scholars to this work. Its subject, Matthew the Evangelist, who had originally been a tax collector, would also be appropriate, given the function of the mint.
Related