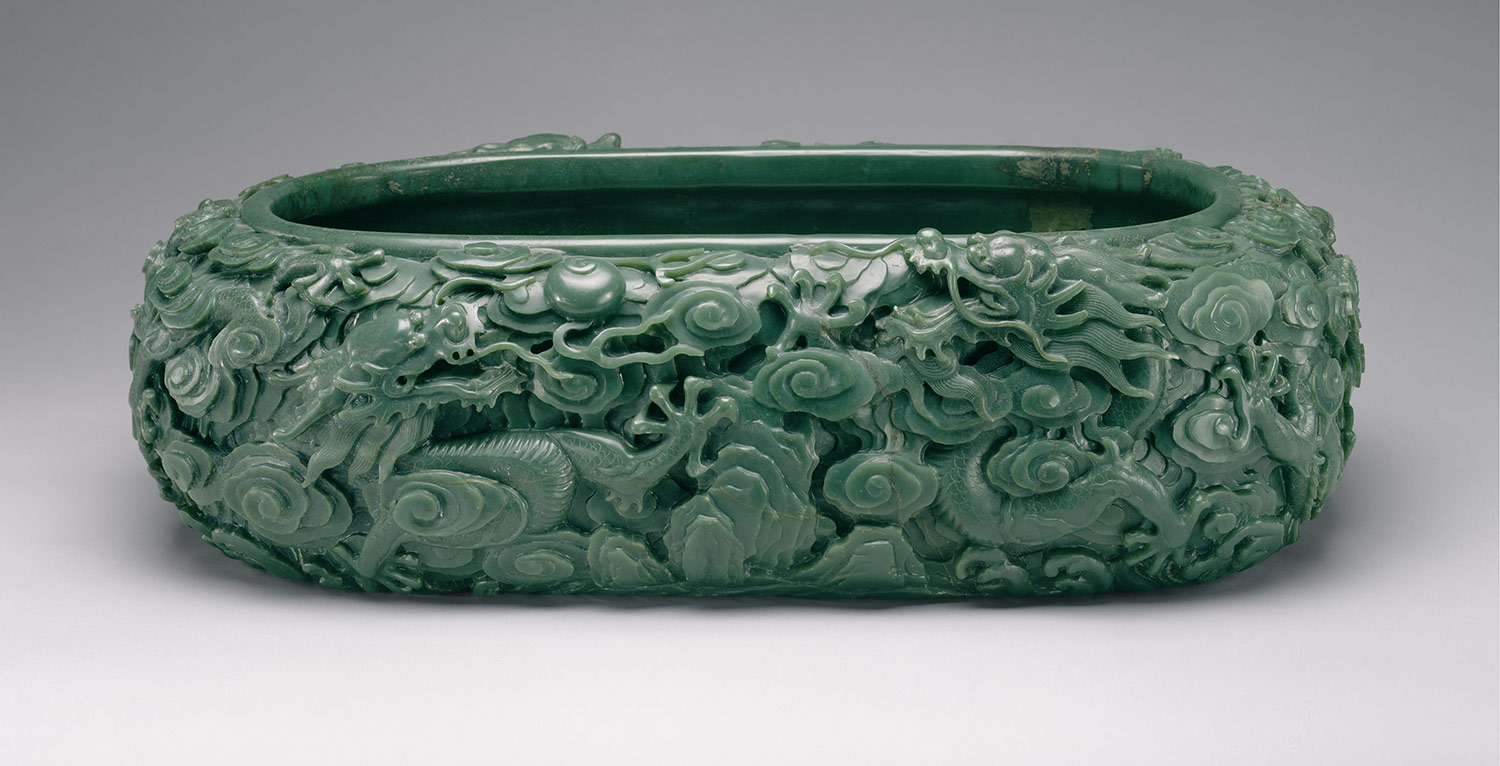 ---
Basin, Qing dynasty, Qianlong period (1736–1795), dated 1774
China
Nephrite (jade); L. 20 in. (50.8 cm)
Gift of Heber R. Bishop, 1902 (02.18.689)

The vessel's shape and a poem by the Qianlong emperor carved on the interior indicate that it was inspired by the Dushan Jade Bowl, a large wine container of Dushan (Du Mountain) jade currently displayed in the Round Fort at Beihai Park, Beijing, and one of the most famous jades in Chinese history. The Dushan Jade Bowl measures over 23 1/2 inches in height and over 50 inches in length. Its exterior is carved with dragons and other monsters, some aquatic and some aerial, on a background of swirling waters. This basin is believed to have been commissioned in 1265 by Kublai Khan (r. 1260–95), who had it placed in the Guanghan Palace on the Hill of Myriad Years, located on an island in Beihai Lake, Beijing. It is generally believed that the Dushan Jade Bowl was removed from the palace during the massive destruction that marked the transition from the Yuan to the Ming dynasty.
About 1745, the Dushan Jade Bowl was recovered by the Qianlong emperor from priests using it to serve vegetables in the Chen Wu Miao, a Daoist temple dedicated to Xuan Wu, the guardian of the Northern Quarter. The emperor had a pavilion erected to display his treasure in the Round Fort near Beihai Park. He was so entranced by this work that he wrote three poems about the Dushan Jade Bowl and had them inscribed on it.
A poem inscribed on the Museum's basin is dated to the early spring of 1774. It is a recondite work and difficult to understand or translate precisely. In general, it explains that a large piece of jade was brought from Khotan as tribute and goes on to define the decoration, including references to clouds suspended in a blue sky and dragons rising from the mist. The poem extols the beauty of the carving and compares the creation of either this basin or of the Dushan Jade Bowl, or both, to several highlights in Chinese art and history.
Related